Besides beautiful natural landscapes, Vietnam is also famous for traditional craft villages which are well preserved from generation to generation and existed for centuries. Through handicraft products by the local people, visitors can also understand more Vietnamese culture and customs. There are about two weeks to go to Tet (or Lunar New Year in Vietnam)  the atmosphere seems to become busier here at craft villages. Local people in craft villages from everywhere have moved to ramp up the production of various products in an effort to meet increasing demand from consumers ahead of Tet. These will be worthy experiences for travelers who want to enjoy Tet atmosphere in Vietnam.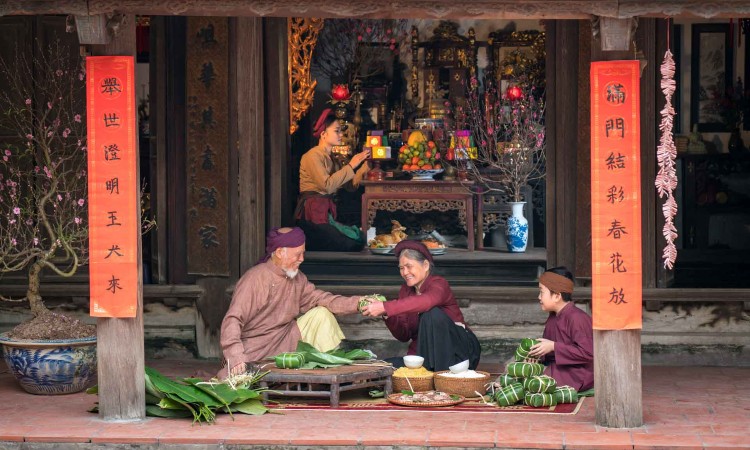 1. Tranh Khuc – a "Chung cake" village (Hanoi)
Tranh Khuc village in Thanh Tri district on the outskirts of Hanoi is famous for making Chung cake, a typical sticky rice cake for the Lunar New Year Holiday or Tet in Vietnam. On these days, the spring and Tet atmosphere is prevailing over the village. All villagers from the elderly to children are involved in making Chung cake such as washing Dong wrapping leaves and rice, steaming green beans, preparing meats, and wrapping the cakes. On average, each household makes 200 cakes on a normal day. But one week before Tet, their productivity may increase 10 times more than on a normal day. Coming to Tranh Khuc village on these days, visitors will have the opportunity to see and try to do "Chung cake" by themselves. It will be a very interesting experience for anyone who wants to enjoy Tet atmosphere in Vietnam.
2. Bat Trang Pottery Making Village (Hanoi)

On the traditional Tet days, Bat Trang village bustlingly welcomes guests. Visitors who come to buy goods often choose to buy: poisonous vases, smash trees, flower pots, cups, bowls, plates, bowls … and especially the golden buffalo to welcome the New Year. Bat Trang, a small village in the north of Vietnam, is about 15 kilometers southeast of Hanoi center, on the other side of Chuong Duong bridge.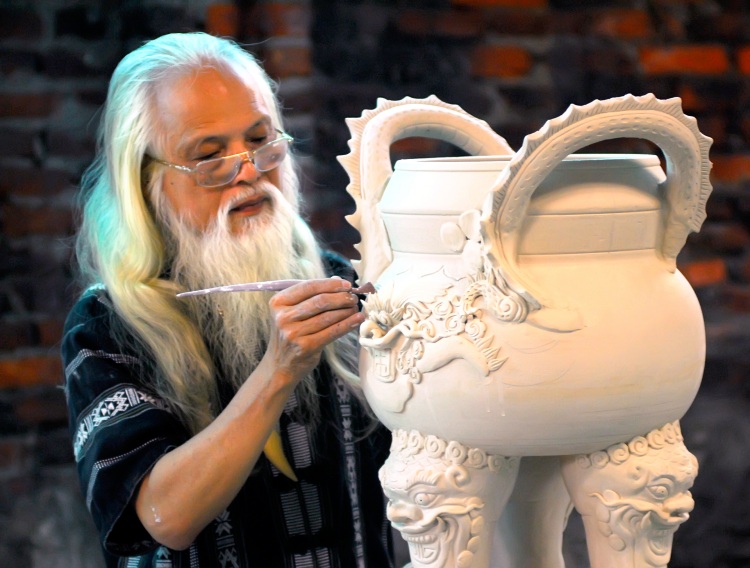 Taking advantage of the clay-rich area, Bat Trang village has created fine ceramics. The products from the village are highly rated by not only the domestic but also international markets including Chinese, Japanese, and Western. They have widely used for daily household use and worship as well as decoration purposes. At Bat Trang village, there are plenty of activities for tourists, including directly making pottery products, taking a walk around the village, or joining a buffalo tour for shopping and sightseeing. Visitors can easily get here by taking a 20-minute drive from the Hanoi center.
3. Dong Ho Folk Painting Village (Bac Ninh)
 Dong Ho Folk Painting Village is a place that will surprise many art lovers. As its name suggests, the main product of the village is impressive folk paintings. The village is quite small and there are no more than 200 households here. Villagers get their main income from making paintings. Looking at their products, you will surely get a deeper insight into the beauty of Vietnam as well as the traditional customers and Vietnamese festivals. These paintings used to be precious decorations during the Tet holiday with believing they would bring good luck for the new year.
Today, visitors coming to this small village will have the chance to learn more about the ancient art form of woodblock printing and the unique art of making Dong Ho paintings that once had been a must-have item for decoration during Tet holidays in most households of Vietnam. Dong Ho paintings are so unique as they are printed on Poonah or Do paper (made from the powders of Do trees). There are 5 main colors used in the paintings, including green, red, yellow, black, and indigo. These colors are mostly created from natural materials like bricks, flowers, straw, and different trees,…
4. Thanh Tien paper flower village (Hue)
Thanh Tien village (Phu Mau commune, Phu Vang district, Thua Thien Hue province) is located by the Southern bank of the Huong river downstream. It is famous for making offering paper flowers, especially lotus flowers. The history of paper flower making craft in Thanh Tien village dates back over 300 years.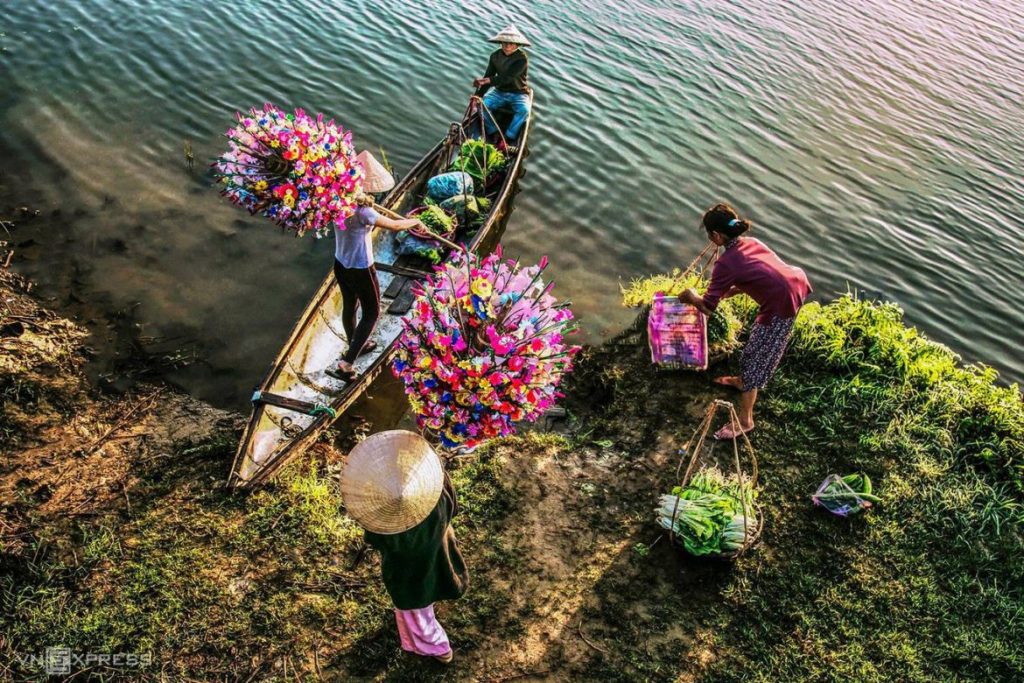 Thanh Tien paper flower village derived from folk belief. In the past, paper flowers appeared in solemn altars. On the Lunar New Year occasion, the old paper flowers are replaced by the new ones. Thanh Tien paper flower has become a part of folk belief in not only Thua Thien Hue province but also places where locals settled and neighboring localities such as Quang Tri province, Da Nang city, etc.
Thanh Tien paper flower village today is the creativity of generations of villagers. Thanks to their talents and skills, craftsmen created paper flowers such as lily, Japanese sunflower, lotus, etc…In spring, colorful paper flowers are sold in both rural and urban markets across the province.
5. Thuy Xuan incense-making village (Hue)
For centuries, Thuy Xuan Village residents in ancient town Hue have gotten busy when the Lunar New Year draws close as demand for incense sticks soars. The Thuy Xuan incense village is located about seven kilometers southwest of Hue in central Vietnam. These days the village's traditional vocation has become a tourist attraction, especially during Tet, or Lunar New Year festival, season. Visitors can admire and take pictures of the colorful array of incense sticks displayed and watch how these are made.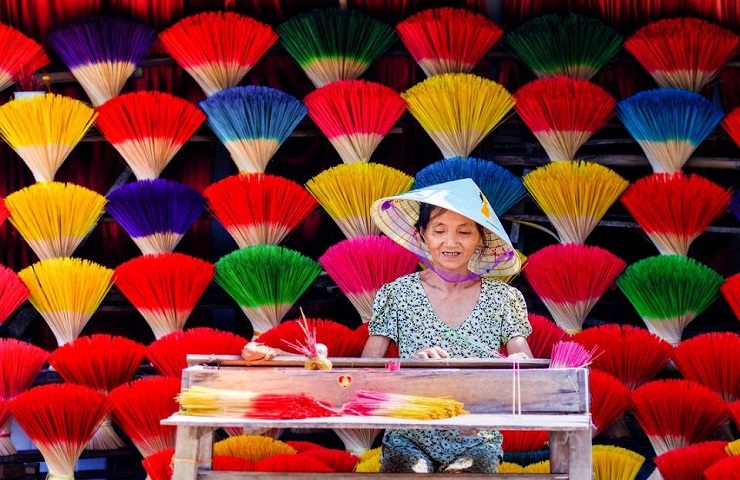 Thuy Xuan incense has its distinctive fragrance and high quality. Incense-making is considered as the local main means of livelihood. It is said that generations of villagers have lived and breathed in it. Although hand-made incense requires hard work, it seems to be sold at a disproportionate price. No matter how hard their life is, locals still welcome visitors with big bright smiles.
Entering the village, visitors can smell the incense-filled in the air. The first step to make incense is selecting 05 materials, namely cinnamon, cardamom, clove, anise, and eucalyptus. They are well mixed with water. Then, the incense "dough" is coated around thin bamboo sticks taken from Nam Dong district, Binh Dien commune, or Phong Son commune. Then, incenses are dried under the sun. Compared to today's modern method, this traditional one takes more time and effort. However, it maintains the local tradition. Thuy Xuan incenses come in various scents such as cinnamon, lemongrass essential oils, etc. Thanks to environmentally-friendly and healthy materials, local incenses are bright yellow in color and have a pleasant smell. At first, bamboo sticks are only painted brown or red. Nowadays, they come in a variety of colors such as purple and yellow.
Contact Us
Address No.456 Lac Long Quan Street, Tay Ho District, Hanoi, Vietnam
Phone: (+84) 4 3927 4120
Email: [email protected]
Hotline: +84-336-276-996
Website: https://luxtraveldmc.com