Wondering where to have a beach break in Cambodia? While you may have already heard a lot about Thailand beaches and islands, Cambodia ones are a little less-known and still, not less beautiful. Cambodia has dozens of stunning islands, all in the Gulf of Thailand off the coast of the Southern part of Cambodia. They might take a bit more of an effort to reach but the reward is pristine and less crowded beaches.
Ready to make that leap but not quite sure about what you can expect from Cambodia beaches?
Let us guide you through which island best suits you according to what you are looking for and which kind of travelers you are.
A Relaxing Getaway: Koh Rong Samloem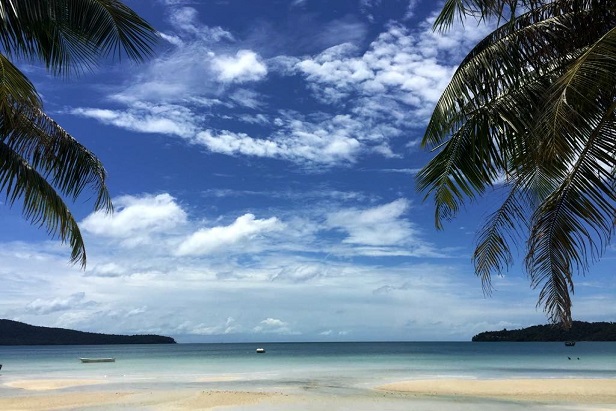 Most travelers and especially backpackers know about Sihanoukville town, south of Cambodia and port from where you can access to other islands. While there exist two islands with the almost same name, Koh Rong and Koh Rong Samloem, don't confuse them. Koh Rong Samloem is a bit more isolated and that is the best of it. This hidden gem of Cambodia is the perfect relaxing getaway if you are looking for turquoise waters, tranquility and a private place for you and your family or other-half.
From Sihanoukville, many ferries going to Koh Rong island that also makes a stop at Koh Rong Samloem. If you are curious to stay one night in Koh Rong, expect way more party as they have a 24-hour bar permission.
And as for Koh Rong Samloem, there are no ATMs on the island, so make sure to get cash out before you arrive.
A Luxurious Escape: Song Saa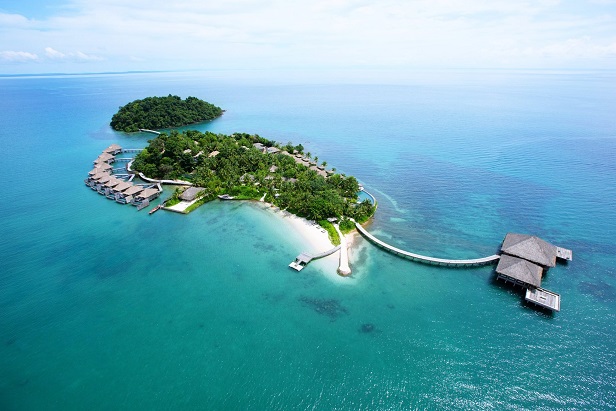 How does staying in a private resort sounds? The 27 room resort in Song Saa island owns the island and makes for a unique stay. It is a sustainable, all-inclusive luxury resort located about one kilometer from Koh Rong. Guests can choose from over-water, jungle, or ocean-view villas and enjoy the resort's large infinity swimming pool. Spa, delicious cuisine, and fabulous wellness retreat are among the experiences you can have in Song Saa private island resort.
And if you wish to know about more impressive accommodations in Southeast Asia we can recommend you, just drop us a message here.
For Animal Lovers: Koh Thmei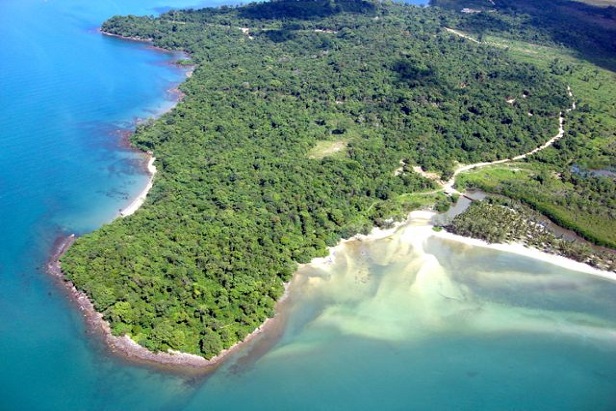 Koh Thmei is part of the Ream National Park, one of seven national parks in Cambodia. Ream's englobes a combination of rivers, estuaries, mangroves, forests, coral reefs, wildlife, and marine life. There are 155 species of birds here, including a few threatened species. Larger inhabitants include rhesus monkeys, dugongs, turtles, dolphins, mouse-deer, and more. There is limited accommodation on Koh Thmei, so if you want to get away from the usual tourist scene and get in touch with nature, this is a great place to do so.
We have many Cambodia tour holiday packages where you can combine Angkor Wat complex, Phnom Penh and some of your favorite beach getaways. Check Lux Travel DMC for more information on our tours.
For Diving Enthusiasts: Koh Tang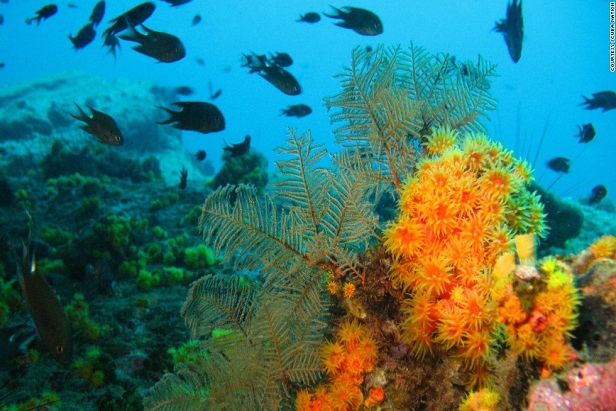 If you are only here for the diving experience, then Koh Tang, a remote and almost uninhabited island will be your own paradise for scuba diving and snorkeling.
Recommended for experienced divers, you can still try snorkeling too. Visibility ranges from 10 to 30 meters and you can see large fishes such as cobias or sailfish, snappers, and jacks and with coral colonies of "apcora". The period we recommend to go is from December to April where the views below the water's surface are the clearest. You can find more about Koh Tang here.  
And to have a better idea of how far are the islands from one another here is a complete map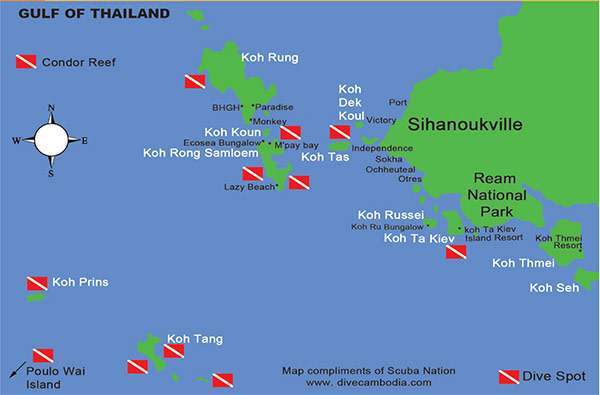 There is no better way of ending a trip to Cambodia, after spending a few days discovering the famous Angkor Wat complex and visiting the Phnom Penh royal palace than to enjoy a relaxing beach getaway in the South of Cambodia. Reward yourself and let us take care of the rest.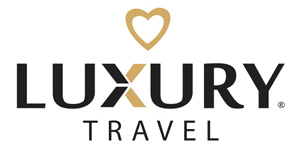 With more than 15 years of experience, Lux Travel DMC transports you to the colors and flavors of Indochina. Offering off-the-beaten-path itineraries as well as luxury vacations our local experts will advise you throughout your preparation and stay. For unique authentic experiences, we will be happy to help you here.