In the context of reopening borders of Southeast Asian countries, Cambodia has been one of the leading countries in this trend to revive its tourism industry. Cambodia has carefully planned and implemented to welcome foreign tourists back to visit within ensuring health and safety during the Covid-19 period.

1.Why should you choose Cambodia to travel after reopening from COVID-19?
The first reason is its rapid vaccination program. Cambodia has injured 88% of the population, in which more than 16 million are now fully immunized. Therefore, it is safe for you to travel there without worrying about infection from the local community. Next, according to the Cambodia President in Nov 14, fully vaccinated international tourists can visit the whole of Cambodia freely without quarantine. As a result, you can immediately enjoy your vacation and don't need to extend your time due to quarantine. Finally, The procedure for entry to Cambodia is not complex, so your trip will be more smooth as well as save time.
2. The travel destinations are allowed to welcome foreign travellers after reopening PP
According to the Government, famous beaches such as Sihanoukville, Koh Rong island, and Dara Sakor are expected to welcome visitors from November 30, while Siem Reap – the gateway to the Angkor Wat complex will be reopened from May 1/2022
Sihanoukville beach
Sihanoukville is known as the most beautiful beach of Cambodia. You will have many options for entertainment, dining, as well as experiences here. The sea here is well appreciated with blue water, white sand, worthy of being the most beautiful beach tourist destination of Cambodia.
Koh Rong island
With a distance of about 20km from SihanoukVille, Koh Rong island is known for its fine white sands mixed with the blue of the sea. All of them make for a great resort.
Dara Sakor
This is a high-end resort where you are free to swim, play golf, walk around the resort to discover the beauty of harmony between nature and modernity of Dara Sakor resort.
Siem Reap
Once famous as the gateway to the Angkor temples, Siem Reap is constantly evolving to become a modern, playful and tourist-friendly city. The most enjoyable part in Siem Reap is relaxing by the pool to cope with the midday sun.
3. Top 5 refreshing experiences must do in Cambodia after reopening travel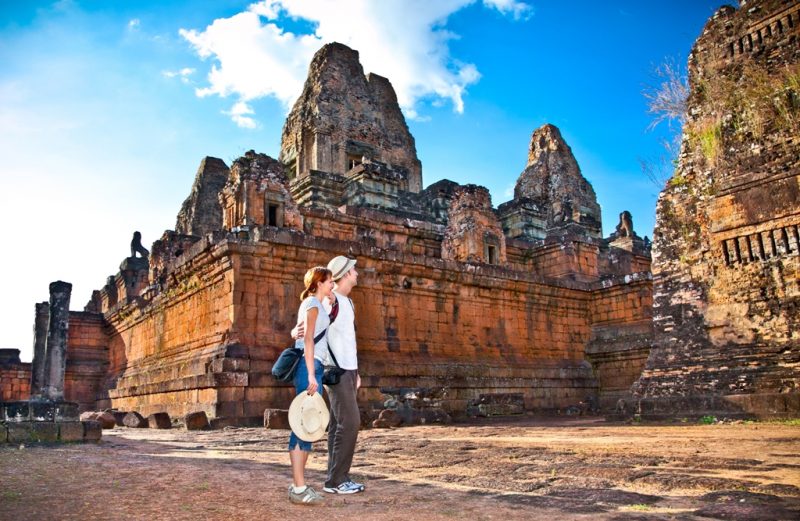 Biking – Explore Siem Reap on A Bike
Cycling tours are a convenient way of sightseeing and one of the most popular things to do in Cambodia for backpackers. Riding through quiet trails of the countryside amidst breathtaking natural scenery lets travelers escape the crowd and busy roads. Moreover, these tours typically include sightseeing of Ta Prohm, Elephant Terrace, Bayon, and other prominent Angkor temples.
Swimming – Swim With The Elephants
This is one of the crazy things to do in Cambodia. The Elephant Valley Project at Mondulkiri is known as a place to feed, protect, and provide shelter to elephants. Travelers can come here for a chance to play and swim with these adorable, gentle beings.
Diving – Explore The World Underneath Sihanoukville
The diving sites in Sihanoukville are blessed with crystal clear water, favourable water temperature, colourful corals, and a diverse range of marine life including seahorses, whale sharks, sting rays, eels, triggerfish, barracuda, nudibranch, starfish, and many more.
Apsara Dance – Witness The Khmer Performance
For the lovers of art, theatrics, & dance, the Apsara Show, or the traditional Khmer performance, is one of the best things to do in Cambodia. This cultural dance form draws its roots from the mythological courts of kings and Gods, from where it has developed into its modern, unique form that we see today.
Angkor Wat – Explore The World's Largest Temple
The most famous, ancient, and the largest temple of the world is what drives the majority of the world's travelers to Cambodia. Moreover, the unrivaled beauty and pristine persona of this UNESCO World Heritage site is unlike anywhere else on earth, which is why it is among the prominent Cambodia monuments. Built in the 12th century as a dedication to Lord Vishnu, this ancient wonder of the world has stood the test of time.
4. Where you can stay in Cambodia when travel during COVID-19
Cambodia has prepared and arranged quarantine hotels for travellers. Those include 6 luxury hotels which are approved to operate by the Government. Therefore, you will have peace in mind that the quarantine time is still both comfortable and safe. The following list is 5 quarantine hotels in Cambodia:
1. Courtyard by Marriott Hotel
2. Sokha Hotel & Residence
3. Raffles Hotel Le Royal PP
4. Sofitel Phnom Penh Phokeethra
5. Himawari Hotel Apartments
If you want to see more detail about the above hotels, please visit here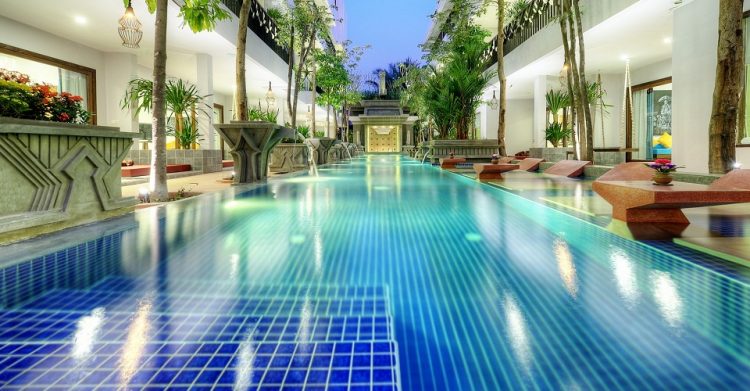 5. Requirements and conditions to travel to Cambodia
If you have plan to travel to Cambodia, you will need to prepare the necessary documents as following:
1. Certificate indicating negative coronavirus test result in the past 72 hours
2. Vaccination Card/Certificate
3. Rapid test on arrival and PCR test when ending quarantine
4. Covid-19 health insurance
5. Hotel booking document for quarantine, or $1000 upon arrival for quarantine as determined by the state
7. About Luxury Travel
What a wonderful escaping plan for you to do during your holiday! Just pick up your luggage and we will take care of the rest of the journey!
Lux Travel DMC has been turning over 15 years old in the travel industry sector within Vietnam and other Southeast Asian countries. With the prior experiences from the young and potential staff, we believe that these will be helpful for you when planning the holiday to Southeast Asia.  
Let us be a part of your memorable trip to Southeast Asia!