Culinary Vietnam Tour Experience During Tet Holiday
Voted as Asia's best culinary destination by World Culinary Awards for the first time, culinary tours are ideal for those wishing to enjoy Vietnamese cultural and culinary experiences both in the urban and rural areas: from the bustle of Hanoi, the charm of Mekong Delta to peaceful rural mountain villages, and always, the hospitality and friendliness of Vietnamese people.
1. Is it worth experiencing culinary tours in Vietnam in January?

Vietnam is known for its diversity of cuisine. You may learn about Vietnam culture by enjoying traditional food, and cooking, or going to the local markets… through activities of culinary tours. In January, Vietnamese people prepare many kinds of special food for the Tet holiday, one of the most important holidays of the year. Each region of Vietnam has its different specialty. When travellers visit each destination, they can get worthy experiences from the place they visit.

2.Exploring Vietnam culinary tours through Tet holiday 
During the Tet holiday in Vietnam, travellers can experience the diversity of Vietnamese cuisine in three revisions North, Central, and South. 
Exquisite and ingenious tray of the North
The culinary culture of the Northern people focuses on presentation, so the Tet tray needs to be presented elaborately, meticulously and beautifully. Their tray not only emphasizes the delicious taste, but also looks full of colors symbolizing the four seasons of the year, which is also a wish for a prosperous new year.
Tet with the Northerners is not complete without "Banh chung" (Chung cake). The glutinous rice cake with mung bean and pork belly-filling, wrapped in "dong" leaves, has long played an important role in the history of Vietnamese communities. The scene of all family members gathering around a hot stove with the boiling "banh chung" pot on top has a special effect in releasing one's mind from the hustle and bustle of life.
Although modern life has many changes, in the Tet tray in the North, there are always the dishes: "Chung" cake, jellied meat, pickled onion, fried spring rolls, and lean pork paste,…
The abundant Central style
Central people do not have "Chung" cake but they make Tet cake which have a similar flavor to "Chung" cake. Besides, they feature different types of cakes such as "banh in" (tapioca cake with mung bean paste), "banh to" (sticky rice cake), "banh la rang bua" (steamed rice cake).
If the North has pickled onions, the Central region is characterized by pickled daikon. The ingredients of this dish are quite simple, just carrots, papaya, cucumber, daikon… are pickled and salted, although it sounds easy to do, but to get a full-flavored pickle jar, it needs meticulousness and ingenuity.
Idyllic style in the Southern tray
The South is famous for being an idyllic land with simple, easy-going people, with rich natural products that do not need sophisticated processing to still captivate the taste buds.
Perhaps because of that, the culinary culture of the South on weekdays as well as New Year's days is often simpler than that of the North and the Central. "Tet" cake, braised meat, and bitter melon soup are 3 typical dishes on Tet holiday in the Southern region
On New Year's Day, people in the North eat "banh chung", and people in the South eat "Tet" cake (also known as banh don). In addition to "Tet" cake, the indispensable savory dish on Tet holiday, whether rich or poor, is braised meat – also known as braised meat with eggs or braised meat in coconut water. The dish is a harmonious combination of yin and yang, of square pieces of braised pork with a round white egg submerged in sweet coconut water.
Adding a bowl of bitter melon soup with meat helps us feel all the flavors of life, bid farewell to the difficulties of the old year, and look forward to a better and luckier new year.
And whether it is the North, the Central, or the South, the cuisine of Vietnam's traditional Tet holiday also has a unique, harmonious, and familiar flavor.
3. Top 3 Vietnam culinary tours you can explore in Vietnam 
There are many types of culinary tours that help visitors discover the Vietnamese cuisine. Here are a few types of culinary tours that we recommend for you
Discovering Vietnamese cuisine in homestay tours

Currently, homestay establishments in Vietnam are not only growing in quantity but also focusing on service quality. In order for visitors to have memorable memories, along with embellishing the house premises, improving reception skills, connecting tourist routes, homestay establishments focus on exploiting regional culinary culture. Travellers can both relax, visit the natural scenery, and participate in making traditional Vietnamese dishes with the host such as wrapping Chung cake, making spring rolls, preparing dishes to worship the ancestors, learning how to arrange a five-fruit tray,…

Private street food walking/motorbike tour
There's no better way to get into the swing of Saigon or Hanoi than riding a motorbike. Pull up a kindergarten chair and watch the busy street as you sample eight separate tastings at a range of street eateries. Savor city signatures from beer to banh mi sandwiches and curios such as sweet soup and barbecued scallops.
Luxury Gourmet Private Explorer Vietnam
You will be taken from tasting the dishes of the North to the delicacies of Hue, down to the unsurpassed bounty of the Mekong Delta with its cinematic abundance of fruits and vegetables and plunge into the glistening green of the South China Sea. Experience buzzing Ho Chi Minh City and Hanoi, two modern cities tempered by colonial architecture and tree-lined boulevards.
Some of the country's top food experts will take you on a culinary adventure, ensuring you get an authentic taste of culture and cuisine: sample aromatic Pho from Saigon street stalls or savor French croissants in a Hue patisserie, shop for fruit at the floating markets and join in our exciting street food tour in Hoi An.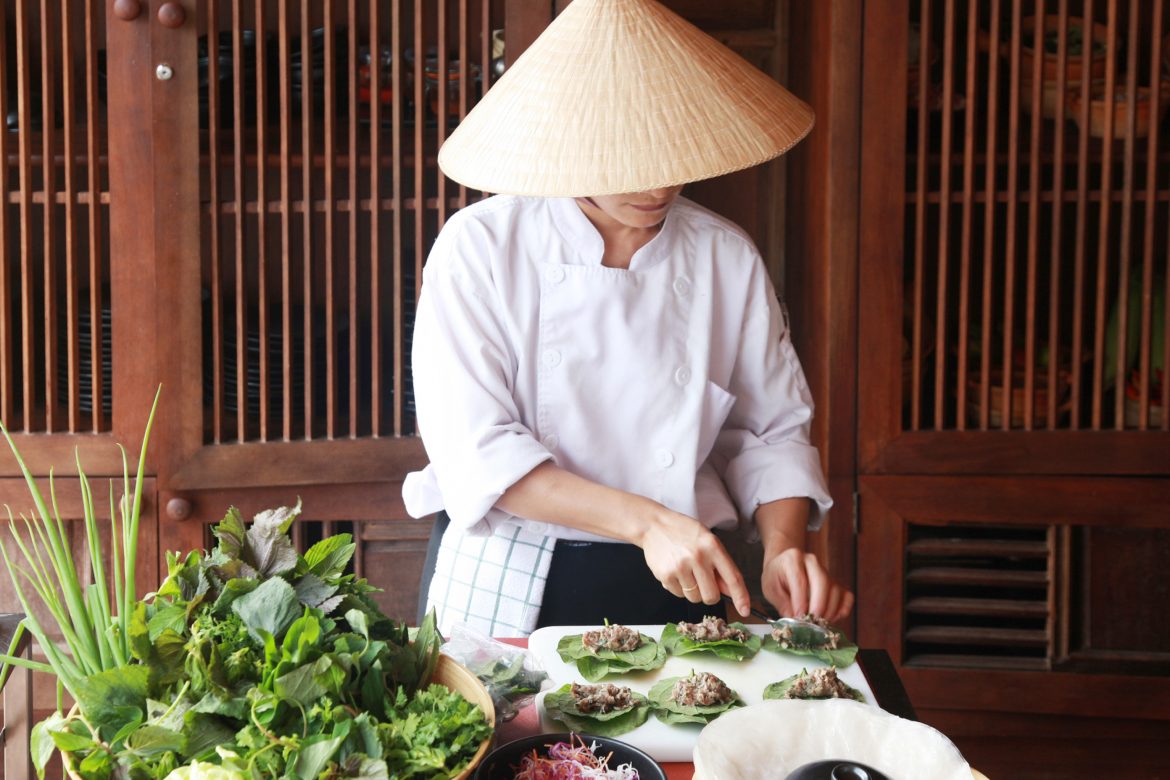 4. Need-to-know when traveling to Vietnam in January
Pack some warm clothes if you travel to the North. If the South is your destination, bring along sunscreens, insect repellent, and light jackets.

Make the reservations, especially transportation and hotels in advance to avoid being overcharged.

Almost all working offices are closed during the Tet celebration, ensure your personal papers and identity card is valid until they reopen.
If you're planning to discover Vietnamese cuisine, please contact us via [email protected] or hotline at +84 336 276996 for more information and inquiries.