Vietnam is not only a country with beautiful beaches and delicious foods but also a place to discover a rich and diversified culture. The traditional art of Vietnam is plentiful as their spiritual life, actually, everything in daily life has been reflected in genres of art. Thus, you may learn more about the culture of Vietnam through exciting culture shows when you travel to Vietnam. Here are some suggestions for traditional culture shows travelers should not miss when traveling to Vietnam.
1.Traditional Vietnamese Water puppet in Hanoi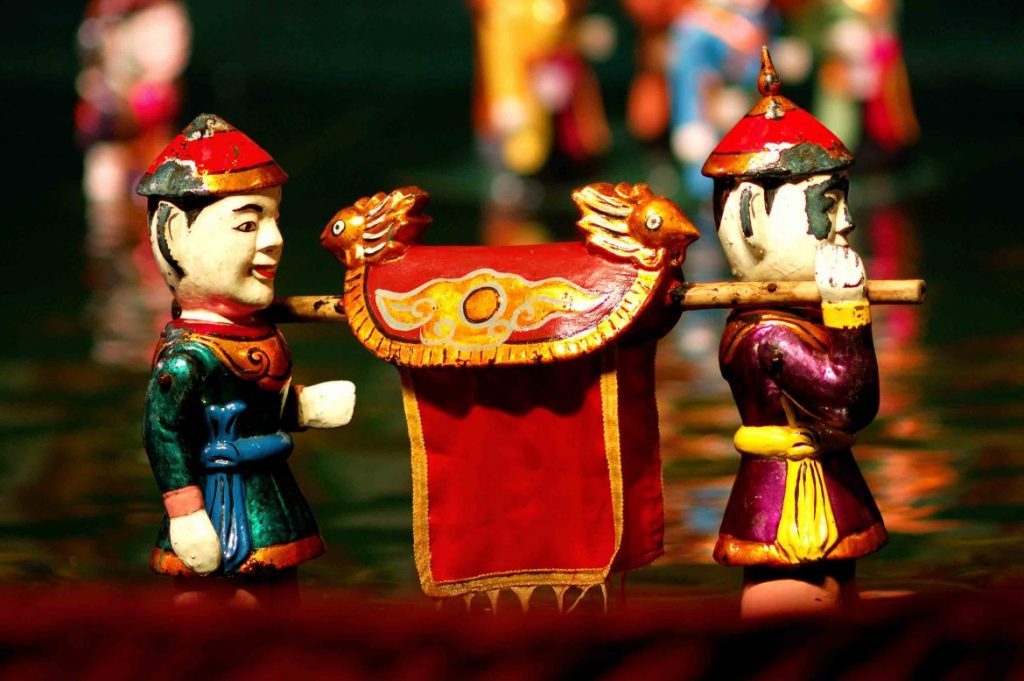 The show was inspired by the common life of peasants in Northern Vietnam from 11th Century.  Therefore, the concept based on the heart of rural Vietnamese activities such as fishing, agriculture, and traditional tales and stories. Watching these plays, you will not only be able to witness people's lives but also appreciate the creative side of these farmers – puppeteers.
Performances are accompanied by a Vietnamese orchestra playing traditional music using drums, wooden bells, horns, bamboo flutes, and cymbals. There are also authentic Vietnamese operatic songs telling the story that is being acted out by the puppets. Flawlessly moving, master-controlled puppets hiding behind the curtains, the arrangement of classical musical instruments and incredible vocalists create what people call the classic Vietnam "symphony."
Thang Long Water Puppet Theatre is one of the most popular tourist attractions in Hanoi with tickets selling out well in advance so it's worth booking yours as soon as you arrive in town.
Thang Long Water Puppet Theater
Address: 57B Dinh Tien Hoang street, Hang Bac Ward, Hoan Kiem District, Hanoi
Time: Daily 15:00, 16:10, 17:20, 18:30 & 20:00
Price: Around $6 – 10$
2. Tu Phu or Four Palaces Show show in Hanoi
Tu Phu show is the traditional art performance of Vietnamese custom that was practiced through decades. The show has been utilized from the folklore materials on the Viet beliefs of the Mother Goddesses worship over time. The practices relating to the Viet beliefs and the Vietnamese spiritual life through folk arts, let's come and explore the ancient art in Hanoi shows.
In 45 minutes of the Four Palaces Show, audiences can have an opportunity to witness the outstanding practiced traditional custom and culture of Vietnamese people's lives. Going into trance is a unique ritual performance of Vietnam with thousand years of history, which offers a different experience you have never had before. During the session, a number of artistic elements such as music, singing, dancing and the use of colorful costumes are involved in through three parts of the show: "Chầu Đệ Nhị", "Ông Hoàng Mười", "Cô Bé Thượng Ngàn".
It would be amiss if discovering Vietnamese culture without its rich tradition of spiritual belief, and The Four Palaces Show brings the fullest taste of this religious performance.
Time 1: 18h00 – Time 2: 19h30
Address:42 Trang Tien st, Hoan Kiem, Ha Noi
Price: 5$ – 10$
3. Quintessence Tonkin in Outskirts of Hanoi
Audiences will experience six aspects of the cultural Quintessence of Tonkin: Poetry, Buddhism, Nostalgia, Music & Painting, Joy & Festivities. The show will bring you back to a pristine time, living in the old countryside of Vietnam, feeling the sacred atmosphere and the cultural crystallization of the land with thousands of years of literature.
It was defined by stunning water stage, 3D visual effects, authentic costumes, live music, coordinated choreography, this show has been able to reconstruct and recapture the most compelling elements of Vietnamese village life, from folklore, music, poetry to water puppetry, Buddhism. Among more than 200 artists, of which more than half are local village residents. They have been undergoing instruction for over 2 years, now taking their spirit to the show stage from their own conventional entertainment.
The show is performed in Chua Thay (Thay pagoda), one of the oldest Buddhist pagodas in Vietnam, is located 25km west of central Hanoi. Chua Thay can be easily visited in conjunction with a trip to see The Quintessence of Tonkin, which helps frame the spectacle. Complimentary transportation is available from Hanoi for bookings made at least 2 days in advance.
Time: Tuesday, Thursday, Saturday 19:00-20:00
Place: Village of Da Phuc, commune of Sai Son, district of Quoc Oai, Hanoi
Price: $35-$ 55, depending on the seat type
4. Hoi An Memories Show
The Hoi An Memories show is an incredible spectacle, brings you back a 400-hundred-year journey of the town's growth when Hoi An is a trading port during the 16th and 17th Centuries. The show is divided into different chapters. Chapter I of the "Hoi An Memories"  show centers around the formation of this famous locality. Chapter II tells about the wedding of Huyen Tran princess and Champa King Jaya. Chapter III reminds the audience of the busy port city of Hoi An in the past, which was always packed with vessels, sailors, and merchants, who came, traded and left, despite many of them falling in love with locals.
Hoi An Memories is a large-scale outdoor show at Hoi An Impression Theme Park, a popular theme park nearby Hoi An Town. The stage spreading over 25,000 square metres features both watery and rocky landscapes extending over one kilometer and featuring 500 actors & artists. The state-of-the-art audio and lighting technologies are used to produce a creative and entertaining display.  Time: 7:30 PM-8:45 PM (weekly except Tuesday)Place: Hoi An Impression Park, Con Hen (200 Nguyen Tri Phuong turn left), Cam Nam, Hoi An, Quang NamPrice: The ticket varies based on the seat type: From 600,000 VND (USD 26) (ECO) to 900,000 VND (USD 39) (VIP).https://www.youtube.com/watch?v=fBLF-kFihPs
5. A O show in Ho Chi Minh City
It is a combination of circus art, contemporary dance, traditional Vietnamese music, and scenic lighting. During 60 minutes dancers, actors and musicians illustrate the transition of Vietnam from rural life to urbanization, using only the power of movement and facial expression.
The show takes place 6 times a week at the Royal Opera House in Ho Chi Minh City. The site is normally closed for visitors and seeing the AO Show gives you an exclusive opportunity to go on a guided tour of the building before the performance.
Being held at the iconic Saigon Opera House, A O Show by Lune Production features visual illusions and amazing performers, combined with contemporary music by a group of talented in-house artists. Missing only the colorful outfits, the crew is often regarded as the infamous Cirque du Soleil, who balances giant bamboo props. Not only that they will execute gravity-defying stunts, but they also make your hearts to sync with the tempo of the show. Afterward, local dancers and musicians are very friendly to meet and greet their guests.
Time: The show performs based on schedule at 18:00 and 20:00
Place: Ho Chi Minh City at the Saigon Opera House, 07 Cong Truong Lam Son, Dist. 1, Ho Chi Minh;
Price: The adult price varies from US$ 28 to US$ 57 per person, and from US$ 18 to US$ 42.75 for children (7 – 12 years old), depending on the seats.