Vietnam has over 3000 km of coastline with the richness of countless stretches of sand, tropical islands, caves, and lagoons. The country is famous for tourists thanks to many stunning beaches along the coastal line. Here are the top 7 most wonderful beaches in Vietnam for this Summer holiday.
1. Cat Co Beaches (Cat Ba Island – Hai Phong)
Cat Ba island is an islet belonging to Halong Bay. Among 367 islands making up the Cat Ba Archipelago, Cat Ba is the largest one which contains three small and beautiful sandy beaches, known as Cat Co One, Cat Co Two and Cat Co Three.
Highlights: Cat Co One and Cat Co Three is great for daytime stroll thanks to a cliff-facing pathway that links the two beaches. Cat Co Two offers a romantic getaway with many bungalows and chalets.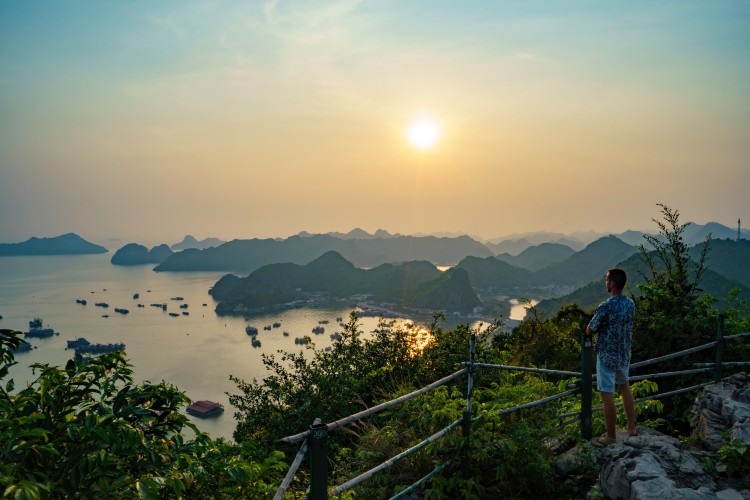 Almost half of the island is surrounded by the thick green jungle of Cat Ba National Park – a UNESCO World Biosphere Reserve. Additionally, the island has captivated visitors with inexpensive scrumptious foods and plenty of amazing activities such as rock climbing, kayaking, snorkeling, discovering hidden nature, etc…
The beaches are wonderful places for sunbathing and swimming. They are full of swimmers during summertime, so if you don't want to be overwhelmed with crowds on the beach, avoid going there from May to July. If you want a cleaner and quieter beach, go to the nearby Monkey Island. The first thing that attracts visitors here is the breathtaking landscape.
The most interesting thing in Cat Ba is a magical phenomenon called bioluminescent plankton. You have to take a night time dip to see the tiny luminous sparkles dancing with the water's movement. Besides, the view of boats and harbor in this islet is very nice. It is worth spending one to two hours to witness the sunset at Cannon Fort Cat Ba and experience unforgettable memories.
When to visit: The months during spring and autumn are ideal for staking a spot and spending all day long on looking out into this shimmering bay thanks to ideal conditions in rainfall, temperatures and sunshine.
2. My Khe Beach, Danang
It is a pity when spending your days in Danang without visiting one of the most charming beaches in Vietnam, namely My Khe , beside Non Nuoc beach and Bac My An beach.
Just 5km from the city center and 25km from Hoi An, a picturesque beach appears in front of you. Suitable for family trips, My Khe beach attracts tourists by its pristine beauty with a 10km coastline lasting from the base of Son Tra Peninsula to the Marble Mountains (Ngu Hanh Son).
Highlights: My Khe beach has been voted by Forbes as one of the six most attractive beaches in the world. The long stretch of smooth white sand, slight slope, gentle waves, clear and warm water, blue sky, white clouds, and beautiful coconut trees create the glamorous natural scene. A beach is also a great place for sunbathing, jet-skiing, surfing, yachting, fishing, and snorkeling.
What to do: One special thing about My Khe beach is that the water is warm all year round, so you can swim at any time of the year. The beach is safe for swimmers because it is not so deep; and flag swirls, life-saving buoys, and a rescue team are always available. Much more than that, you will witness a different My Khe with an orange coat during sunset. You will be captivated by the glorious sunset.
When to visit: Being attractive both day and night, this beach is in its most beautiful state from May to October.
If you want a peaceful, natural, and relaxing place, My Khe beach will be your ideal destination with an unforgettable impression.
3.Beaches in Binh Ba Island, Khanh Hoa
Binh Ba, also called Lobster Island, is a small isolated island located in Cam Binh commune, Cam Ranh city, Khanh Hoa province. The island is 15km away from Ba Ngoi harbor. It used to be occupied by the military and no one from the outside was allowed to visit. Now, the rule has changed but only local people can enter the island.
Highlights: Binh Ba still retains its natural beauty because it is protected well by the soldiers and relatively unspoiled. There are seven pristine beaches on the island including Hon Co, Bai Chuong, Old House, Cay Me, Bai Rua, Bai Nom and Bo De but only three beaches namely Bai Nom, Old House and Bai Chuong are accessible.
What to do: The most beautiful beach on the island is Bai Nom. A stretch of smooth white sand and mountains in two sides with gigantic stones on the top create a spectacular arc-shaped coastline. It is the only beach where you cannot see dawn and sunset. Old House beach is the place where the water is cleanest.
However, because of the rocks, it is a little uncomfortable if you want to swim here. There are many colorful coral reefs under and over water in Old House beach, so you can try scuba diving, snorkeling or sitting on a boat to explore them.
Although Bai Chuong beach is not as glorious as the other two, it is an ideal place for watching the sunrise on Binh Ba island. Furthermore, the island captivates visitors with wild scenery, cheap seafood and friendly locals. This is also a wonderful location for photo shooting.
When to visit: The days between March and September are considered the best period to gaze upon the beaches in Binh Ba.
Note: If you are a foreign visitor on the island, don't be curious and break the rule in a restricted area.
4. Co Thach Beach, Binh Thuan
Another tourist destination that should not be missed in Vietnam is Co Thach beach in Binh Thuan province. Located in Tuy Phong district, Co Thach beach is about 90km away from Phan Thiet city, about. This legendary land is famous for many unique features.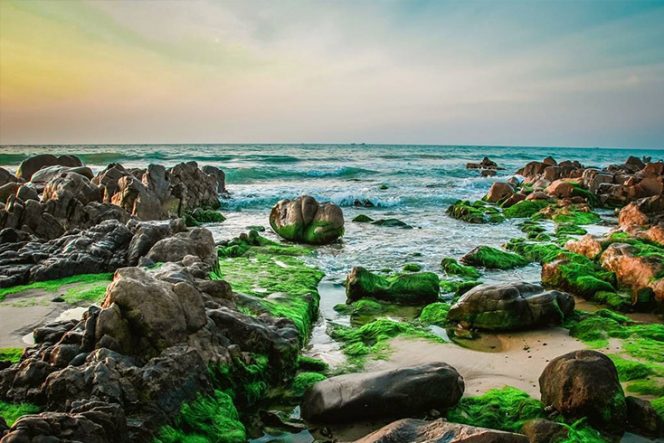 Highlights: One special thing you can see at Co Thach beach is the rocks with different colors and strange shapes. Apart from gentle waves and clear water, the beach scene is extremely spectacular with the big rocks wearing a green moss coat.
What to do: Tourists will have an opportunity to witness a constant color change of the rocks under the sunlight. You will be enchanted by kaleidoscope colors of the rocks. They can look purple, red, green, black, white… depending on the angle of the light.
Every year, from February to April, throngs of photographers flock to the beach to capture the stunning glisten of the rocks at sunrise and sunset. It is hard to find such an exotic scenery anywhere else.
What tourist likes the most when coming here is the pristine beauty of the beach. Co Thach pagoda (or Chua Hang) and Hang Son are the nearby places that are worth a visit, too.
When to visit: If you are planning to come to Co Thach beach, do not miss the best time in March – the hunting season for seven colored stones or in August when the most important festival – Nghinh Ong is celebrated.
5. Quy Nhon Beach, Binh Dinh
Even though Quy Nhon beach is not regarded as a tourist destination, it deserves to be a rendezvous for beach lover. The city beach is considered as the Maldives of Vietnam. It is untouched by tourism industry, so most visitors are local people.
Highlights: The first impression when coming to Quy Nhon beach is that it is very clean. There is no rubbish scattering everywhere, no tourist buzz, and no vendors with plastic chairs on the strip. The allure of the beach is crystal clear turquoise water, surrounding green hills, and golden sand. Locals orderly lay wooden tables and chairs on the sand and tourists can use thatch umbrellas and lounge with the cost for just a drink.
What to do: The beach is completely empty during daytime, so you can be free to enjoy all day in the sun. Moreover, Quy Nhon beach is also a good place for people who want to relax in a quiet setting. What a wonderful place to hide away from bustles of city life. Since Quy Nhon is major in the fishing industry, tourists will have an opportunity to enjoy exceptional seafood.
When to visit: If you feel inclined to pure natural landscape, Quy Nhon beach is worth a visit. It's better to visit Quy Nhon between February to August when the rainy season stops and the weather is quite pleasant.
6. Beaches in Con Dao Islands
If you are wondering where to stop by on your trip to Vietnam, then select Con Dao islands as your first choice. Con Dao islands, also called Con Dao National Park, are an archipelago of 16 islets in the south of Vietnam that are isolated from the mainland. Therefore, Con Dao islands are the home of many stunning unspoiled beaches.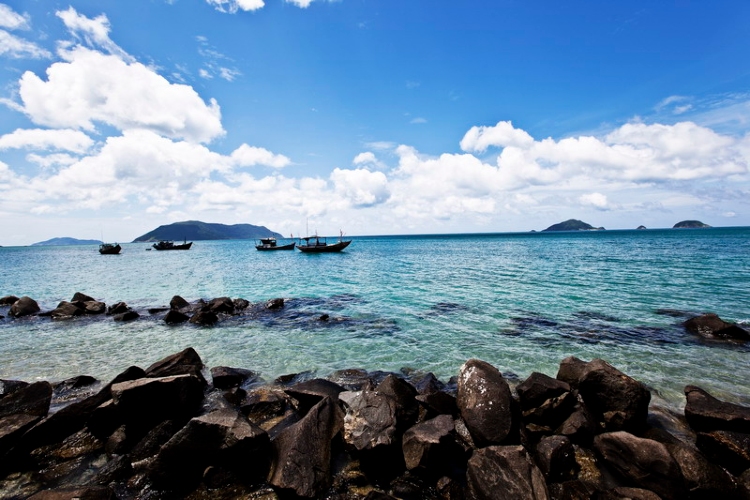 Highlights: In the top list of pristine beaches, Con Son island appears to be an ideal place where you can see plenty of glorious beaches and bays, namely Lo Voi beach, An Hai beach, Bai Suoi Nong, etc. One of the most appealing beaches of Con Dao island is Bai Dat Doc. Surrounded by bushy woodland and rocky mountains, this beach welcomes travelers to the world of breathtaking natural landscape.
What to do: In Con Dao islands, Dam Trau beach is a popular spot for swimming and sunbathing with light waves, clear blue water, and colorful coral reefs.
Apart from exploring the traumatic past of this land with ochre French colonial buildings and jails, it is worth immersing yourself in the magnificent beaches.
Travelers can also go through a tunnel to reach the nearby beach, namely Bai Suoi Nong. Because of this geographic separation, Bai Suoi Nong is almost completely pristine with white sand and lush mangroves.
Are you a fan of camping? Then go to Lo Voi beach and An Hai beach along Ton Duc Thang street. These two beaches are well-known locations for a shore excursion. Group travelling can gather to play with waves and do camping here. Lo Voi beach is charming with long white sand and poplars whereas An Hai (the largest beach) captivates visitors with the covering of numerous majestic mountains.
Nothing is more enjoyable than stepping on the sand of the beach in the morning to enjoy the sun rays, letting your hair blow in the salty breeze with the outlook to the infinite turquoise ocean or strolling along the town to experience idyllic and serene life. All these things bring us a sense of calmness and relaxation.
If you want to find yourself engaging more closely with expansive beaches and evergreen trees, Con Dao islands are the best option.
When to visit: The best time to visit Con Dao island is from March to September. If you are lucky, you will see turtles laying eggs during this time.
7. Long Beach, Phu Quoc Island
As the largest island in Vietnam, Phu Quoc is home to many beaches scattered around. Long beach, also called Bai Truong, is one of the must-see places on Phu Quoc island. The beach is located on the west coast of Phu Quoc island with 20km coastal line.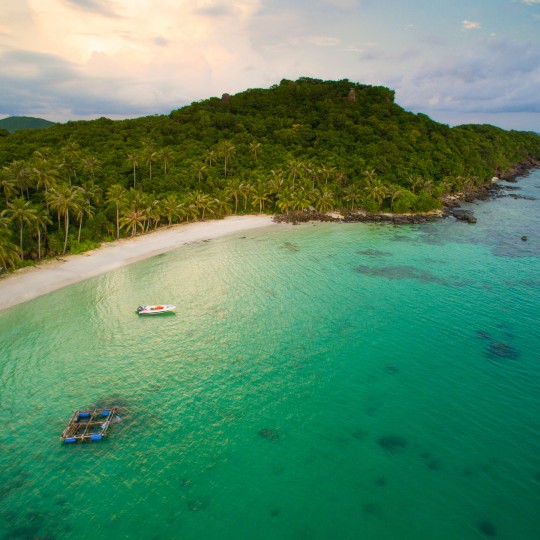 Long beach is divided into two sides: the north and the south. The northern end of the beach is inundated with hotels, guesthouses, hostels, bars, and restaurants, meanwhile, the southern end of the beach is where you can find shopping streets, marina upscale restaurants, luxury resorts, villas, and pearl farms. The beach is easily accessible on foot.
Highlights: What makes Long beach attractive are swaying palm trees, a long stretch of soft yellow sands, clear and calm water. Especially, there is one hanging beach-side palm tree in the northern section of the beach. This is the favorite place for taking wedding photos. The beach offers a wide variety of recreational activities, including swimming, sunbathing, snorkeling, jet skiing, kayaking, stand-up paddleboarding, squid fishing, and biking around the town. In fact, beaches at Phu Quoc island are considered among the best beaches for snorkeling in Vietnam.
What's more, you do is renting a bicycle or motorbike to explore pearl farms and traditional fishing villages in the southern end of the beach. If you do not want to participate in the activities, just make your paradise by relaxing on a sun lounge, enjoying a tranquil atmosphere with a sparkling beach, shimmering pellucid water and dancing palm trees beneath a cloudless sky.
Long beach also indulges photographers with breathtaking and glamorous sunset views. It has long captivated visitors thanks to this spectacular scene. Therefore, Long beach is worth an ideal destination in the list of places to go in Phu Quoc.
When to visit: Are you planning to spend your holiday in Phu Quoc? If yes, remember to book your tickets to the island on ideal days between December and May.