With the country possessing an array of beautiful lakes and rivers, Vietnam is an ideal destination to enjoy a kayak tour. Let's take a look at some amazing places for kayaking in Vietnam to choose during your Vietnam holiday.
1. Halong Bay
Halong Bay is one of the wonderful destinations in Vietnam with a lot of amazing landscapes for travelling. Besides that, Halong is also famous for interesting and attracting kayaking which is one of the must-try activities in Halong. During staying on a cruise on Halong bay, visitors can choose a kayak tour to take in the spectacular view of peaceful floating villages, limestone karst, and mysterious stalactite caves.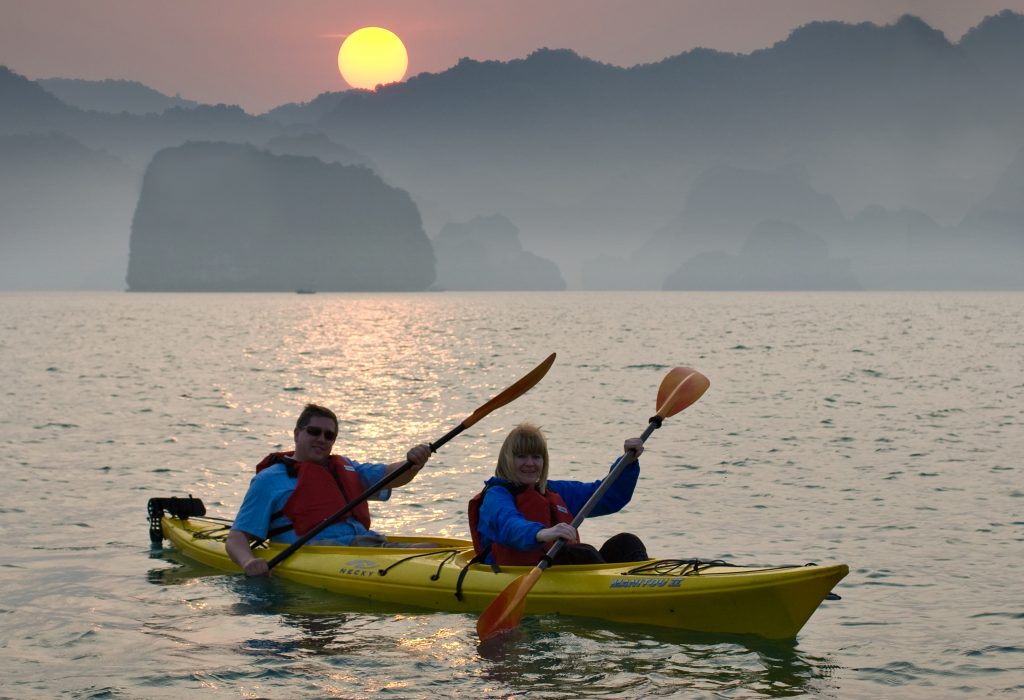 2. Lan Ha Bay
Located in Cat Ba Island, Lan Ha Bay is the home to approximately 400 islands and islets. The Bay is almost like a brilliant patchwork of natural painting with impressive landscape and seascape. Also, you can easily catch a glimpse of 139 pristine stretching areas of sand waiting out there. Kayaks floating on the emerald water surface allow you to get access to tiny bays and marvel at the colorful underwater world.
3. Nho Que, Ha Giang
From the top of Ma Pi Leng overlooked down, Nho Que is so peaceful, wild, and mysterious. When travelers enjoy Ha Giang Loop, most of them just could see the Nho Que river from Ma Pi Leng pass and do not have a chance to come down to the river. You could try kayaking on the Nho Que river and cherish this "meandering silk ribbon". By joining the tour, adventure seekers not only visit the loop but also could learn the traditional customs of local people according to their daily unique activities.

4. Ba Be lake
Kayaking is the best way to explore the breathtaking beauty of Ba Be Lake. The small boat allows you to get up close to the karst mountains and slip into the small caves. These paddle-powered vessels have the bonus of being eco-friendly. Also, without the noise of an engine, you can get much closer to the many different species of wildlife on the lake or explore the hidden corners of the lake, visiting the fishing villages' surroundings here.
5. Pu Luong
For adventure lovers who want to increase their adrenalin, river kayaking is a very option, especially during the rainy season. Paddle your way through stunning river landscape, passing traditional stilt houses, impressive water wheels, and farmland. Negotiate small rapids and the occasional small dams on your inflatable kayak to arrive at a jaw-dropping field, a perfect spot to combine breathtaking scenery with lunch or a snack.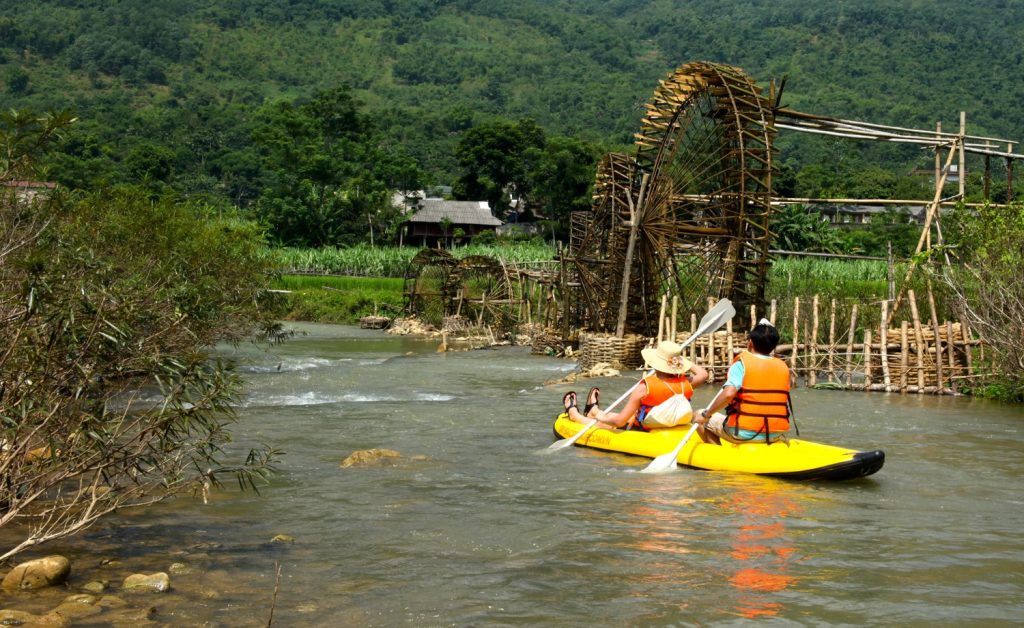 6. Phong Nha – Ke Bang
Highly renowned as the 'kingdom of caves', the Phong Nha – Ke Bang system will fulfill your passion for those in search of kayaking. The kayak will take you to every corner of the cave. You can enjoy fresh and quiet streams and have a closer look at colorful stalactites with several caves including Dark Cave, En Cave, and Huyen Khong Cave.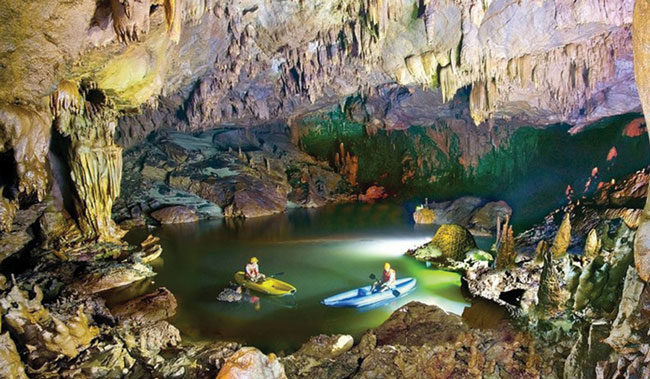 7. Whale island, Nha Trang
Kayaking is an extremely amazing thing to do on Whale Island in Nha Trang. Admiring a glorious sunset while kayaking on the tranquil sea of Whale Island by your friends is certainly a must-try experience. Many people who visited Vietnam have tried kayaking in Halong bay. But, Whale Island is also a great place to do this activity with another safer experience for those who are afraid of the sea.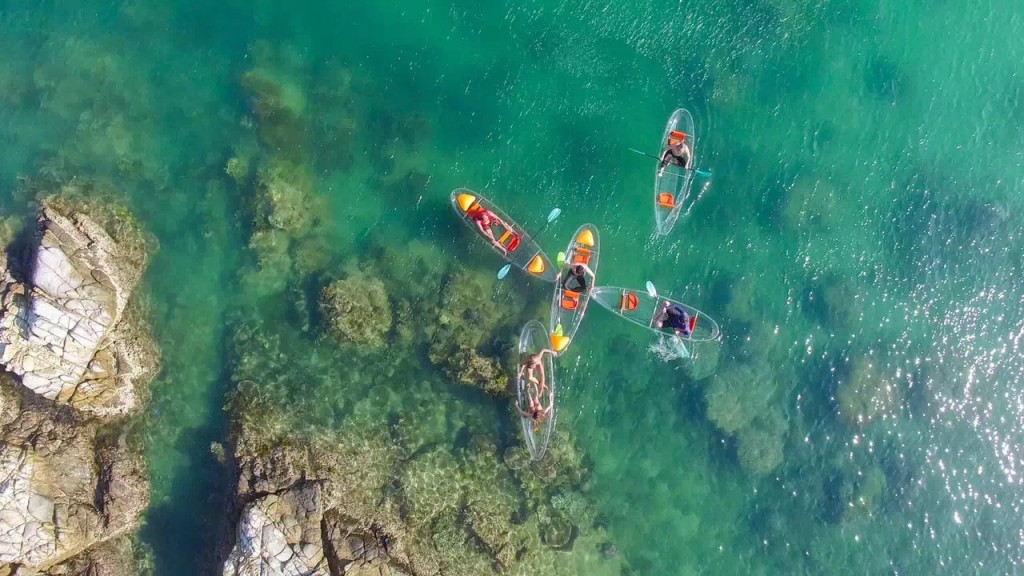 6. Tuyen Lam Lake, Da Lat City
5 kilometers to the south of Da Lat City, Tuyen Lam Lake is absolutely fantastic for a kayaking trip.  Try to imagine you can go through picturesque scenes around. How exciting it will be when you dip into the cool breeze from the nearby pine hill and maple forest while lying down on your kayak. That will be an unforgettable experience for you to explore Da Lat.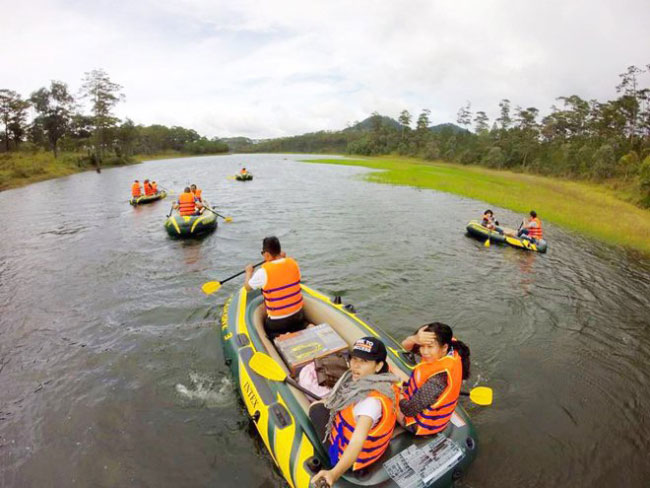 8. Ham Luong River, Ben Tre
Ham Luong River, Ben Tre Province of the Mekong Delta is where you can kick back and soak up the serene ambiance.  This is the kingdom of coconuts. Thus, it's easy for you to find out enchanting and tranquil landscapes embellished by canopies of green coconut leaves. And indeed there is nothing more fantastic than kayaking on the calm river with the coconut trees on two sides, which makes the atmosphere more pleasant. If you are interested, a Mekong Delta adventure tour can offer such a kayaking experience.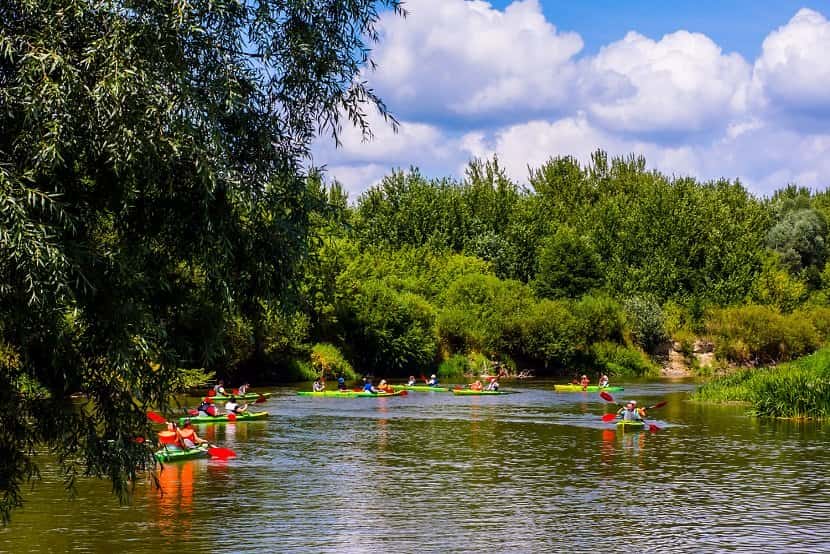 9. Cua Can river, Phu Quoc
Cua Can River is a long and charming river running through Phu Quoc primeval forest. For nature lovers, this is a suitable destination to combine exploration between rivers and mountains. Cua Can River with very clear water is such a perfect place for kayaking when sailing, you can see fish swimming in the clear water.  You can also see flocks of birds and storks chirping on the bushes in here.