Vietnam – the country is well known for its fascinating history, ancient culture, tropical climate, and now its range of fantastic championship golf courses. Recently, Vietnam is one of the best destinations for golfers around the world which offers a truly memorable experience both on and off the golf course. If you are finding the best golf courses in Vietnam, here is the suggestion list of the 9 best golf courses for a Vietnam golf holiday.
1. Phoenix Golf Course- Hoa Binh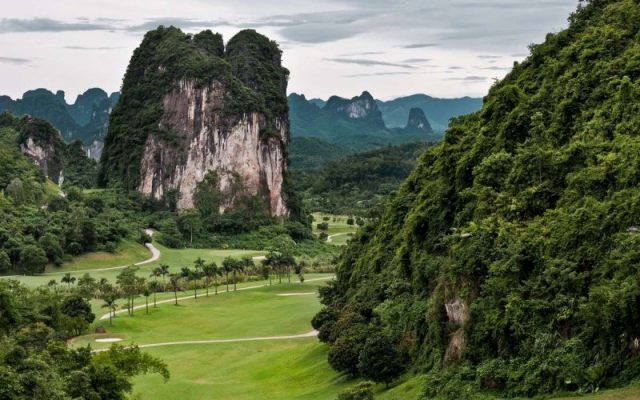 Around 38 km from Hanoi, with an area of 312 ha, PhoenixGolf Resort was built to international standard and was admitted on the PGA tour within a year, and the World Masters Vietnam Competition, with 142 professional golfers from 27 countries, took place herein 2007. Because of its location, the course benefits from the surrounding natural beauty.PhoenixGolf Course has 3 courses with a total of 54 holes; the Phoenix course was designed by Golf Plan USA, the Champion course by Songho Group Korea, and the Dragon Course by M& K Co Japan, and each course reflects the country of its designer providing golfers with a variety of experiences.
Weekdays: USD 145, Weekends and holidays: USD 179
2. Dong Mo King Island Golf Course – Hanoi
King Island Golf course is located on 350 ha of land surrounded by 1500 ha of water. It includes two 18-hole lakeside courses, in operation since 1993, and a mountain-view course which opened in 2004. Fourteen of the eighteen holes on the lakeside course use the local terrain and natural hazards as part of the course. Meanwhile, the stunning mountain-view course is really challenging, even for professional golfers. It is recommended to play at both as each course offers different aspects and challenges. The course was given the "The best Par 5 in 2008" award.
Weekdays: USD 119, Weekends and Holidays: USD 161
3. Laguna Lang Co Club – Hue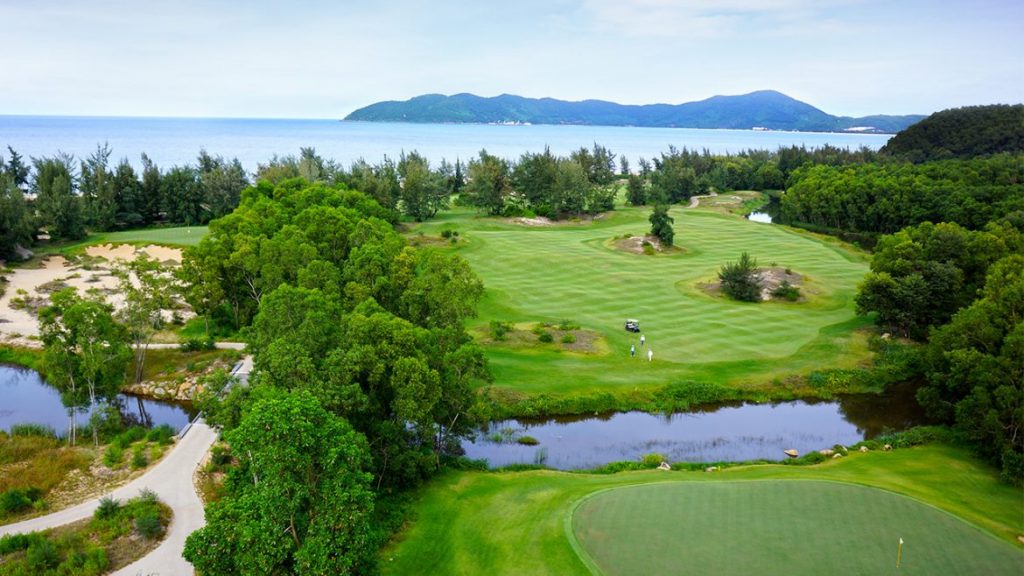 Together with the Montgomerie Links and Danang Golf Club, the Laguna Lang Co is one of the three best courses in the central coastal area (Danang region). The 18-hole and 71-par golf course was designed by Sir Nick Faldo and is located on a luxury complex, belonging to the Banyan Tree Corp, with gorgeous views of the ocean and mountains. It is suitable for players of all levels with a choice of fairways:6,958yards for professional and 5,263 yards for amateur golfers. Each hole is designed with distinct characteristics, creating interesting variations for each round of golf. The natural terrain surrounding the golf course ensures a memorable golfing experience for every player.
Weekdays: USD 98/pax, Weekends: USD 126/pax.
4. Montgomerie Links – Danang
Voted the"Best Golf Course in Vietnam" in 2011, the 7,090-yard Colin Montgomerie-designed Montgomerie Links is surrounded by stunning scenery. The course follows the terrain and is suitable for all levels of golfer. The course does not have a signature hole, but the par-5 twelfth appeals to many of the golfers who have played here. Playing slightly uphill to a bunker-riddled fairway, the hole is framed by the clubhouse in the background and has been described as the best par-5 in Vietnam.
High Season: USD 109/pax, Weekends: USD 147/pax.
Low season: Weekdays: USD 103/pax, Weekends: USD 141/pax.
5. Sea Links Mui Ne – PhanThiet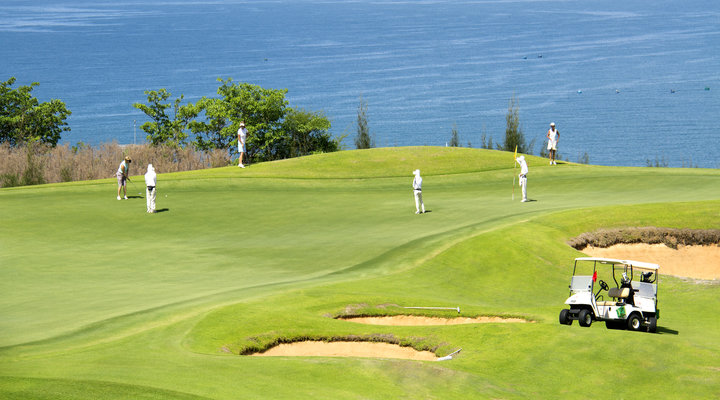 Sea Links Golf & Country Club, which was designed by Golf Plan Design Company (USA), is located on a complex of 168 ha overlooking the ocean, with panoramic views of Mui Ne Bay, which has a particular appeal for international golfers. The Sea Links course is a modern but traditional links-style golf course that exists nowhere else in Vietnam, or even in Asia. With its fabulous views and characteristics, the Sea Links Golf Club, the largest complex in the area, is ideal for hosting a private or corporate tournament, gala dinner, or golf training camp for both junior and professional golfers. All greens are covered by Bermuda Tiff Eagle grass which makes them look smoother and very pleasing to the eye. Sea Links Golf Club received the "Vietnam's Must Play Getaway" award, voted by The Economic Times – The Guide Readers' Award.
Weekdays: USD99, Weekends and holidays: USD 126
6.Dalat Palace Golf – Da Lat
Dalat Palace Golf Club is in a delightfully peaceful location with rolling hills, majestic pines, and a series of lakes around ten of the 18 holes, creating a very challenging championship-caliber golf course. Hole #6 is the signature hole with its intimidating tee shot with water to the left and along a narrow fairway. The intimidation does not end there as it is a difficult shot all the way to the green, which is surrounded by water and bunkers. If you hit the ball straight and accurate on this hole, it is a great birdie opportunity because the hole is not overly long for a par 5. Dalat Palace Golf Club is an enjoyable challenge for golfers of all levels. This course has attracted a spectrum of domestic and international golfing enthusiasts.
Weekdays & Weekends: USD 114
7. The Bluffs Ho Tram Strip- Vung Tau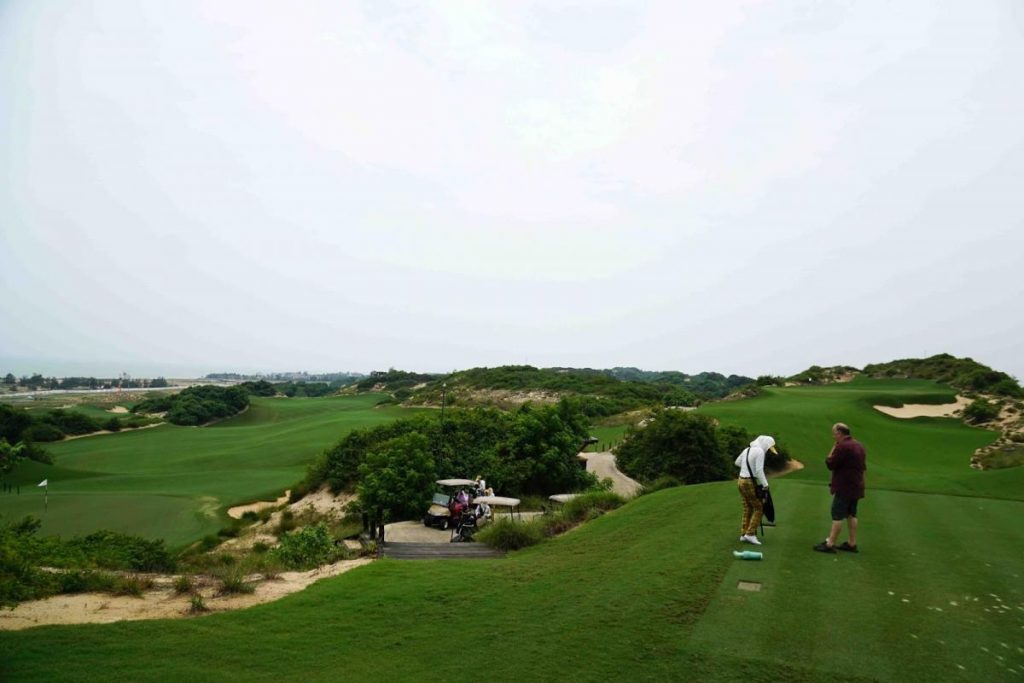 The Bluffs Ho Tram Strip is Greg Norman's second golf project in Vietnam, following Danang Golf Club in Danang. Located 80 miles southeast of Ho Chi Minh City in Vung Tau Province, the course lies on a coastal plateau and holes are routed around seaside sand tunes. The stunning and majestic ocean views from many of the holes make this one of the most spectacular golf courses in the world. Moreover, the service includes a large restaurant with great views over the golf course and the ocean and luxurious locker rooms.
8. Song Be Golf – Ho Chi Minh City
Song Be Golf Resort was Vietnam's first international championship golf course. The 27-hole course is officially rated in accordance with the USGA (United States Golfers Association) requirements. There are three main courses – Lotus Course, Palm Course, and Desert Course. Each features different attributes reflecting its name in this tropical landscape. The three golf courses, each with a variety of difficulties, are suitable for golfers of any level. Desert is considered the most challenging and demanding course even for professionals. This course was voted the Most Unique Golf Course Design in 2011 and recently Hole #9 was voted as Best Par 5 Hole in Vietnam.
9. VinPearl Golf Club- Phu Quoc Island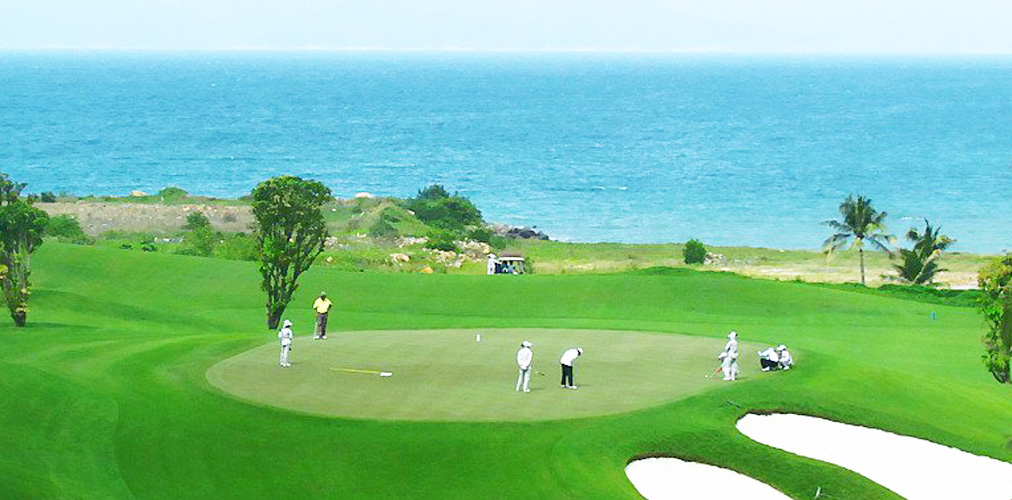 The three courses present the golfer with slightly different challenges resulting in a wonderful 18 holes regardless of which of the three 9's you choose to play. The service and facilities in the clubhouse are outstanding with excellent service that you need to experience. The female caddies are very well trained and offer great advice on how to negotiate the golf course. This is a really special course and if they build the other courses in the area to a similar standard then Phu Quoc Island is sure to become a major golfing center.