1. When is Vietnam's National day?
The 2nd of September marks the Vietnamese National day. Every year at this day, Vietnam celebrates its Independence Day and the Vietnamese declaration of Independence from France.
The history of this day roots back to World War II. In 1887, Vietnam was a part of French Indochina. Then during World War II, Vietnam was occupied by the Japanese till the end of the war. By that time, on 2 September 1945, following Vietnam's 'August Revolution', Ho Chi Minh proclaimed the establishment of the Democratic Republic of Vietnam (North Vietnam).
Interestingly enough, the Vietnamese declaration of Independence drew heavily from the American version regardless of all the conflicts and difference between the two countries.
And finally, in 1976, the two parts of Vietnam were finally united into one whole country called the Socialist Republic of Vietnam. Yet, 2nd September remains the key date in Vietnam's way to total independence.
And on September 2nd, thousands of Vietnamese people gathered at Ba Dinh Square, Hanoi to listen to the Declaration of Independence read by the first President of Vietnam – Ho Chi Minh. He, in the Declaration, officially stated that Vietnam was, at that time, free from French's colonial force. From that moment on, every year on this very same day, Vietnamese people have been always celebrating this meaningful and historical occasion. In addition, this special event aims at celebrating the Independence of Vietnam after a period of hundred years under France's colonization.
2. Where to visit during Vietnam National Day?
a. Day trip escape to Vung Tau from Ho Chi Minh City
Source: Lux Travel DMC
If you've already been in Ho Chi Minh City and you do not like the crowded, Vung Tau Beach is the way to go. Located just 125 kilometers from Ho Chi Minh City (aka Saigon), Vung Tau preserves the feel of a harmonious community of religions, mountains, beaches and architecture, both old and new. It used to be known as Cap Saint-Jacques under French occupation, thanks to its sandy beaches and transparent warm blue water all year round.
On the way to Vung Tau, you will visit the Large House (Nha Lon) and its temples at Long Son Island. Large House is a place to celebrate festivals, with a school, a market, a Ghe Sam preserving house, and Ong Tran's graveyard.
Arriving in Vung Tau, the capital of Ba Ria Vung Tau Province, you will visit the White House Palace (a summer residence of the last emperor Bao Dai), offering a wonderful view of the beach and the city. You will visit Niet Ban Tinh Xa, Nirvana Meditation Retreat and Thich Ca Phat Dai, a Buddhist shrine. You will also visit a French-built lighthouse and the giant Jesus Christ image as optional choices.
b. Private Fishing Tour in Nha Trang Island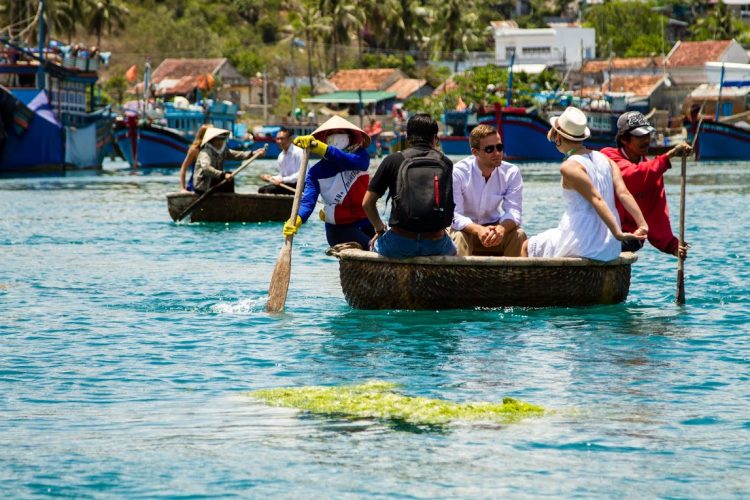 Source: Lux Travel DMC
Being one of 29 most beautiful bays in the world, Nha Trang Bay features more than 350 species of corals and 222 species of colorful fishes. In addition, thanks to the tropical climate, crystal sea, and peaceful atmosphere, Nha Trang becomes the perfect destination for a private fishing tour as well as snorkeling tour and island tour.
Reel in your excitement and join our private fishing tour setting out from Mun Island to the beautiful fishing villages at the heart of Nha Trang. No matter if you are a first-timer or an experienced angler, this fishing tour is fun for everyone and a fantastic addition to your amazing trip to Nha Trang.
c. Under the sea & Around City Discovery in Nha Trang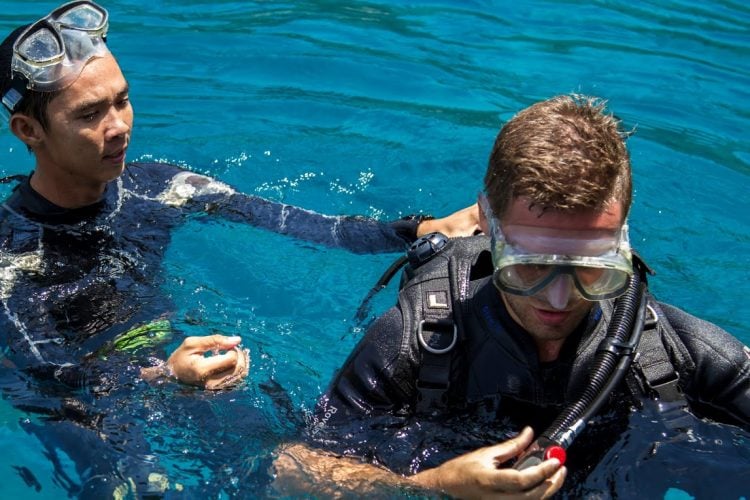 Source: Lux Travel DMC
If you are not a big fan of fishing but still love visiting Nha Trang during the Vietnamese National Holiday, snorkeling and diving is the great choice for you. During Vietnam National Day (at the beginning of September), the weather in Nha Trang is really nice and the water is calm and clear which offers the visibility of 20-40 meters. The best place for snorkeling and scuba diving in Nha Trang is Hon Mun Island. Located 40-minute boat ride from Cau Da Port, Hon Mun Island features the various water depth and swim-through tunnels where you can admire a lot of colorful tropical fish, moray eels, pufferfish, and thriving coral reefs.
After discovering city, you can take a bicycle, a motorbike to get around the city. There are many tourist attractions for you to discover such as Long Son Pagoda, Thap Po Nagar, Nha Trang Cathedral, Ba Ho Waterfall, and Hon Ba Mountain.
d. Discover a colorful Ho Chi Minh during National Day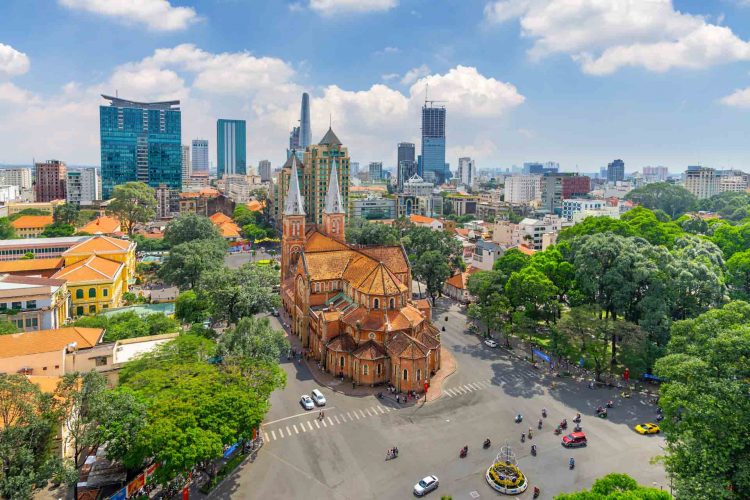 Source: Lux Travel DMC
Despite the crowded, Ho Chi Minh – the heart of Vietnamese business and entrepreneurs is still an ideal place to admiring the celebration of National Day. During the trip around Saigon, you can see a fast-paced city full of contrasts as street vendors selling fruit and vegetables can be seen next to glitzy western-style bars and boutiques. The trip also provides you a glimpse into elegant temples and pagodas and some of Saigon Landmarks. Some famous tourist attraction you shouldn't miss include The Reunification Palace, War Remnant Museum, Saigon Central Post Office, Ben Thanh Market, Giac Lam Pagoda, and Notre Dame Cathedral
e. Get around Hanoi – the capital of Vietnam during National Day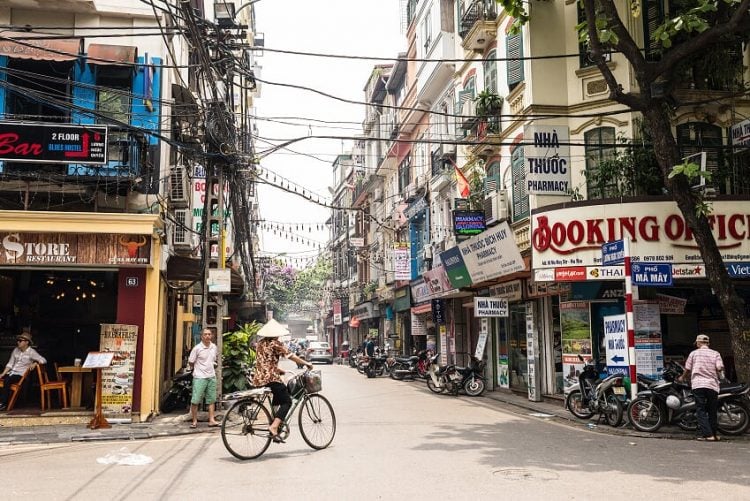 Source: Lux Travel DMC
Nowhere can be better than the capital of a country to experience the national spirit and admire national celebration on its National Day. Several weeks before September 2nd, Hanoi has a new and colorful appearance thanks to the national red flags and gorgeous flowers blossoming in every corner. A full-day or half-day Hanoi city which starts in Hanoi Old Quater and passes the Ho Chi Minh Mausoleum offers you an amazing chance to know more about the spirit of Vietnam. During National Day, Vietnamese people often come back to their hometown to visit old friends and family or travel to other cities, so that Hanoi will not be as crowded as you are imagining. So, it will be a great opportunity to discover Hanoi without hustle and bustle. Don't forget to visit Hoan Kiem Lake, Temple of Literature, Hoa Lo Prison, and Dong Xuan Market
f. Escape to Con Dao Island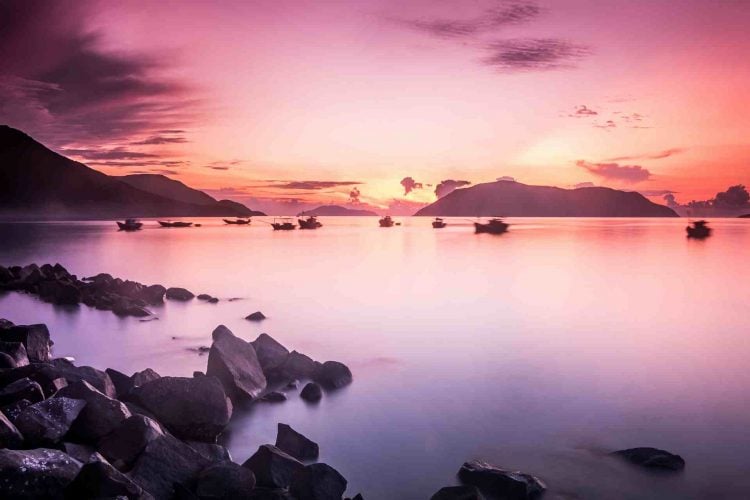 Source: Lux Travel DMC
Located on Con Son – the largest island of this remote southern archipelago, Con Dao is famous for both natural beauty and historical value. In colonial times, the islands of Con Dao (also known as Poulo Condore) were much feared as it was the prison set up by the French to detain and torture tens of thousands of political prisoners and freedom fighters. The prisons closed in 1975. Since then, Vietnamese people come on somber pilgrimages to remember national holidays and relatives who were imprisoned or died on this island. During special days like Vietnamese National Days, there are more people visiting Con Dao Island to sober reflection. Thanks to geographical location and beautiful mountain near the sea, Con Dao currently is also a fascinating place for relaxation and recreation in South Vietnam. There so many interesting things to do in Con Dao including swimming through the crystal sea, walking upon the beach, hiking in the jungle, riding the scooter along the deserted coast road, enjoy a sunset cocktail on the seafront promenade.
e. Exciting Mekong Gateway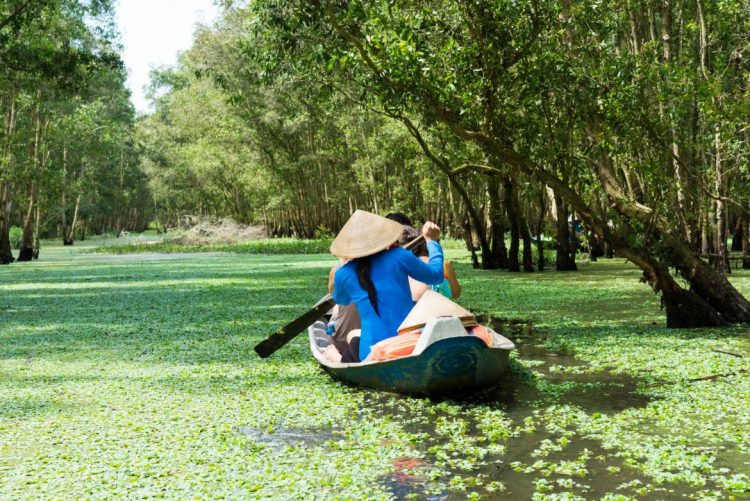 Source: Lux Travel DMC
Among the gateways nearby Ho Chi Minh, Mekong Delta is the best place to immerse yourself into the local culture and lifestyle. Being the heart of Southern Vietnam's agriculture, Mekong Delta features the green rice fields, sleep coconut palms, colorful tropical fruit orchards, and large sugarcane groves. See the agricultural heart of Southern Vietnam with rice fields, coconut palms, tropical fruit orchards, and sugarcane groves. Within one or two days to Mekong Deta, you will have chances of cruising along Mekong River, visiting the colorful floating markets, enjoying traditional music while tasting the amazingly delicious lunch.
3. How do Vietnamese people celebrate in their National Day?
Since 2nd of September in 1945, Vietnamese people have always been celebrating their National Day as a meaningful occasion. Another interesting thing is, if the holiday falls on a weekend day, the following Monday will automatically become a public holiday as well.
a. Colorful decoration everywhere
Every year at this event, there always be noticeable excitement present in the everyday quiet and calm atmosphere of Hanoi. On the roads, the streets or even the small typical alleys around Hanoi, you can easily see the Vietnamese flag made of striking golden star against the red background proudly perched from every house. You can feel the entire country's anticipation for this historical day of the Vietnamese nation and people – 70 years since the August Revolution and 70 years since President Ho Chi Minh declared Vietnam's independence and the formation of the Democratic Republic of Vietnam in front of 500,000 people at Ba Dinh Square.
On the main streets of the cities, you can see lit up signs and decorative flower beds reminding us that this September 2 is a day of significance – the anniversary of Vietnam's independence and national day. You can also see a lot of  Uncle Ho's oversized posters picturing the historic moment when he spoke into a microphone in 1945.
Many tourists visiting Vietnam can feel the strong patriotism and love displayed by the Vietnamese people. But, at this time of the year, the bond of the whole nation and the patriotism in this shared sentiment of national pride was remarkably stronger than usual.
This is no doubt an occasion for the Vietnamese people to show their pride, patriotism, and love for their country, and in particular to show their appreciation for what their predecessors sacrificed for the country, for all of the efforts and sacrifices made to construct Vietnam today as we know it. The Vietnamese flag everywhere is a constant reminder to younger generations of Vietnamese that their predecessors had to sacrifice and endure to give them an independent Vietnam – this is the reason why every house displays the national flag with such huge pride.
September 2, 2015, is a historical milestone for Vietnam – from the most humble beginnings, the nation has transformed itself from a country ruled by foreign invaders to a striving, developing and prosperous nation and people.
However, despite the obvious pride, there are also little signs of annoyance, generational conflict, and indifference.
b. "Happy" street block all over big cities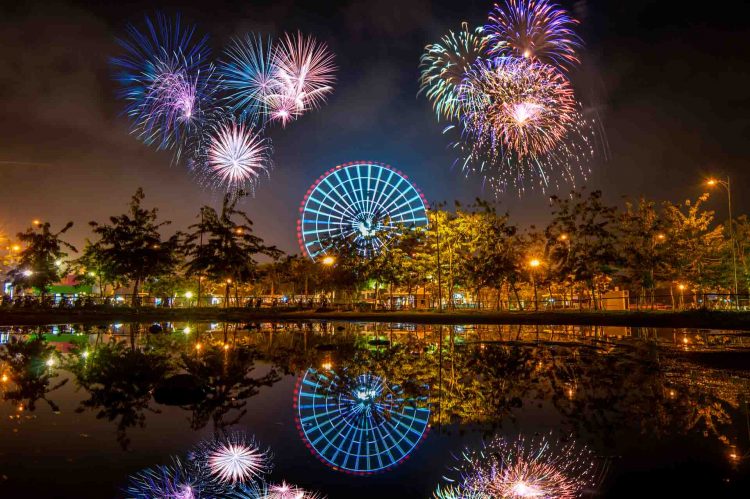 On this day, there are always police and squats that ban normal citizens fro some of the main streets of Hanoi and Sai Gon, which may cause street blocks in the morning and late night. Last year in Hanoi, trucks and coaches with more than 24 seats excluding buses, garbage trucks and vehicles with badges, will be forbidden on main streets such as Ton Duc Thang, Hang Gai, Hang Bong, Ly Nam De, Hai Ba Trung, Lac Long Quan, Phan Chu Trinh, Ly Thuong Kiet, etc. All drivers and motor riders must avoid banned streets and take any alternative routes. On these days, some company even let their employee come to work late.
But obviously, it can cause distress to some people considering that they are virtually impossible to go anywhere due to some 40 streets around the city being closed.
But all the street block is worth it. Last year, around 35,000 people participated in the rehearsal on August 29 and the official parade at Ba Dinh Square in Ha Noi from 7 am on September 2. On the walking street in the main area of the Old Quarter, a photo exhibition on the events, a traditional cycling race and art performances were taken place as parts of the city's activities to celebrate the events.
c. The new trend for urban citizens on Vietnamese National Day
Big cities like Hanoi or Sai Gon can be quite peaceful at times during National Day despite all-day festivities. This is mainly because of the city's population will head out of the city to some beautiful beaches or even traveling abroad to enjoy a rare day off.
Today, many Vietnamese families decide to travel as the best way to enjoy their day off. They use this time to visit other cities such as Nha Trang beach, Phu Quoc island, Halong Bay, Sapa, Hue, Hoi An, Dalat, etc. Interestingly enough, the weather at this time is usually sunny, with breezy wind – very suitable for a short holiday all around Vietnam.
Others spend Independence Day of Vietnam also with their families and friends as a mean of celebration. Generally, it's a time for Vietnamese to relax and gather together with their friends, relatives and have big feasts.
If you are a tourist, it is recommended that you stay in big cities to witness a huge celebration with all of Vietnam's traditional dances and culture. The tours around Hanoi or Sai Gon will have a distinctly different vibe than city tours at different times. The way you see the city will be different because this time, you can clearly feel the hype spreading all over this land.
d. Public celebration
In Hanoi, you can see elaborate decorations on every street. At this time, visitors can attend numerous cultural performances and other celebrations, most of them are for free.
There are several public activities can be seen in the National Day of Vietnam: fireworks are shot in the sky in numerous places, parades are organized on streets, etc. On this day, Ho Chi Minh Mausoleum or Ba Dinh Square is always crowded as Vietnamese people see this as a day to ponder over the historical event taking place years ago.
Last year, a huge number of activities were taken place to show Vietnam's national heritage and patriotic spirits. For example, last year, two communications events were held in the evenings in the districts of Quoc Oai and Thanh Tri to commemorate millions of heroes who sacrificed themselves for the country's independence and reunification. Meanwhile, cultural events and arts performances stages in Long Bien, Ha Dong, Hai Ba Trung, Thanh Oai, and Ung Hoa districts received huge applause from local residents. There will also be art exhibitions, displays and talks to shed light on the famous August Revolution as well as discussion on President Ho Chi Minh's modest and famous morality and lifestyle.
Moreover, there was Book Fair taking place at the Culture and Arts Exhibition Centre with a huge display of books and newspapers published in 1946 featuring the August Revolution and National Day on September 2. Bookworms were able to collect rare documents such as an edition of Su That (Truth) newspaper from August 16, 1946, Lao Dong (Labour) newspaper's edition No 83 in 1949, Cuu Quoc (National Salvation)'s edition No 813 in 1949 and Nhan Dan (People)'s edition from September 2, 1952.
I am sure these activities can keep not only the local entertained, but also bring out interesting experiences for tourists visiting Vietnam on National Day.
e. "

Đi bão" culture
Talking about "interesting experience", it would be a shame if we do not mention "Đi bão" culture. This slang originated from Vietnamese people's nationalism as well as their burning passion for football since day one. On football seasons, if the national team wins, you will hear people telling each other to "Đi bão". This always means that a group of people teaming up to celebrate by motorbikes racing around the city with a flag in their hands, or recently, vuvuzela.
Vietnamese people do not "Đi bão" the same way as when their favorite soccer team wins. They will perform it in a much gentle and calm way: the whole family driving around Hanoi or Saigon streets to enjoy the night with flags in the hands of the kids. It is a sight worth seeing to really feel how grateful and happy people of this generation are to their ancestors.
4. What to do if you are in Vietnamese National Day?
a. Where to go, what to eat
To celebrate Independence Day, Hanoi's government often announced later 2 am alcohol license for bars and restaurants. This means at that time of the year, bars, clubs, and restaurants located on most of the streets around Hoan Kiem Lake can stay open until 2 am in the morning. Tourists can easily have Internet access for free whilst walking around the lake. And the best destinations to go on these days in big cities are, no doubt, the walking street: Old Quarter in Hanoi and Nguyen Hue Street in Saigon. Why? Cause the funkiest bars, delicious restaurants or biggest music festival on Vietnam's National Day are often taken place there.
Vietnam Independence Day is an opportunity to enjoy its phenomenal cuisine. Vietnamese holidays and festivals are always celebrated by a huge feast with hot pot or best accompanied by a generous helping of a national dish like pho or spring roll. You can enjoy these dishes by attending a huge food festival in the main quarter of the cities.
But if you are in Hanoi at that time, do not miss out Ta Hien – one of few streets in Hanoi that still maintain their traditional beauty but still a combination of foreign bars and restaurants.
Ta Hien Street is just several hundred meters long. However, you will be surprised seeing that there are tens of tour companies, restaurants, hotels, bars, and local food stalls serving "Pho" (noodle soup), porridge, or some fruit juice, tea cups, candies, and roasted peanuts. This small street can be considered one of the most important streets of Hanoi when it comes to location. From Ta Hien, tourists can easily walk to the busiest streets in Hanoi such as Luong Ngoc Quyen, Hang Bac, Hang Ngang and Hang Dao… where you can buy the cheapest, best beer on the way.
b. What can't I miss on Vietnam's National day?
There are a huge range of things to do in Vietnam during and around the time of National Day, which many tourists may be really upset if they miss them:
If you are in Hanoi at that time, the huge celebration in Ba Dinh Square in Hanoi, the very place where Vietnamese independence was declared is a big must. All the attention of the country focus in there and the best performers, best march are allowed to perform there.
Ho Chi Minh Mausoleum is also on the checklist. This is the place where Vietnamese people keep the remains of Ho Chi Minh himself. Interestingly enough, the Mausoleum is patterned after Lenin's Mausoleum in Moscow but more of a Vietnamese style. There are several gardens with plant and flower species from all over Vietnam. Here, you will get a good view of the National Day parade.
If you are in Vietnam a little bit prior to National Day (August maybe?), you can also witness another patriotic celebration. August Revolution Day is celebrated on August 19th, when Hanoi took to the revolutionaries. Revolts broke out in both all parts of Vietnam in August of 1945. This is a movement that played a crucial part in the September 2nd declaration of independence.
Notes: In order to enjoy the best out of your trip during these special days, please remember these:
Please note to yourself that all Vietnamese government agencies and a major of businesses are closed on September 2nd. As a result, the visa counters at international airports are still open, but other visa services are closed. It is best that you apply for a visa well in advance. Moreover, get your plane ticket and hotel room well booked ahead of time as well.

Make sure you get out there and enjoy the festive atmosphere but, like all tourist destinations around the world, pickpockets have been known to operate. Leave valuables in your safe at the hotel and try not to carry bags.