In Indochina, Laos and Vietnam are neighbors and share similar landscapes and cultures. These are spectacular countries with rich history and a mix of traditional and foreign cultures.​ That makes the diversity in the culture of these countries. It will be wonderful if you plan a holiday to Indochina with a combination of Vietnam and Laos. Here's a look at what you can expect when taking your vacation.
1. Hanoi
For over 1000 years of culture and civilization, Hanoi has long been a well-established capital of Vietnam. It's known as the largest cultural city across the country with multiple heritages. The ancient land of Hanoi has well assembled a huge gallery of legends, poems, songs, stories, and heroes that have been ever living along with the revolution of Vietnam over time. Hanoi is influenced by both the local Vietnamese culture and that of the various colonial powers that once occupied it. The Chinese were in power at different times in history and the French were for long time colonial rulers of Vietnam. In Hanoi, you will find various buildings, traditions, and even food that comes from this colonial era. What makes Hanoi special is the collection of various features and aspects that make Hanoi a representative of cultural Vietnam.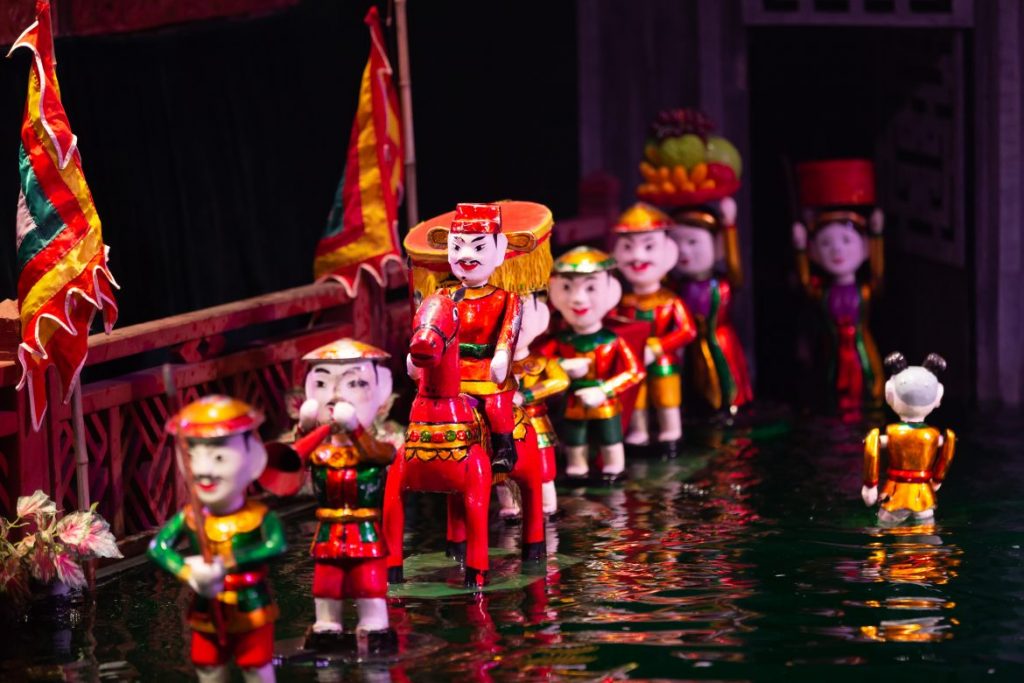 Highlighted Experiences:
– Visiting the numerous museums in Hanoi to understand the culture and the colonial past of Vietnam.
–  Walking around Old Quarter to experience the local street life.
– Exploring  French architecture, Chinese temples, and Vietnamese historic buildings.
– Water puppet show: A special form of traditional entertainment is a water puppet show.
2. Ha Giang
Ha Giang, 300 km away from Hanoi, located at the highest latitude in Vietnam. It's listed as the best culture in Vietnam because this area is not yet touristy. All villages with ethnic minorities (hill tribes) and local markets still feel very unaffected. Thanks to this ethnic diversity, you cannot see more merger traditions than Ha Giang. Each of these ethnic groups has its unique use in the field of marriage, religion, festivals, and funerals.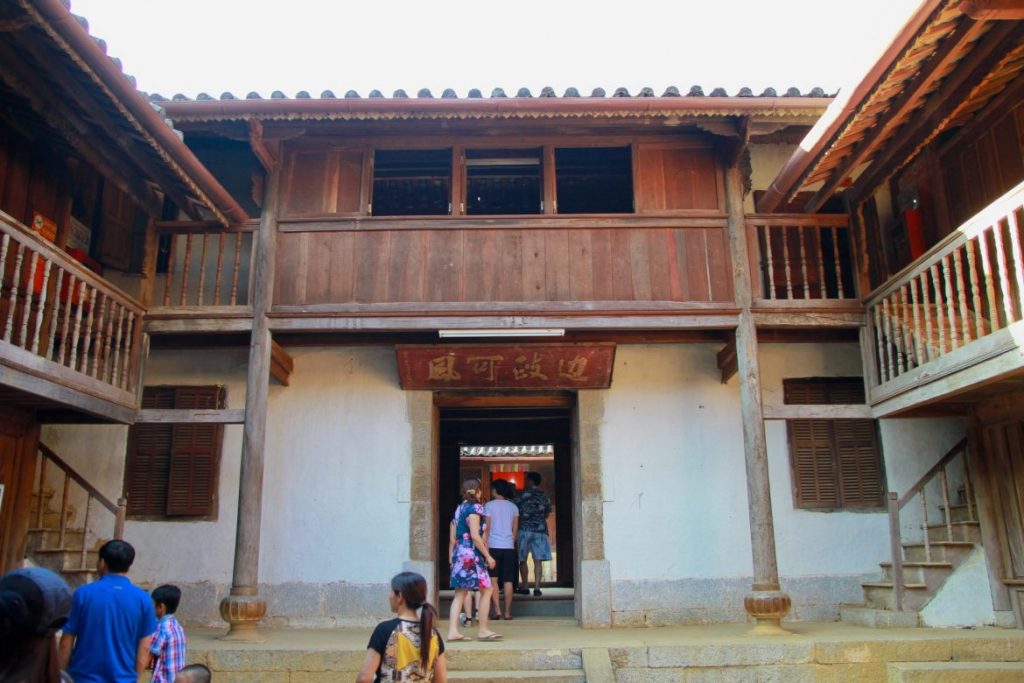 Highlighted Experiences:
– Visiting markets: One of the best ways to experience local life is by visiting a market. Markets in Ha Giang are often a mix of diverse ethnic groups. This is the place where people can trade not only cattle, vegetables, and meat but also they can meet their old friends, share their stories.
– Visit the Sà Phìn H'Mông Palace: Near the border with China stands a H'Mông King Palace in the village of Sà Phìn. Built-in 1902 during the French occupation, the wood-framed palace is done in the traditional Chinese style and oozes character.
– Driving through Ma Pi Leng pass and seeing terraced fields.
3. Hue
Hue was founded as the Vietnam capital city by Gia Long, the first king of the Nguyen Dynasty in 1802. It held this position for nine Nguyen dynasties until 1945. The Complex of Hue Monuments is a UNESCO World Heritage Site and is located in the city of Hue in central Vietnam. It features hundreds of monuments and ruins, such as the Forbidden Purple City, once the residence of the royal family and badly damaged during the Vietnam War, the Imperial City, royal tombs, flag tower, pagodas, temples, a library, and museum.
Highlighted Experiences:
– Imperial Palace: The best thing to see and learn from this history is to visit the Imperial Palace and other centuries-old palaces, tombs, and temples.
-Taking a boat trip on the Perfume river and listening to Hue folk songs
– Seeing the stunning sunset in Tam Giang Lagoon
4. Hoi An
Hoi An Ancient Town, a UNESCO World Heritage Site, is the best destination for those who want to explore Vietnam's rich cultural past. This city is a well-preserved example of a trade port in Southeast Asia that flourished in the 16th and 17th centuries. In its heyday, Hoi An welcomed traders from Japan, China, Spain, and the Netherlands and became known as a place of cultural exchange. Nowadays you can experience the culture in the old town through historical museums, heritage houses and of course food and shopping. Rich cultural experiences await around the streets of Hoi An Ancient Town.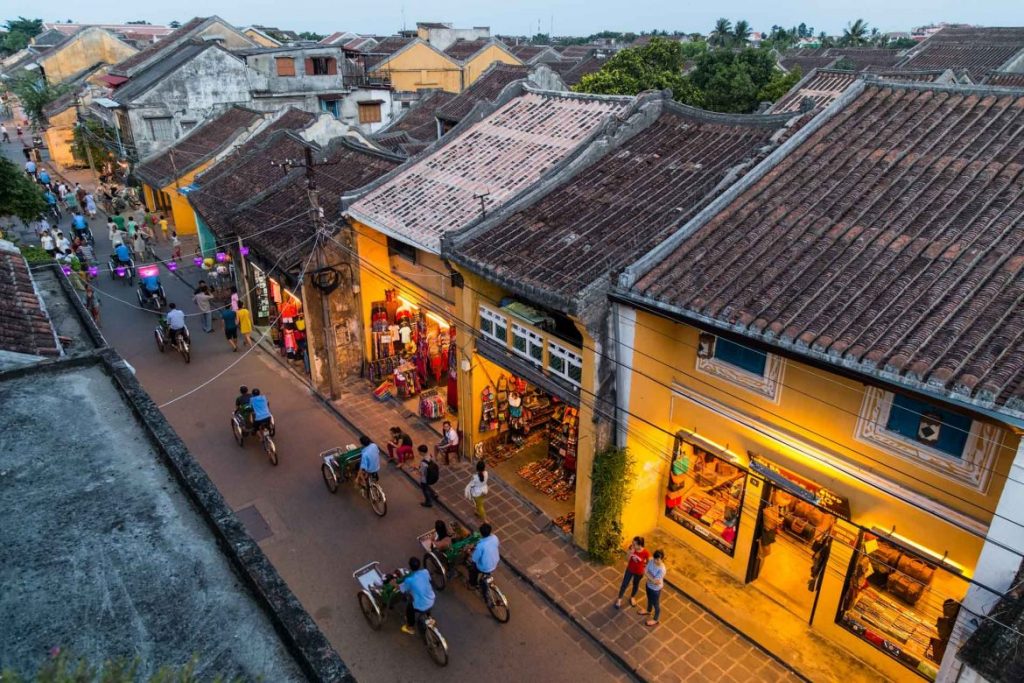 Highlighted Experiences:
– Explore the old city: Walking through the streets, visiting a number of museums and buildings that you can visit.
–  Experiencing at craft villages around Hoian such as:  making pots and working the land with water buffalo.
– Cooking course: Hoi An is the most popular place in Vietnam to take cooking classes.
5. Mekong Delta
The Mekong Delta is inhabited by different cultures. The majority of people in the area are Vietnamese and Khmer, with nearly 2 million people the second largest ethnic group. Because of the different ethnic groups in the Mekong, you will also find different customs, parties, and cultures.
Highlighted Experiences:
– Boat trip: The Mekong is a river delta, and the best thing to see is from a boat. From here you can see the local life and visit various villages.
– Local factories & plantations: The Mekong Delta is very fertile. You can visit various fruit plantations, but also local factories such as a coconut candy factory.
– Floating markets: One of the highlights of the Mekong Delta are the floating markets. Here you can see how people buy and, in particular, buy and sell food from their boat on the water.
– Cycling: Another way to visit different villages and view the local life in this area is by bicycle.
– Enjoy "Don Ca Tai Tu" the southern folk song
6. Luang Prabang
The most beautiful place in Laos is undoubtedly Luang Prabang. Here all the love and attention is much deserved. This small town is the cultural heart of Laos. The historic city center, with its beautiful colonial architecture and Buddhist temples, is a UNESCO World Heritage Site. The most popular attractions of the area include Kuang Si Falls, Pak Ou Caves, the Haw Kham Royal Palace Museum, and the Wat Xieng Thong temple.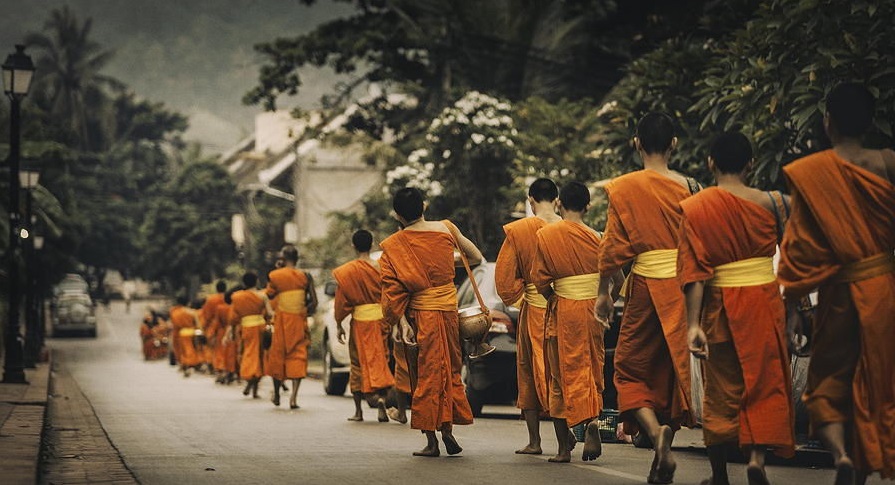 Highlighted Experiences:
– Visit the ornate temples and palaces and witness the monks' daily alms ceremony in the streets of Luang Prabang.
– Take in the stunning landscape and sunset from a river cruise
– Visit the breathtaking Kuang Si waterfalls.
-The night market and shops in Luang Prabang are the perfect places to shop for traditional Laotian arts and crafts.
7. Vientiane
Vientiane is the largest city in Laos but is the smallest capital in Southeast Asia. Vientiane is known for its laidback atmosphere and it's true that life moves slowly here, attracting those who enjoy a peaceful, relaxed vibe. Exploring centuries-old Buddhist temples is one of the most popular things to do in the Lao capital, which you can do on foot, by bicycle, or tuk-tuk. Quirky markets sit next to the Mekong River, while colonial buildings are often museums displaying thousands of artifacts dating back to prehistoric times.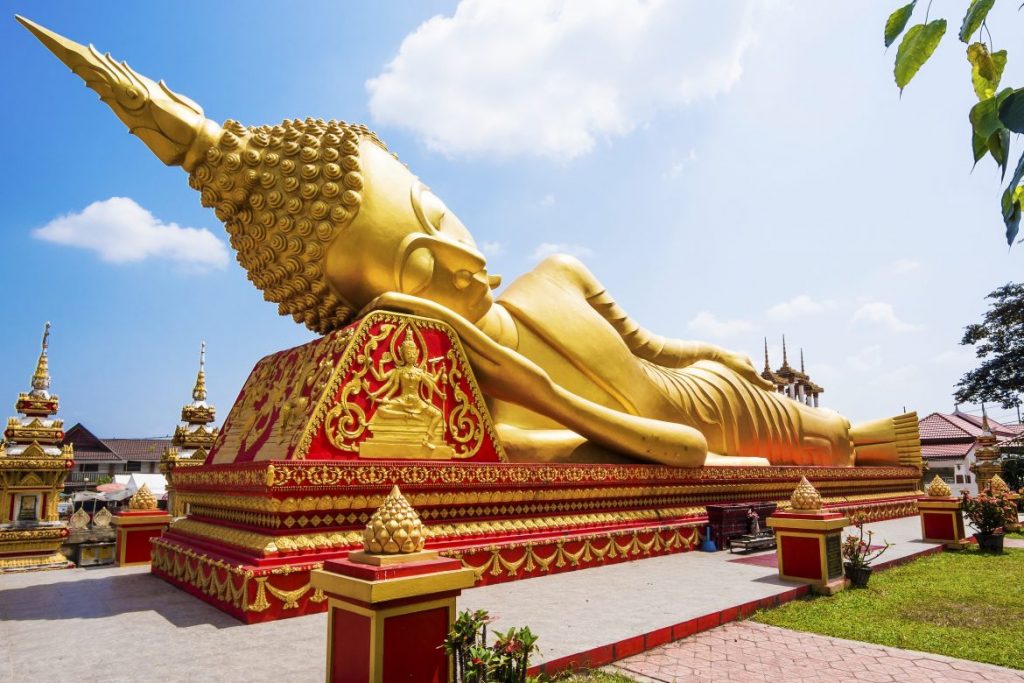 Highlighted Experiences:
– Explore both the traditional and French architecture  such as Patuxai, Wat Si Saket, Buddha Park
– Discover the many ethnic groups of Laos at the TAEC
– Taste traditional Laos cuisine