Autumn is coming to Vietnam. Now is also the best time to visit this country. If you are planning to travel to Vietnam, here is a quick guide that may be helpful for you to plan a perfect trip to visit Vietnam.
1. Why should you travel to Vietnam in Autumn?
Autumn weather in Vietnam is quite different, not too obvious but very noticeable. It is no longer as hot as in summer, without days near 40ºC.  Autumn weather is extremely cool, a little chilly at night, but this cold is also very pleasant, unlike the "bone-chilling" cold of winter. In autumn, the days are partly clear, the temperature is constant and there are occasional showers. However, the most frequent weather pattern is long periods of dry weather. The air starts to cool down from the end of August to the end of October, causing the daytime temperature to drop to just 24-25ºC.
Autumn is arguably the best time to travel, have a picnic, and enjoy moments of peace through holidays such as the Mid-Autumn Festival and Independence Day on September 2.
2. Top places to visit in Vietnam Autumn
2.1. Hanoi
Autumn in Hanoi is nice and cool; It is the best time to visit Hanoi as spring is usually wet and drizzly, winter is cold and cuts meat, and summer is scorching hot weather. Meanwhile, on autumn days when Hanoi is a bit cool, you can take a stroll in the breeze along the windy West Lake, around Sword Lake, or through alleys scented with milk flowers.
One of the reasons why visitors love to visit Hanoi in the fall is that the city is filled with the scent of milk flowers. Evening walks through the alleys of Ba Trieu, Quang Trung, Nguyen Tri Phuong, Quan Thanh, and Tran Dai Nghia will make you feel like the milk flower season has arrived.
Ripe crocodiles and rice nuggets (Com) from Vong village are the most common Ha Thanh gifts. Walking through the streets of Hanoi, you will also come across street vendors selling tamarind leaf kernels, thin kernels that are nonetheless delicious. The Com is wrapped in a potato leaf, a lotus leaf, and straw to prevent it from drying out.|
Suggestion: Take a Hanoi City Tour by Hop on – Hop off Bus
Hop on – Hop off city tour is a fairly common and familiar service in major cities around the world such as Kuala Lumpur, Singapore, London, Vancouver… The advantage of using Hop on – Hop off is that you have the right to decide for yourself the sightseeing destinations you want to visit based on the available schedule of Hop on – Hop off.
Hop on – Hop off Hanoi City Tour uses a double-decker bus with an open top, which is specially designed for viewing the cityscape from above. The bus is equipped with a system of explanations about attractions and automatic translation in many languages. Visitors can decide to get off the station or leave the sightseeing station.
2.2. Lan Ha bay
Located in the south of the East Bay and Cat Ba Island, Lan Ha Bay area of over 7,000ha highlight the spectacular beauty of around 400 dense islands, bringing interesting shapes. Unlike Ha Long, all in Lan Ha Bay Islands are covered with trees, although only the extremely small island.
Although not yet known the majority of tourists to Lan Ha Bay is considered one of the most beautiful bays in Vietnam. When the weather is the time to collect the most beautiful Lan Ha Bay with sunlight, not hot fire, mild with a cool breeze of the ocean, guests enjoy the fresh look, relaxing boat ride to admire the bay area.
2.3. Ninh Binh
– Mua Cave
Mua Cave was built a long time ago, amazingly with more than 500 steps designed after the construction of the Great Wall, both ancient and untouched leading to the top of Mua Mountain.
From the top of Mua Mountain, you can see the entire Tam Coc area. In Ninh Binh, autumn is also the most beautiful season to see ripe rice. One of the endless "hot spots" in Ninh Binh that combines architecture and environment.
-Tam Coc – Bich Dong
Tam Coc – Bich Dong, located in Ninh Hai Commune, Hoa Lu District, is a well-known place that visitors to Ninh Binh should not miss. When you visit Tam Coc, you will go by boat on the beautiful Ngo Dong River, admiring the towering mountains and bright golden rice paddies.
Visitors can also explore Bich Dong, which has a dry cave in the heart of the mountain, as well as a water cave. Bich Dong Pagoda, an ancient temple that spans three stories of the mountain, attracts tourists from all over the world to burn incense and pray.
Suggestion: Rowing a boat trip and exploring the tranquil limestone pristine scenery of deserted limestone mountains along the rivers & impressive caves.
2.4. Sa Pa
Autumn is an excellent time to visit Sapa as it is the most beautiful season of the year to appreciate the beauty of this place. Sitting in the car en route to Sapa city center, you can feel the fall seeping into you from the cold wind coming through the car door. The bright tint of the terraced fields along the road indicates that the rice season has arrived.
This period in Sapa begins in the rice ripening season and the rice harvest season. If you arrive at the right time around September, you will witness golden rice fields stretching across the valley. This time Sapa is very beautiful, the weather is a bit cold, and the air is cool and dry, which makes it easy to travel to take photos and climb Fansipan. Especially combined with the landscape of mountains, forests, rivers, streams and the costumes of the Sapa ethnic groups will give you unique photos.
Suggestion: Trekking and discovering the most beautiful natural landscape, streams, cardamom plants, and terraced fields and experiencing the ethnic minority culture of Sapa.
2.5. Ha Giang
Autumn in Ha Giang starts around September or October. It's the bright hue of the season for terraced rice, purple buckwheat flowers blooming on the hillside, or winding paths lined with beautiful wild chrysanthemums.
People start growing buckwheat after the harvest in September. They start harvesting the seeds in October. As a result, this fall trip allows you not only to see the beautiful and bright shades but also to enjoy the spicy yeast of buckwheat wine or supple buckwheat cake.
Suggestion: On a beautiful autumn day in Ha Giang, you can also: Go to Dong Van stone park and listen to the stone as if it is whispering words on the stone slab. Visit the Vuong Family Residence, Dong Van Historic Street, and Market to drink corn wine and eat Thang Co. Take a trip to the Khau Vai love market, see couples dressed in bright traditional clothes that look like colorful flowers in the mountains.
2.6. Mu Cang Chai (Yen Bai)
It is located about 300 km from Hanoi, this place is known as one of the most poetic places to hunt ripe rice, attracting most of the photographers and tourists.
Around mid-September, the color yellow begins to cover the mountains and forests of the Northwest. This is also the time when the weather is at its mildest, creating the ideal conditions for backpackers to conquer the dangerous mountain roads, touching the majestic unspoiled landscape of heaven and earth.
2.7. Moc Chau (Son La)
It's more than 200km from Hanoi, it's also an ideal place for visiting during Autumn. During this season, fields of cauliflower and buckwheat flowers begin to bloom on the slopes of Moc Chau, brightly welcoming the sun's rays through the light mist of dawn. The Moc Chau Plateau is famous for its green tea hills that stretch to the other side of the hill. Moc Chau Tea Hill is a stunning natural setting. However, it is not wrong to say that Moc Chau tea hill is an artificial beauty as the hands of people and employees of tea farms have produced such masterpieces as Shan Tuyet tea hill. Visitors can dress in H'Mong and Thai costumes and pick young green tea shoots.
2.8. Da Lat 
In  Southern Vietnam, autumn weather in Da Lat is the time for tourists to come and fall in love with this mountain town. Seeing Xuan Huong Lake as calm as a sheet in the middle of Da Lat space is one of the reasons why tourists who have fallen in love love and fall in love more than Dalat autumn. Xuan Huong Lake: The soul of Da Lat brings wonderful emotions to visitors when they come to Da Lat in autumn. In October, when autumn gradually flooded all the streets of Da Lat, it was also the time that Da Lat was filled with the dreamy yellow color of misty wild sunflowers.
Wild fall anemone with a bright yellow color without being too "grumpy". Wild sunflower gardens bring autumn colors unique only to Da Lat. A wild anemone is just a wildflower, it grows and shines in its own way, naturally and no one can affect it.
Suggestion: The Da Lat sunset sometimes shines brightly in the summer, but in the fall, the Da Lat sunset is a faithful and bold purple. The autumn sunset seems to bring people mixed emotions, sometimes happy after a hard day's work to return home, sometimes nervous because the tourist is about to finish the trip here.
2.9. Mekong Delta
It is situated at the southernmost point of Vietnam. It has a maze of rivers, swamps, and islands. The floating market is one of the most featured things you have to witness since residents here make their living majorly on boats. Visiting Mekong Delta is appropriate for any season, you can take a Vietnam Mekong cruise and pass by Khmer pagodas and villages surrounded by rice paddies. The bio-diversity across this area is hard to be missed.
Suggestion: The floating market is of lively and colourful part of the Mekong Delta.  Do not miss taking a cruise for an early visit to the floating market if you want to experience the true locals here.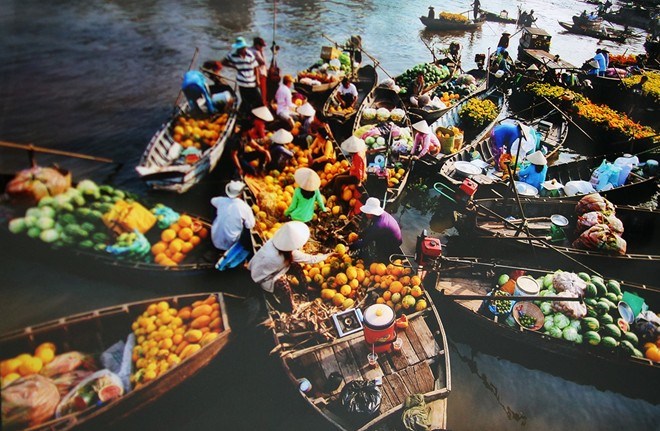 2.10. Phu Quoc
Phu Quoc is known as the most beautiful and biggest island in Vietnam with unspoiled white-sand beaches and quaint fishing villages. October will be the ideal time for visiting Phu Quoc.  Travellers can have many options such as swimming on the blue beach, endless stretches of sand, enjoying a cycling tour, kayaking on its quiet inlets, or scuba diving around the coral reefs. Visiting Phu Quoc Island in September, don't forget to enjoy the fresh and delicious seafood. In addition, tourists can choose to experience home stays in rustic bungalows with local islanders or live in five-star hotels of glorious resorts with scenic views over the islands.
3. How to plan for a trip to Vietnam in Autumn?
Autumn is coming to Vietnam. Now is also the best time to visit this country. We suggest you can stay more in the North of Vietnam to enjoy the pleasant weather, feel the atmosphere, and discover the natural breathtaking scenery in Autumn.  A plan of 2 weeks in Vietnam will be an ideal holiday for travellers who want to explore the most highlighted Vietnam. It's impossible to suggest one itinerary for Vietnam, but I hereby share with you the schedule of my own recent holiday in Vietnam, which is great if you want to see country in a time frame of two weeks, hereby making use of domestic flights (although three weeks are recommended if you have more time and want to travel at a more leisurely pace). At the end of your holiday, you may stay at the beach for relaxing. Phu Quoc will be a good choice for you. Here is a sample of a holiday in Vietnam.
Day 1-6: North Vietnam: Hanoi – Halong – Sapa
(Recommended hotel: Sofitel Legend Metropole Hanoi, Emperor Cruises in Halong bay)
Day 7-8: Central Vietnam: Flight to Danang. Stay in Hoian
Fly to Danang & explore the cities of Hoi An  (recommended hotels: Four Seasons Resort)
Day 9 – 11: South Vietnam: explore Ho Chi Minh City and make a day trip to the Mekong Delta
(recommended hotel: The Reverie).
Day 12 – 14:  Fly & Explore Phu Quoc  (recommended: InterContinental Phu Quoc Long Beach Resor).
For further private holiday tours to Vietnam, you may speak to our travel experts at [email protected]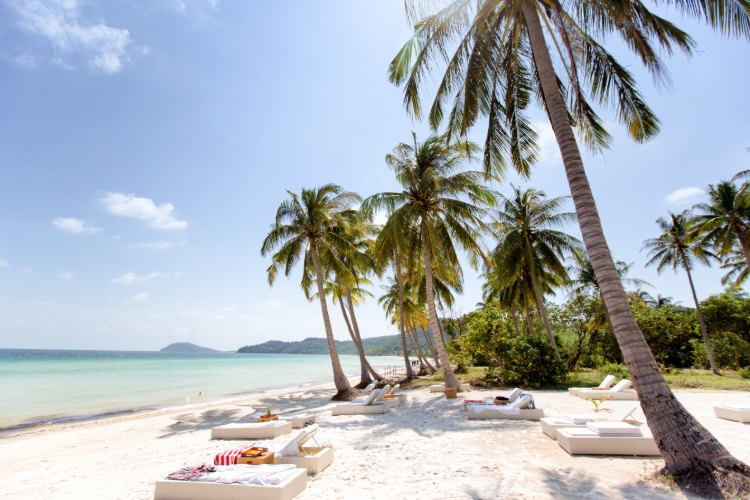 4. Tips for packing to visit Vietnam during Autumn
The weather cools down in the fall. Sheer sweaters and cardigans are essential to your fall travel wardrobe. In addition to helping you adjust to the sudden cold temperature, the soft sweater has several purposes, including covering and serving as a pillow on the plane.
Also, you should pack a lightweight windbreaker made of waterproof material with multiple pockets and zippers as it will protect your camera and phone when it rains. In case of bad weather, you should also have raincoats or umbrellas on hand.
Finally, please remember to bring a bottle of lotion. Cool fall weather can aggravate dry, cracked skin. Take care of your skin so you can enjoy a complete autumn trip.