Sunset is one of the most amazing experiences you cannot miss when you visit Vietnam in Summer. One of the best things about sunset here is that none is completely alike. Wherever you travel throughout Vietnam, there are exquisite places to contemplate the sunset. If you're planning on your next sunset-spotting adventure, here are the 5 best destinations from North to South that you can consider.
1. West Lake – Hanoi
Hanoi is chocked-full of high-rise buildings and vehicles that sometimes annoy you. Yet, tranquility also abounds right in the heart of Hanoi on the bank of West Lake from late afternoon onwards. Not only is West Lake a favorite destination for Hanoians but also for international travelers to watch sunset peacefully. Taking a leisure walk or bicycle ride around Hanoi's biggest lake is a wonderful activity at dusk. Vivid colorful scenery of West Lake when the sun sets also inspires a lot of photographers.
Top-rated bars & restaurants to watch the sunset:
Westlake Station: a renowned French restaurant on To Ngoc Van Street, overlooking West Lake. It specializes in sumptuous tapas, salads, burgers, and plates of pasta, alongside great beverages.
The Hut – Lakeside Lounge Bar: here you will find budget-friendly light snacks, craft beer, and delicious drinks. This is a great spot for friend and family gatherings on the weekends.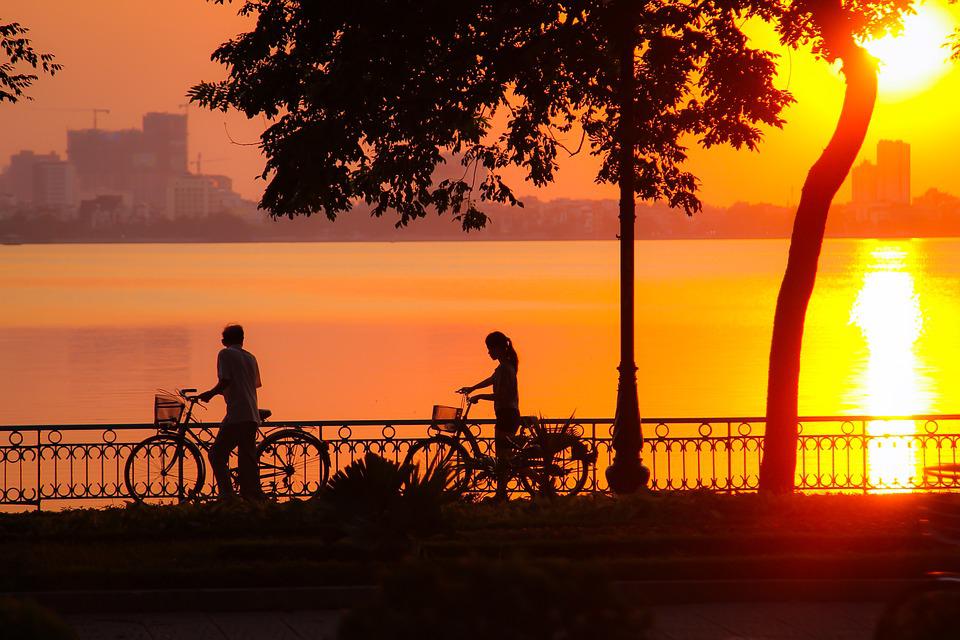 2. Halong Bay
Halong Bay is one of Vietnam's most beautiful landscapes to view sunset in Vietnam. The beauty of the waters of Halong Bay is captivating enough to rob all hearts. The bay is surrounded by Limestone Mountains with over 2000 islands. When the sun fades away behind the jagged rocks, the beauty of Halong bay becomes majestic and magnificent. Once joining in our Halong Bay Tours, you will also have a chance to do kayaking or boating a little deeper to explore many impressive limestone islets and grottoes in this lovely paradise.
We recommend you stay overnight on Emperor Cruise and capture Halong bay sunset. It will be a worthy experience for anyone who visits Halong bay.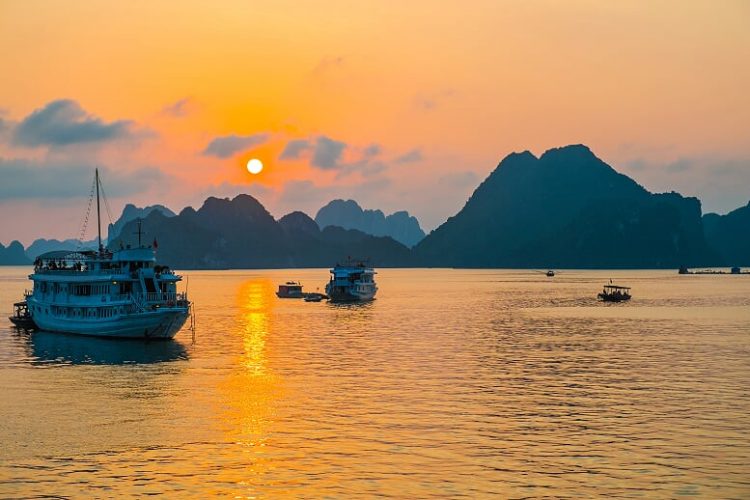 3. Perfume River – Hue
Few things can beat a couple of hours sitting serenely and enjoying the most gorgeous time of day, sunset. Watching the last sun rays shining out the imperial city and the river brings a romantic feeling.
For a more exciting experience, you should get on a local dragon boat. As the boat slowly goes upstream of this peaceful river, you will immerse in mesmerizing natural and historical beauty of Hue City. Onboard, you will be served authentic Vietnamese coffee, local beer, fragrant royal tee, and socialize with other locals while sunset watching.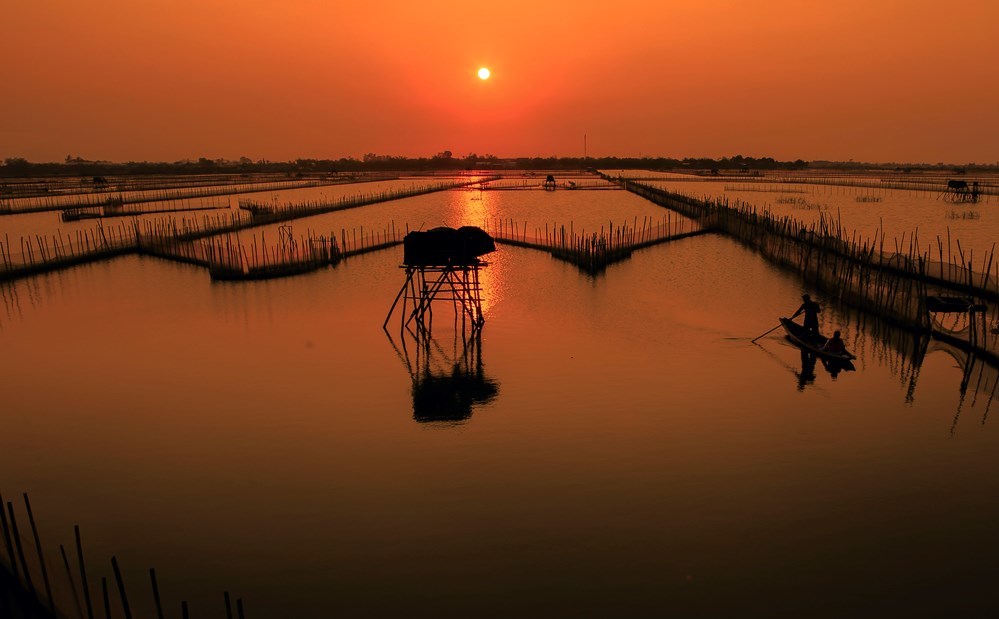 4. My Khe Beach – Danang
Blessed with a privileged location where verdant mountains meet the immense sea, My Khe Beach affords breathtaking sunsets when the sun goes down. Every year, the beach attracts thousands of tourists traveling on their beach vacation owning to its mild sea waves, white sandy beaches, and a vast range of premium hotels and resorts.
Apart from innovative infrastructure and an abundance of thrilling water-based activities, My Khe Beach allures travelers with its majestic scenery in the afternoon time. The sunset seems to drop red rays into the sea allowing you to capture marvelous photos with your beloved ones.
Top-rated bars & restaurants to watch the sunset:
The Down Beach Bar: opening from 16:00, the bar serves great wine, beer, cocktails, and light snacks. Additionally, live music shows are often held.
The Holiday – Beach Club: set within Holiday Beach Danang Hotel & Resort, The Holiday – Beach Club is a newly operated and stylish for enjoying drinks while watching sunset views on My Khe Beach.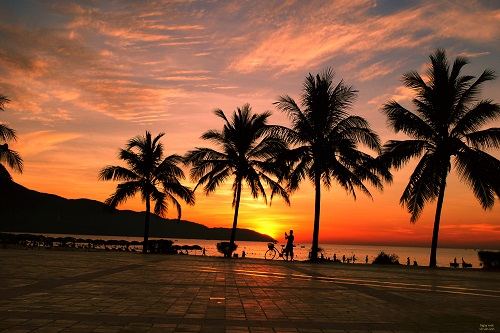 5. Ninh Thuan Salt Field – Ninh Thuan
Alongside pristine beaches, typical hot tropical weather, and verdant farms, undoubtedly, Ninh Thuan Salt Fields are an attractive feature alluring tourists to visit. Known as Vietnam's top salt producer, Ninh Thuan White Salt Fields in sunset also possess a magical beauty with stunning sunlight falling to the field.
Ninh Thuan has a number of famous salt fields including Ca Na Salt Field (the largest one), Phuong Cuu Salt Field (the second largest one), and Dam Vua Salt Field.
Top-rated bars & restaurants to watch the sunset: you may not find bars and restaurants to enjoy light meals whilst sunset here yet the natural scenery is wonderful itself.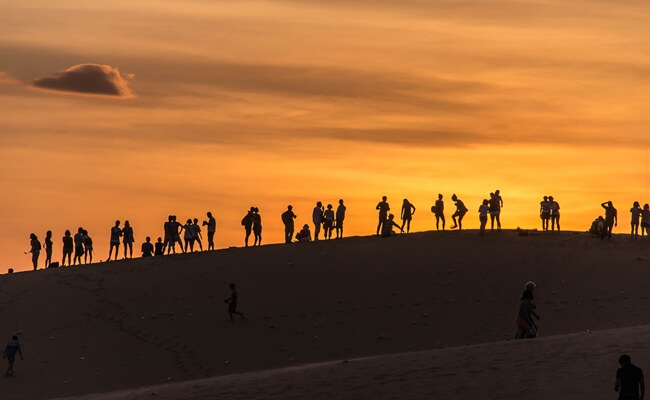 6. Phu Quoc Beach – Phu Quoc Island
Head to far southern Vietnam and you will have a chance to watch dazzling sunset views behind the sparkling sea on Phu Quoc Island. There is a myriad of calm beaches in Phu Quoc where you can take a leisure walk, dip your toes into the sand, and capture sunset each afternoon such as Bai Khem, Long Beach, and Ong Lang Beach.
There are also a lot of lesser-known sunset viewpoints scattered on the island where you can meet and talk with local fishermen.
Top-rated bars & restaurants to watch the sunset:
Sunset Sanato Beach Club: this stylish bar with statues of elephants and the Heaven Gate is regarded as the most beautiful place to watch the sunset on Phu Quoc Island. Not only can you take charming photos of sunset here but you are also served sumptuous cocktails, beverages, and light snacks.
OCSEN Beach Bar & Club: this is another younger people's favorite gathering point for a series of stunning photos. The bar has a unique orange decor concept, bonfire, live music, and great drinks.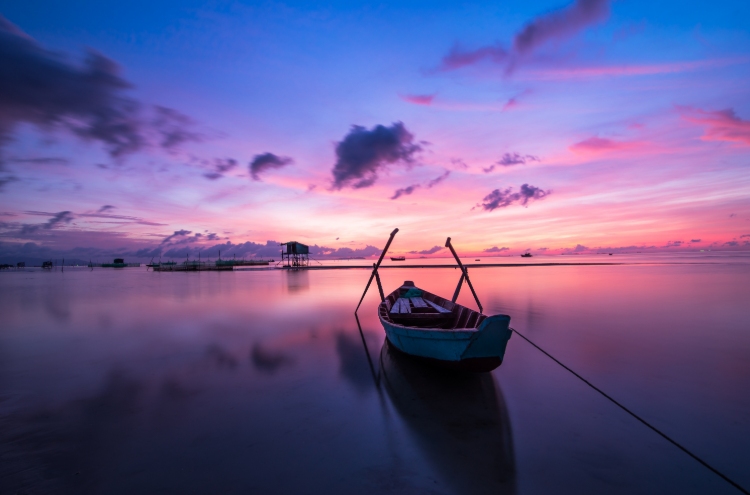 7. Chau Doc
Located in the tranquil Mekong Delta at the border side with Cambodia, Chau Doc is an attractive vantage point and countryside destination to view sunset in Vietnam. You can trek to 800 feet high Sam Mountains and enjoy the dramatic sunset over the Mekong Delta towards Cambodia. You can also see some parts of Cambodia and flooded padded fields from the top of Sam Mountains. The golden sun setting view over here takes you to an emotional and magical rollercoaster. Moreover, Chau Doc is one of the few peaceful destinations in Southern Vietnam that have not been ruined by tourism – a not-to-be-missed stopover for your Mekong Delta Tours.