According to citypassguide.com, the beauty and serenity of Vietnam beaches are one of Asia's best-hidden secrets. It deserves to be one of the most ideal beaches in Southeast Asia. Let's take a look at the top 10 beaches of Vietnam and decide where you want to spend your vacation.
Although Vietnamese beaches are not as famous as the beaches of Thailand, it makes them more attractive and interesting. Most beautiful beaches in Vietnam are quite wild and pure. With a coastline of more than 2,025 miles, it is not surprising that Vietnam has many beautiful beaches and many small bays with white sands and clear blue waters that are well suited for scuba diving. During the day, nothing is more wonderful than sunbathing and watching the sunset in the late afternoon.
I. Nha Trang beach (City Beach): Unique combination of  the city and nature
1. Top-notch things you will see in Nha Trang Beach
A beautiful coastal city – that is what you will feel in Nha Trang. Nha Trang attracts tourists by the beauty of the blue sea, white sand, sunshine and the blue ocean lap on the smooth sand. All makes a picture of natural dream and fantasy that anyone who has not gone will tempting, who has come will want to stay forever.
Little do you know that throughout the 3,200 kilometers coastline of Vietnam, Nha Trang is the only city having the beach in the city center. With a length of 7 kilometers, Nha Trang Beach is like a crescent moon, curving to embrace the turquoise Nha Trang.
The blue of the sky, the blue of the sea, the blue of the oceans are prominent on the white sand stretching to the far end of the sky. The talented hand of Mother Nature draws the traits so that you will love it at first sight and then want to swallow in it all and over again.
Nha Trang Beach is known as the "champion" of Vietnam beaches and has been visited by tourists all over the country and abroad for many years. It is the most beautiful beach in Vietnam and one of the 99 most beautiful beaches voted by National Geographic Magazine in mid-November 2010. Nha Trang Beach, with the offshore islands, is a quiet paradise for you to visit and enjoy a day with only sun, wind and sea waves. Along the coast of Nha Trang, you can fly a kite for leisure and entertainment.
BOOK THIS TOUR
2. The ways for travelers to get to Nha Trang Beach
Nha Trang City is about 1,300 kilometers away from the capital of Vietnam. The train journey is definitely long (takes about 30 hours), so the best way to reach Nha Trang is taking a flight. The flight from Hanoi or Ho Chi Minh City just takes you about 1.5 hours.
II. Mui Ne beach: A small village to a hot-spot destination
1. Top-notch things you will see in Mui Ne Beach
Mui Ne has been a popular tourist center in Phan Thiet City, Binh Thuan Province for a long time. With beautiful natural landscape, the comfortable climate of Binh Thuan land, Mui Ne quickly became the stop of many domestic and foreign tourists. Mui Ne has become a tourist attraction because of the combination between the yellow of the white sand and vast blue beach. With a beautiful coastline, cool winds all year round, you can come to Mui Ne Beach in any season of the year.
This place is famous for its coconut shady roads, beautiful beaches, cliffs where the waves are not resting and the sand dazzling in the sun, which have become an endless source of the photographer, showing off the famous international award-winning photos. Mui Ne is known as the center resort and is one of the top destinations for those who love relaxation.
Besides, if you are a sports lover, there is good news for you. In Mui Ne, windsurfing is a popular sport. Mui Ne – Phan Thiet has the perfect beach for windsurfing. Mui Ne Beach is Asia's most famous surfing destination. Moreover, some local centers offer short-term surfing courses for beginners at affordable prices.
ASK US MORE
2. The ways for travelers to get to Mui Ne Beach
Currently, there is no airport in Phan Thiet, so it is not convenient to move by plane. However, travelers can get to Phan Thiet by airplane in the following way:

a. From Hanoi to Mui Ne 
 From Hanoi, you can fly to Saigon and then drive to Mui Ne, or take the plane to Cam Ranh (Nha Trang City) and then go to Phan Thiet by car.
b. From Ho Chi Minh City to Mui Ne
There are two ways to travel from Ho Chi Minh City to Phan Thiet: Take a coach or train.

HCMC to Mui Ne by a coach
There are many types of company to Mui Ne but we choose Phuong Trang Company. You can refer to the price of Phuong Trang Bus here. This is the official website of the Phuong Trang company and you can contact booking through the phone number on the website. The price of a bed is about VND 145,000/ticket.
Take a train to Mui Ne
At Saigon Railway Station, there are always have trains depart daily and have a different price when buying tickets: You can go to this website to refer to the price, travel time and book tickets.
Experience of transportation from Saigon to Mui Ne is you should take a bus because the bus runs straight from Ho Chi Minh City to Mui Ne Phan Thiet. By train, it only goes to Phan Thiet City and takes taxi or motorbike taxi to Mui Ne is about 30-40 minutes and the price is not cheap.
Phuong Trang Bus Company is located at No.20 Huynh Thuc Khang Street, Ham Tien Ward, Phan Thiet City.
III. Long Beach: A spectacular spot on Phu Quoc Island
1. Top-notch things you will see in Long Beach
Long Beach is a gorgeous beach, which is the famous tourist destination in Khanh Hoa. It still retains the original beauty. Located 12 kilometers from Cam Ranh Airport, this is an ideal destination for tourists to enjoy the long, smooth sand, clear blue sea, the wide and spacious surroundings. In the near future, there will be built more resorts, luxury hotels, and luxury resorts and become attractive to high-end tourists.
The first impression here will be the long sandy beach, the blue waves conquered. The beach is clean and peaceful with pure beauty. It is the pristine beauty of Bai Dai (Long Beach) that has occupied the hearts of travelers. There are also many couples choose here as a placemark their milestone and their own happy moments. There are also many sports activities or sports competitions on the sand, such as volleyball, basketball, and tug of war, which are high-class activities.
Interestingly, Long Beach is not only beautiful but also very shallow. You can swim up to 100 meters and the water only reaches the chest, so the experience of the long beach is very safe and suitable for families with children. Put yourself in the cool blue water, you will have a comfortable feeling and the tiredness of daily life will be dissolved. There is only calm and peaceful existence. You just need to prepare a life jacket, a cool sunglasses that you can lay on the blue sea.
CONTACT US
2. The ways for travelers to get to Long Beach
There are many ways that can take you to Long Beach (Cam Ranh). You should consider your financial condition to choose the appropriate means.
Coach: You can go to Nha Trang at Luong Yen or My Dinh bus stations, so choose Hoang Long (+843 928 2828). It is safe and the price is affordable, from VND 700,000/person/bed. If you depart from Saigon, you can catch Phuong Trang (+843 830 9309), Hoang Long, Minh Dung or Lien Hung Company.
Train: From Hanoi you take the train SE1, SE3, SE5, TN1. From Saigon you will catch SN4, SNT2, SNT3.
Airline: Domestic airlines have many flights that can help you to Long Beach, you should book early tickets of Vietnam Airlines or Vietjet, then land at Cam Ranh Airport and rent a taxi to Long Beach.
IV. My Khe beach: One of the most attractive beaches on the planet
1. Top-notch things you will see in My Khe Beach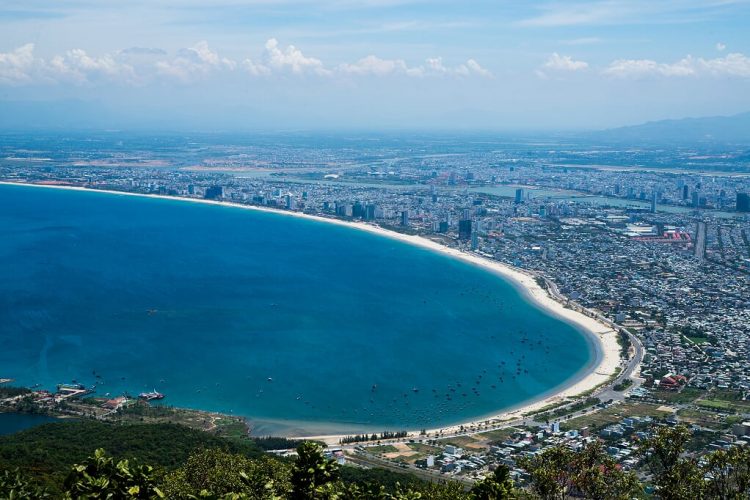 Forbes magazine has voted for My Khe beach as one of the six most attractive beaches in the world. It can be said that My Khe beach has met all the basic criteria of Forbes, such as convenient transportation, free open beach for all visitors, beach with the longshore and flat sand. The sun and the waves are suitable for playing sports, ensuring the safety of visitors, luxury resorts, villas with international standards. Australia's Sunday Herald Sun also noted that My Khe Beach is one of the ten most popular Asian beaches in the world.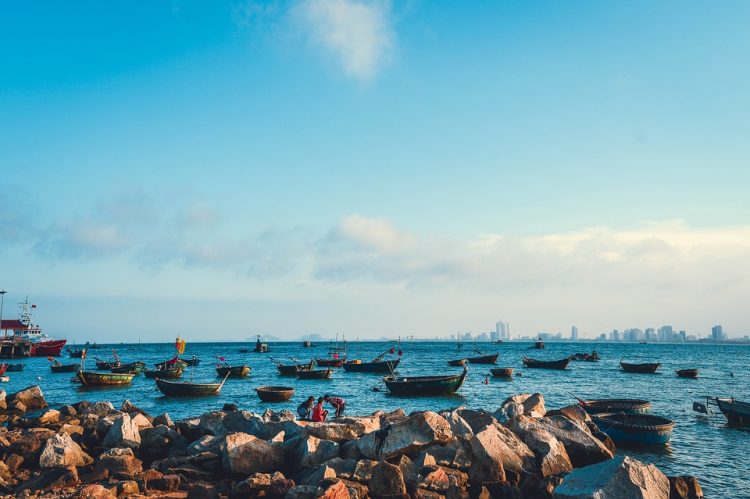 My Khe Beach is famous for its fine white sand, gentle waves, warm water all year round and beautiful coconut trees. Tourists can swim almost all year, but the most suitable time is summer, from May to August. Not to mention, because the coast is not too deep, you will have peace in mind while swimming and just watching the majestic Ngu Hanh Son and Cu Lao Cham Island far away from Hoi An.
Like other beaches of Da Nang, My Khe develops quite a variety of services for you such as fishing, windsurfing, diving, yachting. The beach has a rescue system including a watchtower, life-saving buoys, warning flags and a rescue force on duty day and night, ready to rescue victims timely.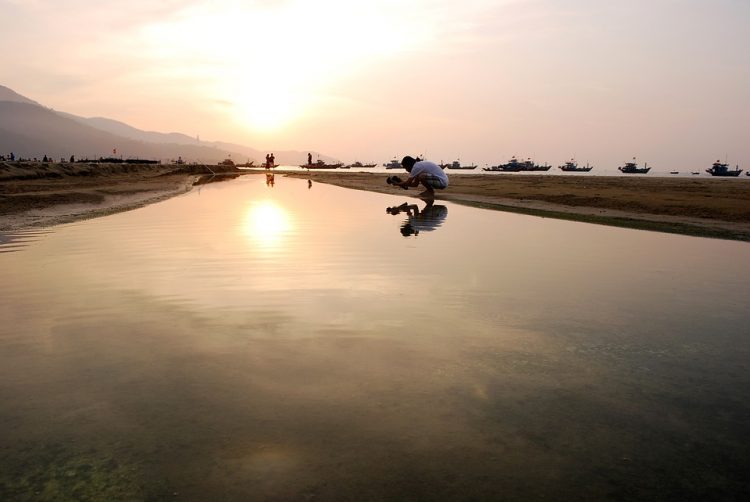 When the sunset falls, My Khe wears a new coat of color that is quieter, more tranquil. The space of the transfer between the day and the night seems dense and unintentionally makes your feeling suddenly sag.
BOOK THIS TOUR
2. The ways for travelers to get to My Khe Beach
Da Nang is located in the center of Vietnam so it has an airport, a seaport and also belongs to National Highway 1A. Therefore, moving to Da Nang can be convenient and easy. You can get to Da Nang by airplane, by train and by bus on the north-south route.
Trains: From Hanoi or Saigon, there are train routes to Da Nang (north-south route), fares vary from VND 300,000 to VND 1,200,000 depending on type of boat and type of seat. It takes you from 14 to 20 hours to travel from these two cities to Da Nang by train.
Plane: From Hanoi to Da Nang, fares range from VND 600,000 to VND 2,200,000, depending on the airline. It takes 1 hour and 30 minutes to get to Da Nang. Same for Sai Gon – Da Nang.
Coach: approximately VND 400,000 – 500,000. Hoang Long, Hlink, Mai Linh and Thuan Thao Company take about 18 to 20 hours from Hanoi/Saigon to Da Nang.
When you want to get to My Khe in Da Nang, you can pick up a taxi. If you choose a hotel in the city center can rent motorcycles to My Khe, from VND 60,000 – 150,000/motorbike/day, depending on the type of motorbike.
V. Doc Let Beach: A secret paradise of Vietnam
1. Top-notch things you will see in Doc Let Beach
Doc Let, or Doc Lech, belongs to Ninh Hai Ward, Ninh Hoa Town, Khanh Hoa Province. It is about 50 kilometers away from Nha Trang City along the North.
They call the beach Doc Let because there are sand dunes running long, tens of meters high, separating the land from the sea. To get to the sea, you can only get past the soaring sand dunes. You cannot walk anymore so people have to "drag" on the sand until reaching the sea.
Now, visiting Doc Let is not as difficult as before. You just have to cross a small slope and a few concrete steps to be able to watch the charming beauty of this beautiful beach.
The most beautiful time to visit Doc Let Beach is from January to September. The attraction in Doc Let is the wild, rustic nature that has been favorably gifted for this sea. It is a beautiful beach with pure white sand, smooth, clear blue water which you can see each grain of white sand sparkling under the water. Far away are the large islands surrounding the wind, making the sea water always calm, gentle as the hand stroking your feet. In addition, Doc Let is a shallow beach. The seafloor is far from the shore, not as steep as most other seas.
As far away as 100 meters, sea level is just under 1 meter high, reaching the chest of an adult. It is very safe with young children and those who do not Besides sunbathing as much as you want, you can also stroll under the casuarina or lay under the coconut shade in a peaceful space. You can listen to the murmuring of waves surfing the shore and enjoy the simple poetry of life in those moments as well.
DISCOVER NOW
2. The ways for travelers to get to Doc Let Beach
From Hanoi to Doc Let Beach, Nha Trang 
There are a few choices for you:
Coach: You can take a bus to Nha Trang and then pick up the bus to Doc Let.

Train: Take a train to Nha Trang or Ninh Hoa train station and take a taxi to Doc Let.

Plane: You can take the plane from Noi Bai International Airport to Cam Ranh Airport and catch a taxi to Doc Let. The taxi prices is about VND 400,000.
From Ho Chi Minh City To Doc Let Beach, Nha Trang 
There are also three options for you including:
Bus: You take a bus to Tuy Hoa, Hue, Da Nang to Ngoai divarication then get on the bus to Doc Let.

Train: If you take the train from Ho Chi Minh City to Ninh Hoa, then take taxi to Doc Let.

Airplane: You fly from Tan Son Nhat Airport to Cam Ranh, then take a taxi to Doc Let.
From Nha Trang Central City to Doc Let
Doc Let is about 50 kilometers from central Nha Trang, so you can take a taxi or a motorbike to Doc Let. 
| | |
| --- | --- |
| Taxi Company  | Contact Information (Phone)  |
| Mai Linh Taxi  | (+84) 258 38 38 38 38 |
| Airport Taxi  | (+84) 258 3 528 528 |
| Asia Taxi  | (+84) 258 35 35 35 35 |
| Emasco Taxi  | (+84) 258 3 51 51 51 |
| Thanh Hung Taxi  |  (+84) 258 3 822 822 |
VI. Ho Tram Beach: A tempting place to stop
1. Top-notch things you will see in Ho Tram Beach
Want to escape from the hustle and bustle of the city to somewhere with no noise, no rush. The place is where your heart lightly follows the gentle streams, the soul is cooled by the winds passing through. The beach brings the sweet secret charm and removes all sorrows. And there is a great place that is not far from Saigon. Why not visit a beautiful place like Ho Tram Beach?
Before going to Ho Tram Beach, you will have the opportunity to have a view with one side is windy sea, sand dunes and one side is the primitive forest. Coming to the place, Ho Tram beach will impress you with the sandy blue water surface and wide beach which ideal to immerse in cool water. You will feel like harmony with nature. On sandy stretches also encounters many blocks of rock, creating a more poetic emphasis for this place.
It seems that Ho Tram beach is very quiet, you can hear the waves breaking down, the sound of the wind and the sound of footsteps on the white sand. The atmosphere of this place is a sea of fresh air mixed with forest.
In recent years, Ho Tram beach resort has some recreational services on the sea such as kayaking, pulling floats and fishing by basket boat.
2. The ways for travelers to get to Ho 

Tram

Beach
It is a wildlife destination and quite close to Saigon, which is one of the reasons why young people love to explore Ho Tram.
Travel to Ho 

Tram

Beach by motorbike
For those who like to ride on their "iron horse", you can follow the following route: Go along Highway 1, cross the Dong Nai Bridge and turn right on National Highway 51. Take about 100 kilometers to Ba Ria Vung Tau, go along Highway 55 to Xuyen Moc. From Ba To Market (Phuoc Buu Town, Xuyen Moc), there will have signs to HoTram.
Take a shuttle bus to Ho Tram Beach 
Regards the bus, the price is about VND 70,000 – VND 100,000.
There is a strange way to experience a lot more fun. You can buy tickets to Vung Tau but stop at Cau Da Market and rent a car to Ho Tram. The price is pretty high up to VND 220,000.
Travel to Ho Tram Beach by Hydrofoils/Speed Boat 
Hydrofoils from Saigon – Vung Tau every 30 minutes a trip, running from 6h00 to 16h30, take about 1 hour 45 minutes. Starting point at Bach Dang Wharf and stop at Cau Da pier – Vung Tau. Some shipping lines run this route you can refer to:
GreenLines
Ho Chi Minh Office
Address: No.2 Ton Duc Thang Street (Bach Dang wharf)
Tel: (+84) 283 821 0650 – (+84) 283 821 5609 – (+84) 283 821 8189 – (+84) 283 821 8185 – (+84) 283 821 3872
Vung Tau Office
Address: No.126 Ha Long Street, Cau Da Pier
Tel: (+84) 254 381 0202
Vina Express
Address: No.122 Ha Long Street, Vung Tau City)

Tel: (+84) 254 385 6530
VII. Star Beach: The Hawaii of Vietnam
1. Top-notch things you will see in Star Beach
https://youtu.be/V1QoAaA8N94?t=10
Bai Sao is located in An Thoi town with a fine white sand like ice cream more than 7 kilometers long. The shape of the room is like a moon. The sand in Sao Beach is not as yellow as Nha Trang Beach, or gold and dark brown as Vung Tau sea, but white as smooth as ice cream. Bai Sao is located in the gentle arms of two gentle mountains so it brings quiet space and fresh climate.
In the morning, you can take a walk on the beach, watch the sunrise or catch the faint sunshine at the end of the day shining down to the beach.
The sea winds here are also light and quiet, enough for tired people to lie back on the hammocks swaying and slowly drowning in the sleepy, no dreaming.
You can see brown-tanned local people scattering fishing net in front of tourists. They are throwing the fish in the net. Let the soul with the space of the windy and immense wave of our hearts as light as the clouds fly.
2. The ways for travelers to get to Star Beach
Bai Sao is located in the town of An Thoi, located in the southeast of Phu Quoc Island, so to reach Bai Sao you have to know how to move to Phu Quoc. If you do not know how to go to Phu Quoc how can you refer to the above guide in detail how to move.
After reaching Phu Quoc, you can take a taxi or a motorbike taxi to move to Star Beach.
For those who are near Phu Quoc and want to go to Star Beach, follow the road as follows: From the town of Indochina (Phu Quoc) you go to Tran Hung Dao Road to Highway 46. When going through a bridge to go to Star Beach, continue going straight, through the small market you will see a large sign "7UP". Then, you turn here to go to Star Beach. When you reach the end of the road, you will find a divarication, a direction to Long Beach Restaurant, My Lan and Me Village, all three directions can take you to Star Beach. But to travel to Star Beach safely, we advise you to follow the Long Beach restaurant. It will be more convenient.
Taxi in Phu Quoc 
| | | | | |
| --- | --- | --- | --- | --- |
| Taxi Company  | Tel  | Price (1st kilometer) | Price (2nd – 30th kilometer  | Price (from 31st kilometer)   |
| Vinasun | (+84) 297 38 27 27 27 | VND 11,000 | VND 14,000 | VND 11,200 |
| Phu Quoc Taxi | (+84) 2973  75 75 75 | VND 6,000 | VND12,6000 | VND 10,500 |
| Sasco Taxi | (+84) 2973 76 76 76 | VND 10,000 | VND 12,000 | VND 9,000 |
| Mai Linh Taxi | (+84) 2973 97 97 97 | VND 11,000 | VND 13,600 | VND 10,000 |
| Sài Gòn Phú Quốc | (+84) 2973 73 73 73 | | | |
VIII. Dam Trau Beach: The tranquility of Con Son Island, Con Dao archipelago
1. Top-notch things you will see in Con Son Island
Dam Trau Beach is the most beautiful beach on Con Dao Island, Ba Ria – Vung Tau Province. Dam Trau beach is located near the Co Ong airport, at the edge of Con Dao National Park and about 14 kilometers from Con Dao. On sunny days, visitors can visit Dam Trau beach to enjoy the moments of fun, relax with blue beaches, golden sand and explore the nature of the island. Experience on this unspoiled island would give visitors a fun, new experience like the adventure of Robinson's it!
In the midst of the immense space of the sky and the immense sea, the island sits on the water like a magical green oasis. From the far, Con Dao tourists will love the small island in the middle of this sea!
Coming to Dam Trau beach, you will be immersed in nature, enjoy the precious gift of creativity. The water is clear, blue and cool with smooth sandy beach, the gentle sea waves will gently be your own sea paradise.
Dam Trau Beach appeals thousands of tourists every year by its charm beauty. Once visiting here, you'll be impressed with the primitive forest, immense blue sea, sandy stretches, blue sky or colorful coral reefs and many other new things are still waiting for tourists. 
Moreover, in Dam Trau Beach there are many unique shaped cliffs. On a rocky outcrop to the sea, from Con Dao Island you can see two huge rocks bunched together, like the pair of seagulls cuddly tightly wrapped together.
2. The ways for travelers to get to Con Son Island
From Ho Chi Minh City, you can catch a bus to Vung Tau city, then transfer to Cat Lo port to get to the pier.
You should book train tickets online and pay by bank transfer, then call the ticket office to confirm the payment. Even if you have paid, you still need to arrive at the port 5 hours before to get the ticket. If you arrive late, tickets will be sold to others, even if you have paid. Booking website: vetaukhachcondao.com.
If your schedule has specific departure and returns dates, always book your return, and take a turn at Cat Lo Pier, avoiding waiting time to buy tickets at two ports. During the booking process, payment is finished, you should also check the train schedule, check whether the trip is canceled or not, exchange train. If so, you should call the ticket office, and re-order the tickets, because if the weather is bad, the train is not running, the ticket office will not notify you.
Ticket price is about VND 85,000-125,000 (CD909 – CD10) and beds are VND  150,000-200,000/seat (CD909 – CD10). We recommend buying a ticket for sleep. Tickets sitting near the engine chamber is very noisy hard to sleep.
IX. An Bang Beach: A must-see beach in Hoi An
1. Top-notch things you will see in An Bang Beach
An Bang Beach, Cam An Ward, about 3 kilometers to the east of the ancient town of Hoi An; It is about 4 kilometers long with a beautiful natural landscape and a wide variety of vegetation. Because of the new tourism in recent years, An Bang still preserves its wildness and tranquility.
In An Bang, the most attractive to tourists is the white sand, smooth; The blue ocean, old pineapple sandy beach. The sea in An Bang is very clear and green. Throughout the water, visitors can admire the small flocks of fish swimming, even able to hand catch fresh crabs. The waves here are very smooth and gentle.
CNNGo tourism website has ranked An Bang Beach as one of the 50 most beautiful beaches in the world. After Cua Dai beach was eradicated, the beach is more tourists to find. Recently, in the area of An Bang has been growing many Homestay services, tourism services to serve visitors to An Bang more and more crowded.
2. The ways for travelers to get to An Bang Beach
From Da Nang to An Bang Beach
You will travel from Han River Bridge to the end of Pham Van Dong Beach, turn right on Pham Van Dong Street, go straight to Nguyen Giap Martial Arts Street, Truong Sa Road, Sea Road, and Lac Long Quan. Hai Ba Trung street, the end of the road is An Bang beach.
Note: There are different names, but they are all on one segment because they provide different paths.
From Hoi An to An Bang Beach
An Bang Beach is about 7 kilometers from the center of Hoi An ancient town so the road to An Bang is quite simple:
From the center of Hoi An ancient town, you move towards Cua Dai Beach to the end of the road. Then, you follow the road about 2 kilometers further to An Bang Beach. From Hoi An Bridge, go straight Hai Ba Trung Street to An Bang beach.
All the ways are easy to travel, no potholes or bad roads. 
Taxi in Hoi An 
| | |
| --- | --- |
| Taxi Compay  | Tel  |
| Faifoo Taxi | (+84) 2353-919-191 |
| Hoi An Taxi | (+84) 2353-919-919 |
| Mai Linh Taxi | (+84) 2353-919-919 |
| Tien Sa Taxi | (+84) 2353-929-292 |

X. Dai Lanh Beach: A hidden jewel of Khanh Hoa
1. Top-notch things you will see in Dai Lanh Beach
Nha Trang – Dai Lanh is located on the border between Phu Yen and Khanh Hoa provinces, about 80 kilometers from Nha Trang city and about 30 kilometers from Tuy Hoa town. Dai Lanh beach is purely built by fine white sand, clear blue water at the bottom has great comfort, can swim offshore. Then there is a source of fresh water flowing into the sea, all year round not exhausted.
From Dai Lanh, tourists can go by boat to Khai Luong fishing village, Dam Mon is the easternmost strip of Vietnam or Vung Ro port to the north, a famous place was once a harbor. Armed with weapons, ammunition from the North to the South, reinforced the battlefield zone 5 during the resistance war against American. Dai Lanh landscape has been listed among the landscapes of the country.
In 1836, Emperor Minh Mang gave the Dai Lanh landscape to one of the nine high peaks (The Nine Dynasty) decorated in front of The Mieu Temple – Hue. In 1853, under the reign of King Tu Duc, Dai Lanh was included in the national dictionary compiled by the court.
Whether you are in the South or out of the North, you can go through the majestic Ca Pass, where Dai Lanh is famous for its fine white sand, the waves of the sea, the busy fishing villages. and the scenery of aquatic painting.
2. The ways for travelers to get to Dai Lanh Beach
Dai Lanh beach is located on Highway 1A, in Van Ninh district, Khanh Hoa Province. It is 80 kilometers from Nha Trang and 30 kilometers from Tuy Hoa (Phu Yen).
From Tuy Hoa
You can ride a motorcycle or choose a coach through Deo Ca with 12 kilometers winding road to Dai Lanh Beach.
From Nha Trang
You can go by motorbike, bus, passing Co Ma pass to Dai Lanh beach. Or take the train to Dai Lanh station nearby.
From Deo Ca, run for about 12 kilometers, you will see Dai Lanh Beach. Here you have two options; either go straight to the gate of Dai Lanh beach resort or run another stretch to Dai Lanh Beach. Both are actually Dai Lanh Beach, but Dai Lanh Beach Resort has a gate fee and it is built as a place for eating, picnic, and accommodation. There are services such as hut rental, parachute (about VND 100,000/2 wooden beds), bamboo raft (VND 100,000/hour/6 people), campfire, life jackets, etc.