Hanoi is one of the most ancient capitals in the world with over one thousand years old history, traditions and culture. It is always a must-visit destination when coming to Vietnam to explore its various historical relics and cultural values. This makes a lot of tourists think that Hanoi is quite conservative and boring after dark. However, it is not true at all. Hanoi nightlife is very surprising and lively. When the sun goes down, the capital is certainly boisterous with a variety of things to do from interesting street activities to energetic parties in top clubs and bars in Hanoi. Are you ready to discover Hanoi nightlife? Cherish the spontaneity of Hanoi nightlife.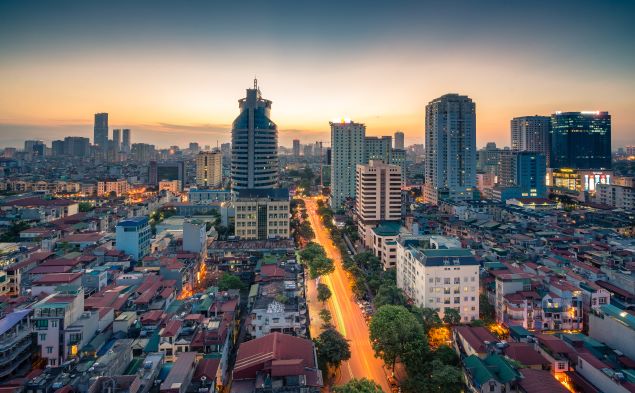 Hanoi
I. HOAN KIEM LAKE – A HIGHLIGHT OF HANOI NIGHTLIFE
Hoan Kiem Lake is a famous destination in Hanoi which is known as the spiritual and geographic centerpiece of Hanoi. In the daytime, Hoan Kiem Lake looks elegant in its fresh and quiet atmosphere, with a spiritual essence fusing into the air from Ngoc Son Temple in the heart of the lake. However, when the sun sets down, the lake seems to pulse in its the new face which is vibrant and striking. The buildings and roads around the lake are equipped with a system of colorful lights which are reflected on the water surface creating a wonderful sight. Hoan Kiem Lake is the center of attraction of Hanoi tour.
ASK US MORE
1. Attractions around Hoan Kiem Lake
The walking street along the Hoan Kiem Lake attracts so many people at the night, especially youngsters and families. There are a variety of interesting activities on three nights of the weekends (Friday, Saturday, and Sunday) because that is the time walking street bans the vehicles.
You can enjoy the laid-back festival vibe with the folk plays from traditional singers and music performances of Vietnamese bands which is totally free. You can also see the paintings displayed right at the walking street and take a portrait of yourself from artists. In addition, joining in the folk activities is a great idea to experience  Vietnamese culture. In the weekends, folk games like mandarin square capturing, skipping rope, blind man's buff, tug of war, stilt walking, etc are organized along the lake to serve tourists and local people.
Besides, there is an area to demonstrate the traditional products from the famous craft villages of Hanoi at the end of the street. You can see a lot of unique products here such as "To He" – a traditional toy in Vietnam, paper masks, and many more and buy them as a gift for your family, relatives, and friends. Moreover, the Trang Tien Street that is nearby the walking street is well-known for its old ice-cream stores. Trang Tien ice-cream is considered as a specialty of Hanoi for its special taste. You can buy one and relish it while taking a walk around the lake.
II. WEST LAKE – A POPULAR RESIDENTIAL AREA FOR EXPATS
While Hoan Kiem Lake is quite bustling, the West Lake will give you a different aspect of Hanoi nightlife. After dark, West Lake has a gentle beauty with fresh air and peaceful atmosphere. Therefore, a lot of local people and foreigners come to West Lake to take a stroll around the lake. Or you can sit at a street food stall to taste the delicious dishes and enjoy the serene view of the lake.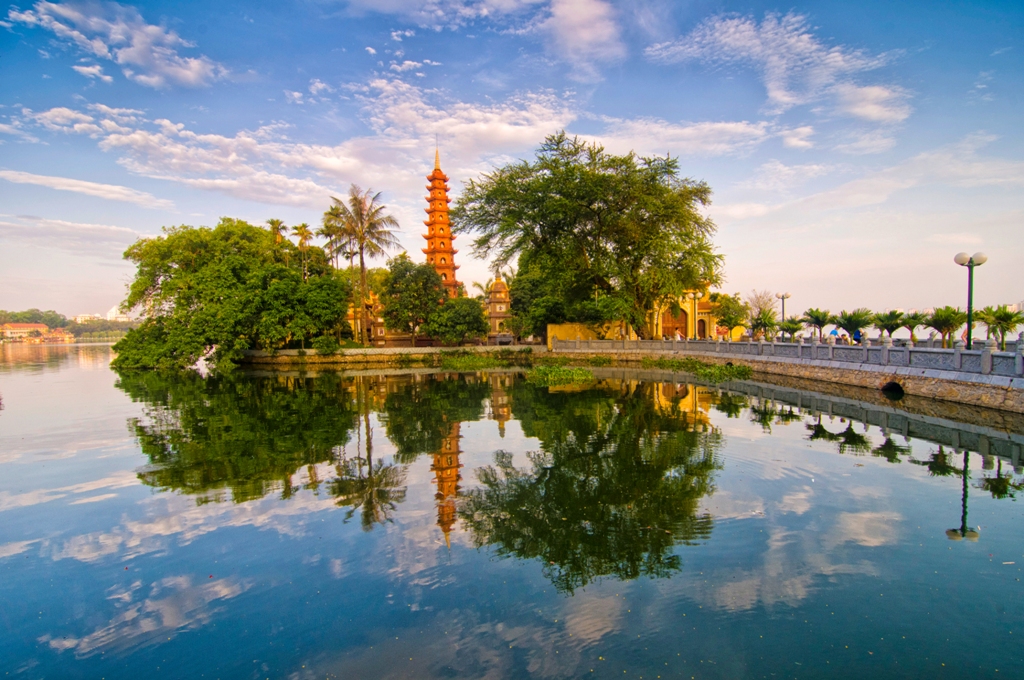 In addition, West Lake is an ideal place in Hanoi to have a romantic dinner. There are various restaurants along  West Lake that can serve all your requirements. Dining in a floating restaurant may be a novel experience that you should not miss. Potomac Restaurant, Hemispheres Steak & Seafood Grill, Da Paolo Westlake, Dieu's Cuisine, etc are the restaurants having good reviews around West Lake.
One of the attractive places in  West Lake is Tran Quoc Pagoda – Vietnam's oldest temple which was built in the 6th century. It is considered as a cultural symbol of Vietnamese Buddhism. This pagoda is a stunning place to see the sunset over West Lake. If you have a chance, you definitely come to Tran Quoc Pagoda to enjoy the poetic view of West Lake when the sun comes down.
III. DONG XUAN NIGHT MARKET – ENJOY THE LIVELY ATMOSPHERE OF HANOI NIGHTLIFE
Dong Xuan Night Market is an ancient market in Hanoi with hundreds of years old heritage, which appeals to both local and foreign tourists. This is a great place for shopping with thousands of products and souvenirs. Maybe, it is not exaggerated to say that you can find almost everything you need here. However, even if you are not interested in shopping, Dong Xuan Night Market is still a must-visit place to explore Hanoi nightlife. Immerse in the lively night-time atmosphere and enjoy various interesting activities at Dong Xuan Night Market.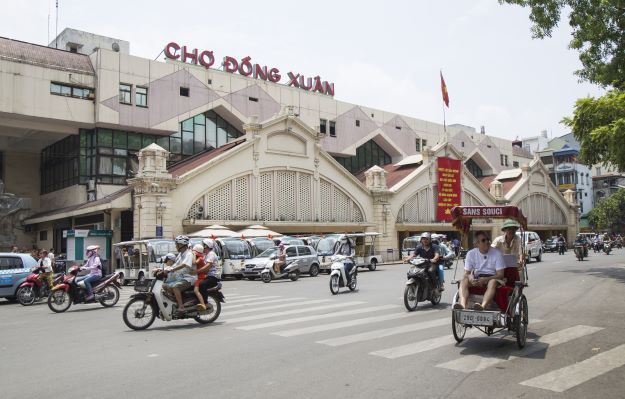 You can walk along the pedestrian street illuminated with decorative lights, which is a popular spot for snapping photos. Also, tasting the famous street food of Hanoi in one corner of the market and chatting with friends is a great idea to cherish the vibrancy of Dong Xuan Night Market. Especially, on Sundays, there are some traditional music performances organized by Vietnam Musicians Association such as Cheo singing, Tru singing and Xam singing. In addition, this is an ideal place to buy souvenirs from a lot of cute and adorable items sold in Dong Xuan Night Market. Certainly, you can save a lot of money because the price is less expensive than the conventional souvenir shops while the quality is the same.
Dong Xuan Night Market opens on weekends from Friday to Sunday from 18:00 hours to 23:00 hours. Its location is on Hang Dao Street and continues towards the north.
IV. TA HIEN BEER STREET – EXPERIENCE THE CLASSIC HANOI NIGHTLIFE
Ta Hien is a small street located in the Old Quarter. Its length is just about 200 meters but Ta Hien is one of the most crowded streets at night. Ta Hien Street also has another name called "International Crossroads" as you can see the harmony between Western and Eastern culture. It is well-known for a kind of beer called "Bia Hoi". Coming to Ta Hien Street, you can see several shophouses with plastic tables and stools spilling out onto the sidewalk.  Each night, Ta Hien Street attracts a lot of foreigners and local people coming to drink beer and chit-chat with friends. Also, it is really an small food heaven with a lot of kind of exotic snacks sold in the super small alleyways that you can explore.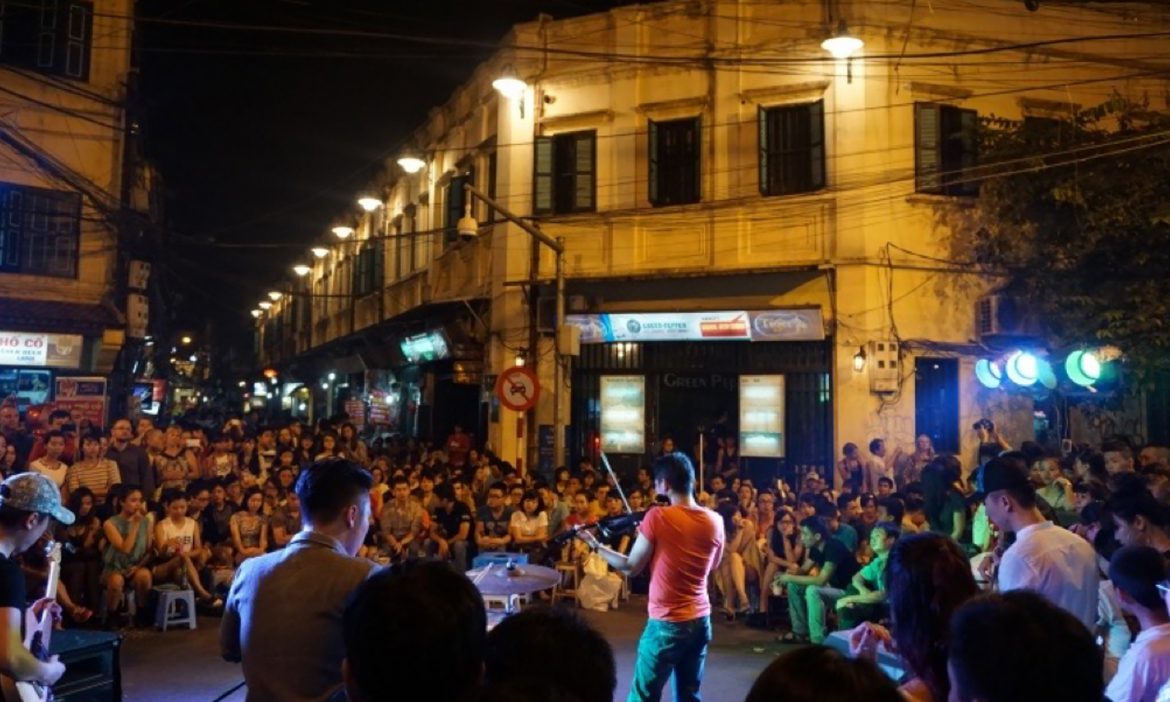 If you come to Hanoi, you definitely come to Ta Hien Street because it is the best place to make friends. Most people coming to this street are really friendly and quite young so it is quite easy to strike up a conversation with them. One interesting thing is that a glass of beer in Ta Hien Street is just under US$1 – so cheap, right? But it is still super delicious. There is no place to experience the vibrant Hanoi nightlife than in Ta Hien Street. Therefore, it's definitely worth a try!
DISCOVER NOW
V. LONG BIEN BRIDGE – A PEACEFUL AND ROMANTIC PLACE UNDER NIGHT SKY
Long Bien is the first steel bridge across the Red River in Hanoi. It has witnessed the ups and downs of the nation's history and has become an iconic structure of Hanoi. Today, the bridge is not in its original beauty as after being used for a century, it experienced a lot of maintenance work to ensure the safety and protect its beauty as much as possible.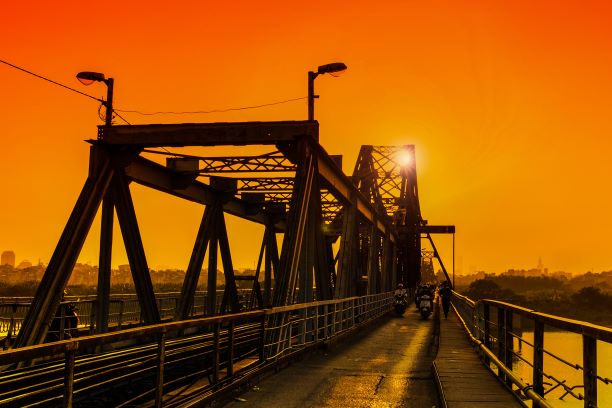 Long Bien Bridge has a special beauty when the sun sets. In the late afternoon, the bridge is a great place to watch the sunset. At this time, if you are on  Long Bien Bridge, you will enjoy the fresh air and the antique architecture under fading sunlight. You should capture the sunset scenery of Long Bien Bridge. In the evening, the bridge becomes comparatively quiet and romantic. Therefore, it appeals to a lot of couples and groups of friends to stroll around. You can take a seat at a stall on the bridge, drink a cup of lemon tea in the summer or eat a hot grilled corn in the winter and enjoy wholesome river atmosphere. Each night, there are some trains, crossing the bridge with their familiar sound. Many people say that this sound brings to them the peaceful feeling of nostalgia that makes their soul beautiful.
VI. HANG BUOM FOOD STREET – TASTE LOCAL STREET FOOD AT NIGHT
Hang Buom Food Street is one of the famous tourist attractions in Hanoi. The street is just about 300 meters but it has over 50 food stalls selling Hanoi cuisine and a number of Western restaurants. Coming to Hang Buom Food Street, you can enjoy all famous traditional dishes of Hanoi such as Pho, Turmeric Fish with Dill, Rolled Cake, Sweet Sticky Rice, Crab Rolls and so on. Interestingly, the prices of dishes are really reasonable, you can buy most dishes for under US$2.
Apart from tasting the food, you can have a chance to enjoy another contrasting aspect of Old Quarter at night – a peaceful charm that is completely different from the busy atmosphere in daylight. Also, you can discover the sophisticated architecture of ancient colonial houses and enjoy the cultural activities all around. In Huong Tuong Temple located near Hang Buom Food Street, several traditional and folk music shows are held to serve the tourists.
Hang Buom Food Street opens on the weekends (Friday, Saturday, and Sunday) from 19:00 to 24:00.
VII. THANG LONG THEATER – EXPERIENCE AN ORIGINAL WATER PUPPET SHOW
Thang Long Theater is one of a famous attraction in Hanoi specializing in water puppet shows. Water puppet is an ancient folk art form of Northern Vietnam, originating from Red River Delta that dates back to the 11th century. The performance includes stories that are acted out by the puppets in the water accompanying with Vietnamese orchestra playing traditional music using bamboo flutes, wooden bells, and drums. Most stories are Vietnamese folk tales and legends which narrate the Vietnamese farmers' daily life in the 11th and 12th century in a humorous fashion.
Each puppet water show lasts about an hour with 17 short skits. You can have a chance to understand more about the ancient Vietnamese culture, an entertainment time with humorous stories while experiencing a unique kind of Vietnamese ancient art. The first show of the day is at 15:00 and the final one is at 20:30. The ticket price is reasonable at about US$5 per person.
Thang Long Theater is located just by Hoan Kiem Lake so you can come to the theater after visiting the lake. However, the tickets are sold out pretty fast, you should book the ticket in advance to make sure you have a seat at the theater.
VIII. HANOI OPERA HOUSE – ONE OF HANOI'S LANDMARK
Hanoi Opera House is the biggest theatre in Vietnam which was built in 1911. It has a unique style of the neo-classical French architecture featuring Gothic themes on the doors, glass rooms and domes. The interior is even more magnificent with the ancient French designs, which is often compared with the Paris Opera House. Therefore, Hanoi Opera House is a must-visit place even if you do not want to watch the show. Of course, if you want to go inside the house you have to buy the visiting ticket.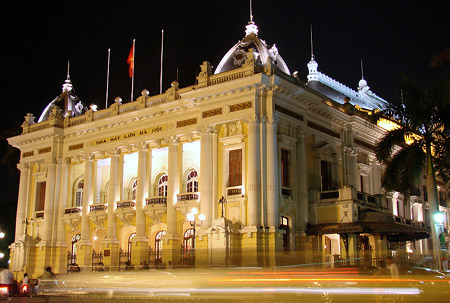 At night, you can enjoy the enchanting image of the beautifully lit-up Hanoi Opera House. You may imagine being back to the time when elegantly dressed ladies and gentlemen came to opera houses for classy entertainment. Performances in Hanoi Opera House are quite diverse including opera, ballet, musicals, and modern dance. Usually, there are many famous Vietnamese and international artists holding the live show in this theater. You can check the official website of  Hanoi Opera House for more details about the shows and ticket bookings. Most performances are held at night so watching a show at Hanoi Opera House is a great choice to enjoy Hanoi nightlife.
IX. ENJOY HANOI NIGHTLIFE AT FAMOUS BARS
Hanoi nightlife becomes more bustling as the number of bars in Hanoi increased significantly. Most bars have its own themes and architecture or forms of entertainment that differentiate them from each other. Here are some recommendations for top bars in Hanoi:
1. Factory 47 – Enjoy some drinks and good music
– Location: No.47 Hang Buom Street, Hoan Kiem District, Hanoi
– Opening hours: 22:00 hours – 02:00 hours (except Sunday 22:00 hours – 24:00 hours)
– Price: US$3 – US$25
If you are seeking a nice bar with the Western vibe, Factory 47 is a great choice. Its architecture with comfy sofas, pool tables, the long bar and brick walls creates a cool vibe which helps you to chill out after a long day traveling or working. Factory 47 serves you with nice drinks some cold beer and the bar's creative cocktails. Also, Western bar food at Factory 47 is pretty good with burgers and other yummy bites that you should taste.
2. Standing Bar – An essential stop-off for craft beer lovers
– Location: No.170 Tran Vu Street, Truc Bach Ward, Ba Dinh District, Hanoi
– Opening hours: 16:00 hours – 24:00 hours
– Price: US$3 – USUS$5
Standing Bar is the must-go destination for craft beer lovers. It is well-known with an impressive tap room featuring 19 taps. Each tap has a kind of brew from Vietnamese craft beer brands throughout the country. Therefore, you can try the different tastes from different taps and also create the new taste when mixing beer from different taps. Moreover, the bar has a great view of Truc Bach Lake and highly spacious for you to chill out with your friends.
3. Ne Cocktail Bar – Enjoy a creative nightcap
– Location: No.3B Tong Duy Tan Street, Hang Bong Ward, Hoan Kiem District, Hanoi
– Opening hours: 19:00 hours – 02:00 hours
– Price: US$10 – US$25
Ne Cocktail Bar is an ideal place for those who are fond of cocktails. Coming to Ne Cocktail Bar, you will fall in love immediately with the innovative creations that the bartenders offer. You definitely try the Nê's signature Pho Cocktail which is a complete combination of pho, cardamom,  star anise, lime, fresh coriander and of course, your favorite drink. If you prefer a quiet space, it is better to come to Ne Cocktail Bar early because the bar is quite bustling at the midnight.
4. Tadioto – One of the best bars in Hanoi featured in Time magazine
– Location: No.24 Tong Dan Street, Trang Tien Ward, Hoan Kiem District, Hanoi
– Opening hours: 08:00 hours – 24:00 hours
– Price: US$3 – US$15
Tadioto is located on a tranquil street which is far away from the bustle of the Old Quarter. Therefore, when coming to Tadioto, you can have a peaceful and comfortable feeling like hiding away from the busy city. The architecture is the combination of Vietnamese and American culture. The drinks are great and beautifully presented. The seating is extraordinarily comfortable with a nice view and a list of the finest Hanoi songs plays as background music. All of these create a unique and gentle ambiance for Tadioto and you should come once to experience it.
X. ENJOY HANOI NIGHTLIFE AT FAMOUS CLUBS
1. Binh Minh's Jazz Club – A place for those loving live jazz
– Location: No.1 Trang Tien Street, Phan Chu Trinh Ward, Hoan Kiem District, Hanoi
– Opening hours: 17:00 hours – 24:00 hours
– Price: US$3 – US$15
Binh Minh's Jazz Club is located in the heart of the Old Quarter. This club welcomes Vietnam's finest jazz musicians including the owner –  Vietnamese jazz pioneer Binh Minh. Each night, the live performance starts from 21:00 hours and continues up to 23:30 hours. For special occasions, there will be some international jazz musicians performing at this club. You can check the information on their official website here. Its location is extremely suitable to come across after strolling around the Hoan Kiem Lake. You can drop at Binh Minh's Jazz Club for dinner and take a great seat for the evening performances.
2. Hero Club Hanoi – A club to dance the night away
– Location: No.42 Yen Phu Street, Truc Bach Ward, Ba Dinh District, Hanoi
– Opening hours: 22:00 hours – 03:00 hours
– Price: US$3 – US$6
Hero Club is well-known as one of the best nightclubs in Hanoi with some awesome parties and themed nights. The design of the club is pretty cool. The DJ booth is set within an old Soviet truck. The walls are washed with old propaganda posters and images of superheroes. There are a variety of kinds of music from hip-hop to deep house and lounge. Occasionally, some famous international DJ plays music in this club. Coming to Hero Club, you can immerse in the music world and dance overnight in the exciting atmosphere.
3. Savage – A hip and happening venue in the West Lake area
– Location: No.112 Xuan Dieu Street, Quang An Ward, Tay Ho District, Hanoi
– Opening hours: 18:00 hours – 03:00 hours (from Wednesday to Sunday)
– Price: US$3 – US$25
Savage is one of the most well-known nightclubs in Hanoi with underground electronic music. At Savage, you can enjoy an exclusive atmosphere. The club plays techno music spun played by both famous international and local DJ. You can check out their fan page on Facebook here to get more details about special events and DJ performing in the clubs.
Hanoi nightlife is absolutely interesting, right? We hope that this article will become a useful guide for you to enjoy the beauty of Hanoi nightlife. The places mentioned above are the well-known destinations that you should experience when the sun sets in. However, there are many interesting places with the different charms in Hanoi that you can explore if you have a chance.
CONTACT US
XI. About Lux Travel DMC Ltd.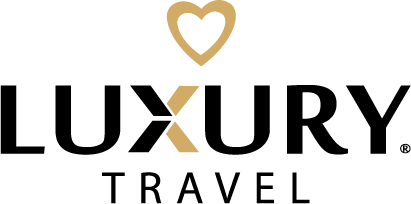 Lux Travel DMC Ltd. is the first luxury tour operator in Vietnam. It has more than 15 years of experience in the travel industry. The company offers private holiday packages to Vietnam and other Southeast Asian countries. Customized tailor made service is the signature aspect of Lux Travel DMC. Depending on the needs and special requests of the travelers, Lux Travel DMC recommends the best places to enjoy Hanoi nightlife.
So if you are planning a trip to Vietnam in general or to Hanoi in particular, get in touch with us here and share your interests with the travel experts of Lux Travel DMC. Our professional team will guide you and design the best possible itinerary for you considering all your requests to gift you a memorable vacation in Vietnam.