Many Vietnamese nominations have been honoured at a gala ceremony of the 29th World Travel Awards in the Asia&Oceania region held in Ho Chi Minh City on September 7 evening. Lux Travel Dmc (www.luxtraveldmc.com), a 100% Vietnamese-owned private travel agency, won the award "Tourism Oscar" at World Travel Awards 2022 for the first time.

(Ho Chi Minh City, 8 September 2022) Now in their 29th year of operation, the World Travel Awards have evolved to represent a global search for the very best of the best travel and tourism brands. For the first time, Lux Travel Dmc has been voted under the 'Vietnam Leading Destination Management Company' category at the World Travel Awards 2022. The award ceremony took place in Gem Center in Ho Chi Minh City on 7 September 2022.
Hailed as the "Oscars" of the travel industry, the awards seek to raise the standards of customer service and overall business performance throughout the international industry. World Travel Awards is globally recognized as the most prestigious honours programme in travel and tourism. Voted for by travel professionals, media, and high-end consumers worldwide, this honour recognises your organisation as the very best of the best!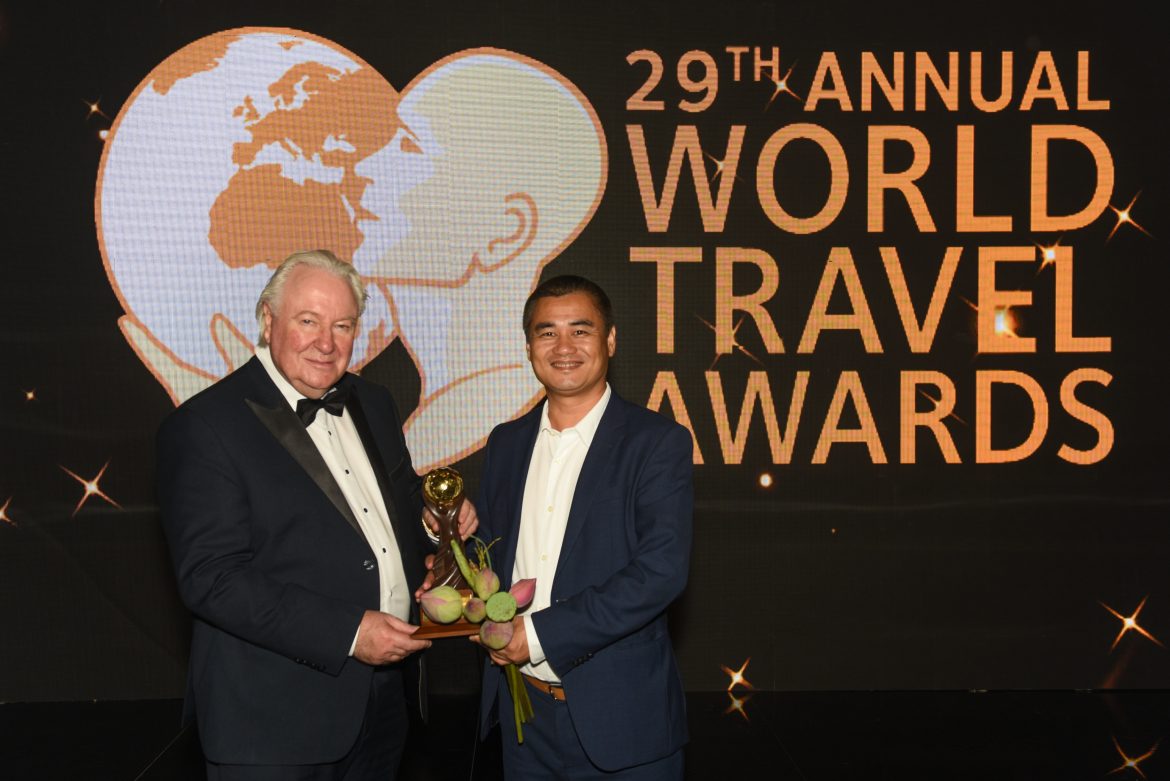 Non-stop working for the last two years of pandemic Covid 19, Lux Travel Dmc responded, resolidified, reinvented, restructured, and recovered under the umbrella of Lux Group, a group of small giants, an award-winning Asian travel and hospitality group with more than 20 years delivering authentic and unique experiences.
Lux Travel Dmc emerged with a nomination for 5 categories and won "Vietnam's Leading Destination Management Company" for the first time, confirming its position as a leader within the Vietnamese luxury tourism industry. As a company, Lux Travel Dmc has contributed significantly to the benchmarking of 'experiential travel', and "heritage tourism" within Vietnam and throughout Asia. In sharing their intimate knowledge of the region they have helped create the ultimate luxury travel experience, establishing a unique travel style of insightful and rewarding tourism.
Travel is now all about destinations, experiences, and memories. As a company, it is famous for providing travelers with the ultimate travel experience along with establishing a unique style of travel. Famous for its sophisticated and luxurious services, the company has its own offices and representatives on five continents. In receiving a nomination, Lux Travel DMC. (www.luxtraveldmc.com) has effectively been issued with a global endorsement from thousands of travel professionals who believe that their distinct blend of niche and experiential travel is worth sharing with the rest of the world.
Celebrating 17 years, Lux Travel Dmc promotes a style of travel that goes beyond the idea of the conventional sightseeing packages, paying particular focus on immersing clients in the local culture and venturing out to lesser-known destinations and new destinations such as Sri Lanka for guests to discover, dream, explore, indulge, relax, experience and immerse. With offices all over the world, luxury vehicles, five-star cruises, boutique hotels, and travel experts provide authentic and unique travel experiences. The key thing sophisticated travelers want today is personal service and the opportunity to have unique encounters with a destination's culture, history, and people – something they can't Google. The company has just launched the secret hideaway collection for post-pandemic travelers.
"We are much honored to receive the award for the first time, as we deserve it. Our sincere service is from our heart, touching your heart. With all our senses – Smell, Sight, Taste, Touch, and Sound, we create authentic and unique travel experiences in the SECRET HIDEAWAY COLLECTION, we can reach out to the wonders of the world, try new things and ask questions to enrich our travel experiences. Our goal is to continue to raise the bar in service and further develop Vietnam as a luxury travel destination". Said Pham Ha, Founder, and CEO of Lux Travel DMC (www.luxtraveldmc.com).
"We are a luxury travel trendsetter, one of the leaders in the market in 2005. We share our unique travel experiences and intriguing perspective with clients who wish to see Vietnam and Asia to be voted by such a prestigious committee is a testament to the innovative product we create and the dedicated team who drives it. I am proud of the whole Luxers team who struggled together in the pandemic and know how to touch the hearts of our most sophisticated travelers and recover from now on".
Famous for Heritage Cruises Binh Chuan Cat Ba Archipelago, Emperor Cruises Legacy Halong Bay, coming soon, Lux Cruises will be at the forefront of luxury cruising in Phu Quoc Island City with an ultra-luxury alternative – Emperor Cruises Grandeur Phu Quoc. This prestigious project of 10 cruise ships, driven by Lux Cruises, is positioning itself as a five-star cruising experience with butler service on a traditional Vietnamese wooden and steel vessel where royal glamour, history, and heritage provide the right blend of service, luxury, and unique travel experience and quiet efficiency. The project will create jobs, boost the region's economy, and help position Phu Quoc as one of the world's major luxury tourist destinations. Winning this award, the company is more confident to expand its luxury cruise line fleet to Quy Nhon, Nha Trang, and Bai Tu Long Bays.
Confirming its leading position, Lux Travel Dmc, has its own sales rep offices in five continents, with 5 operations offices across Vietnam and 250 staff focusing on 5 languages in the key source markets for Asia. Lux Travel Dmc has a fleet of luxury vehicles and has launched 20 new signature authentic packages for post-pandemic travelers who want to discover, dream, explore, indulge, relax, and immerse in local culture and heritage in Vietnam and Asia. The company's depth of experience and large infrastructure enable it to create unique itineraries with the operational confidence to fulfill the most sophisticated traveler's expectations. Lux Travel Dmc won numerous travel awards nationally and internationally.