Vietnam is a country worth visiting once in a lifetime not only for aesthetic natural scenery, and rich cuisine but also for the hospitality of the people here. However, it is difficult to fully enjoy the unique excitement of Vietnam in a few days. Two weeks may not be enough to fully explore the wonders of this country, the following itinerary will help you discover the best of Vietnam in just 14 days.
1. When should you visit Vietnam? 
To be able to enjoy the best experiences in Vietnam, the best time to travel in this country is from September to April of the next year. In these months, rainfall will be low and temperatures will be around average in most regions. You can talk to local travel experts to make advance a plan for your holiday to Vietnam for one or two months. 
2. Why should you take this 2-week Itinerary in Vietnam?
Whether you visit Vietnam for the first time or second or many times, Vietnam is an ideal destination for visiting again and again because of the beauty of its landscapes, culture, and food here.  From Vietnam, you can also easily combine a complete itinerary with other destinations in Southeast Asia. Vietnam is suitable for everyone who wants to demand leisure, adventure, or a honeymoon…
Why should you design a 2 -week itinerary for a Vietnam holiday? Vietnam is a strip of land that has the shape of a dragon.  Therefore, each region has its own characteristics and culture. In 14 days, you can explore and enjoy most of the highlights from the North to the South of Vietnam. For some foreign travellers from the UK, Spain, and France, 2 weeks of the itinerary will be an ideal trip with receiving visa exemption from the Vietnamese Government.  If you want to stay more in this country, you can contact the local travel experts in Vietnam.
3. What can you get from a  2-week Vietnam Tour?
On this two-week trip, you will discover the most unique places of Vietnam stretching from the top of the country to the southeast of Vietnam. Here are the must-be highlights of the 2-week- Vietnam tour you can explore:
Immerse yourself in a both ancient and modern Hanoi 

Contemplate the magnificent landscape of the Northwest of Vietnam

Admire the beautiful limestone islands in Halong Bay

Enjoy the elegance of Hue's citadels, palaces, and mausoleums

Visit the splendor of Hoi An Ancient Town

Be allured by Da Nang beach – one of the most attractive beaches on the planet

Ho Chi Minh – the most bustling and dynamic city in Vietnam

Cu Chi Tunnels – the mark of a heroic anti-American resistance war of the Vietnamese people
a. Day 1-2: Hanoi
Hanoi, the capital of Vietnam, is famous for its centennial architecture and rich culture with influences from Southeast Asia, China, and France. The city center is the bustling Old Quarter, where the narrow streets are named "Hang": Hang Than, Hang Khay, Hang Dau, etc.
This is an ideal place to visit on the first day of your arrival in Hanoi because of the peaceful and ancient charm it brings.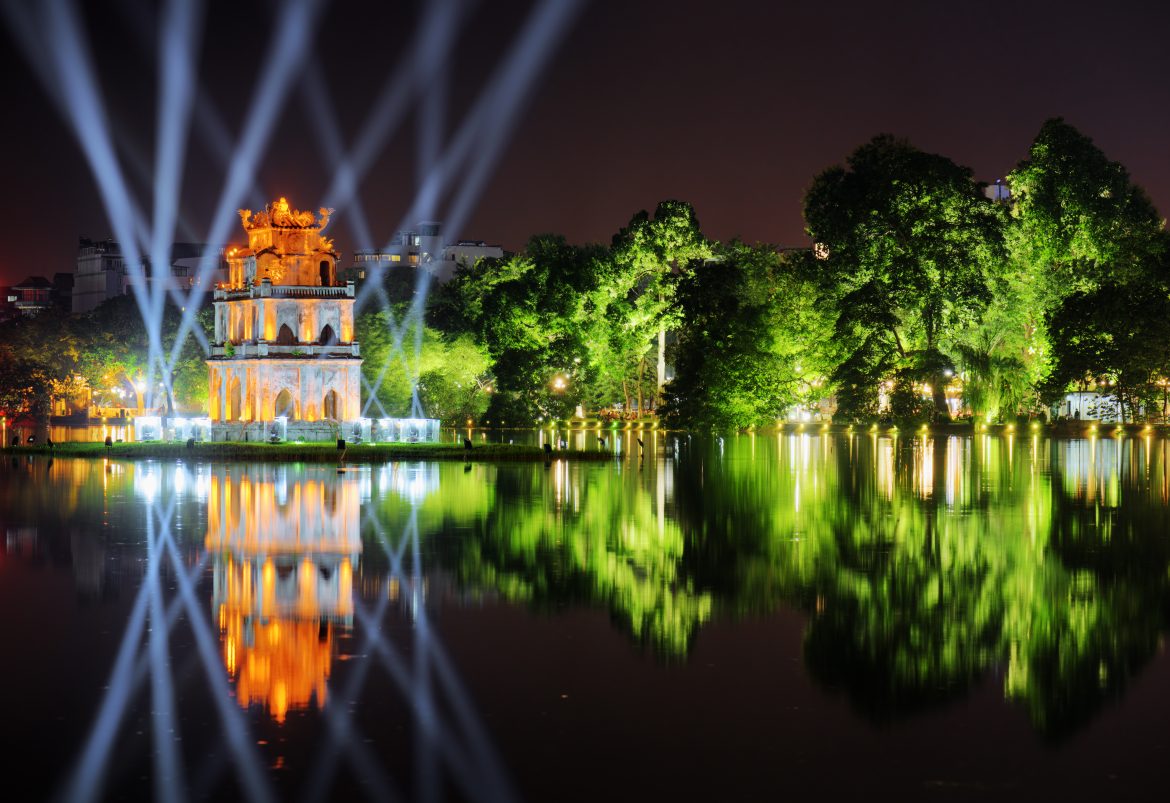 Places to visit: 
Stroll around Hoan Kiem Lake where Turtle Tower Bridge is located

Explore the history of Hoa Lo Prison, where thousands of prisoners were kept during the anti-American resistance war.

Take a trip to Van Mieu Quoc Tu Giam – the school "born" many talented talents for the country

Experience the nightlife on Ta Hien Street

Make a visit to the final resting place of the Communist Leader at the Ho Chi Minh Mausoleum

Food to try: 
Pho Bat Dan

Crab noodle soup

Vietnamese rice noodles with fermented shrimp paste

Rib porridge

Trang Tien Ice Cream
Recommended Accommodation:
 Sofitel Metropole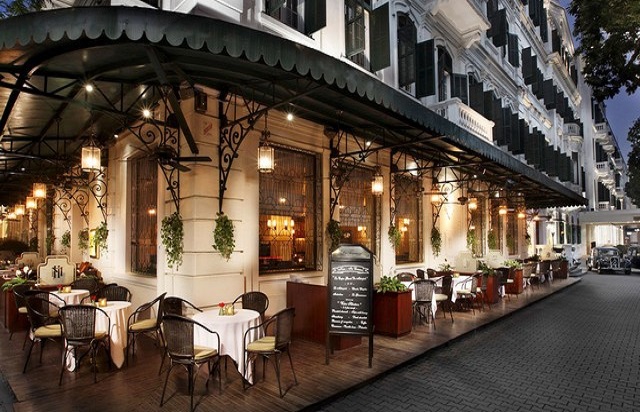 b. Day 3-4-5: Sapa
Sapa is a famous tourist destination in Lao Cai province, located in the North of our country. Thanks to the favor of the Creator, the nature of Sapa appears as a magnificent but equally poetic picture.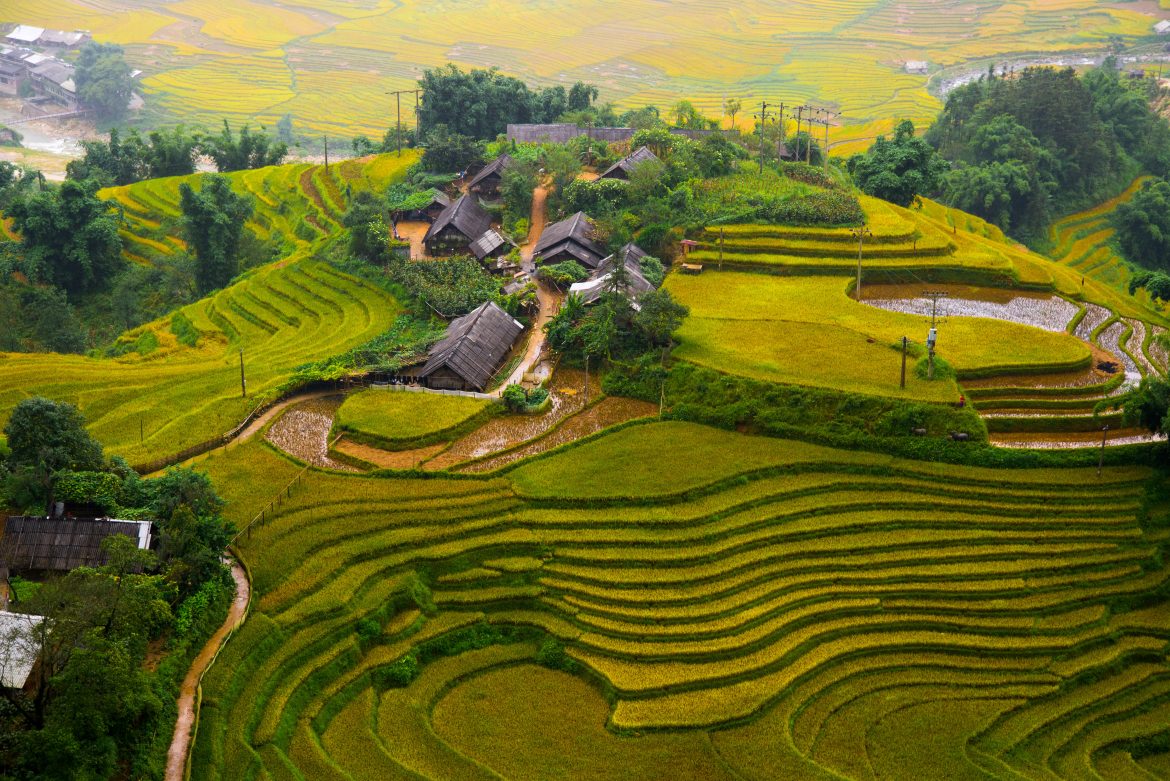 Places to visit: 
Admire the most beautiful place in the world: Muong Hoa Valley – Sapa Terraces

Discover the different traditions and costumes of the Zay ethnic group in Ta Van village and the Red Dao people in Giang Ta Chai village

Contemplate Silver Waterfall Sapa – the highest waterfall in the Northwest mountains.



Explore O Quy Ho Pass – Dubbed as one of the 'Four Great Passes' – The pass possesses breathtakingly beautiful scenery.

Visit Ta Giang Phinh Valley, inhabited by the Black H'mong people

Food to try:

Sapa Lam Rice

Seven-color sticky rice

Armpit pork

Sapa Peach

Thang Co – typical traditional dishes of the H'mong people. The meat cooked in thang co is traditionally horse meat, later with beef, buffalo, and pork added
Recommended Accommodation:
 Topas Eco lodge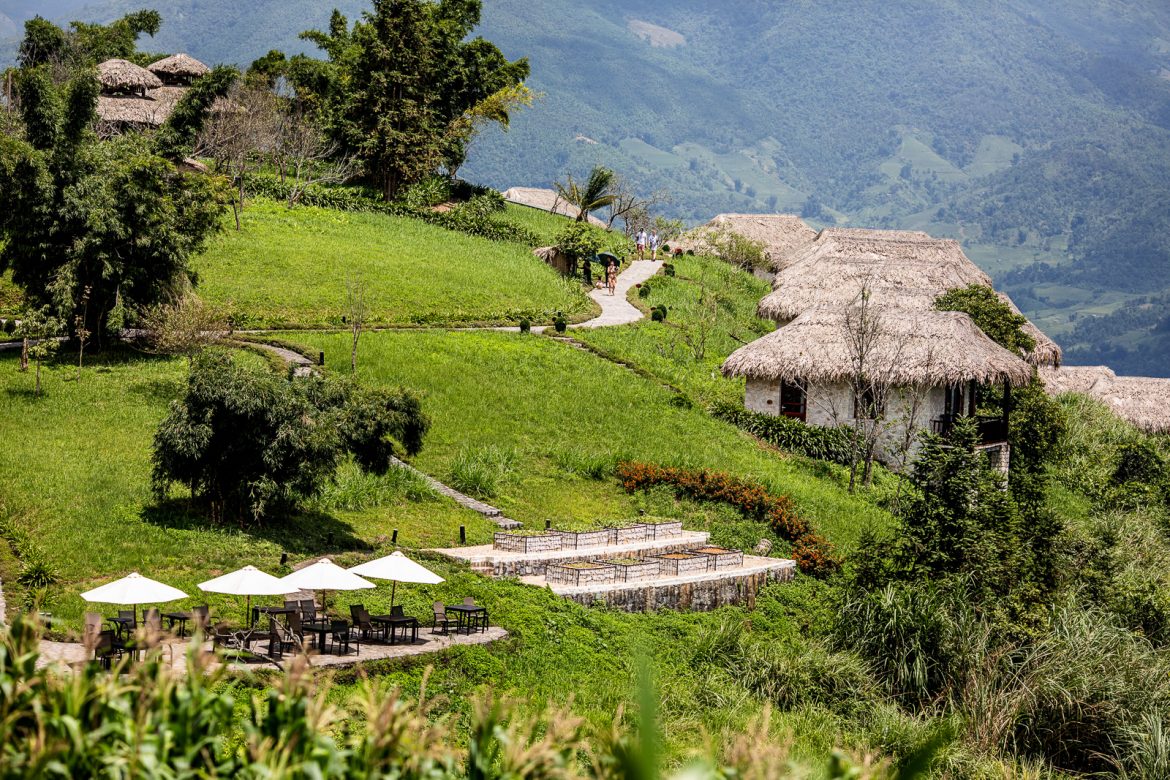 c. Day 6-7: Halong Bay 
Ha Long Bay is located in the northeast of Vietnam, about 165km from Hanoi capital. Ha Long Bay has a coastline stretching 50km and is a familiar stop for tourists from all over the world.
Famous for its unique natural scenery in the midst of the immense sea, Ha Long Bay tourism has thus become a beautiful sightseeing destination that appears continuously on newspapers and social networking sites. Not only that, but this place also has a rich culinary background, bringing many interesting experiences for visitors.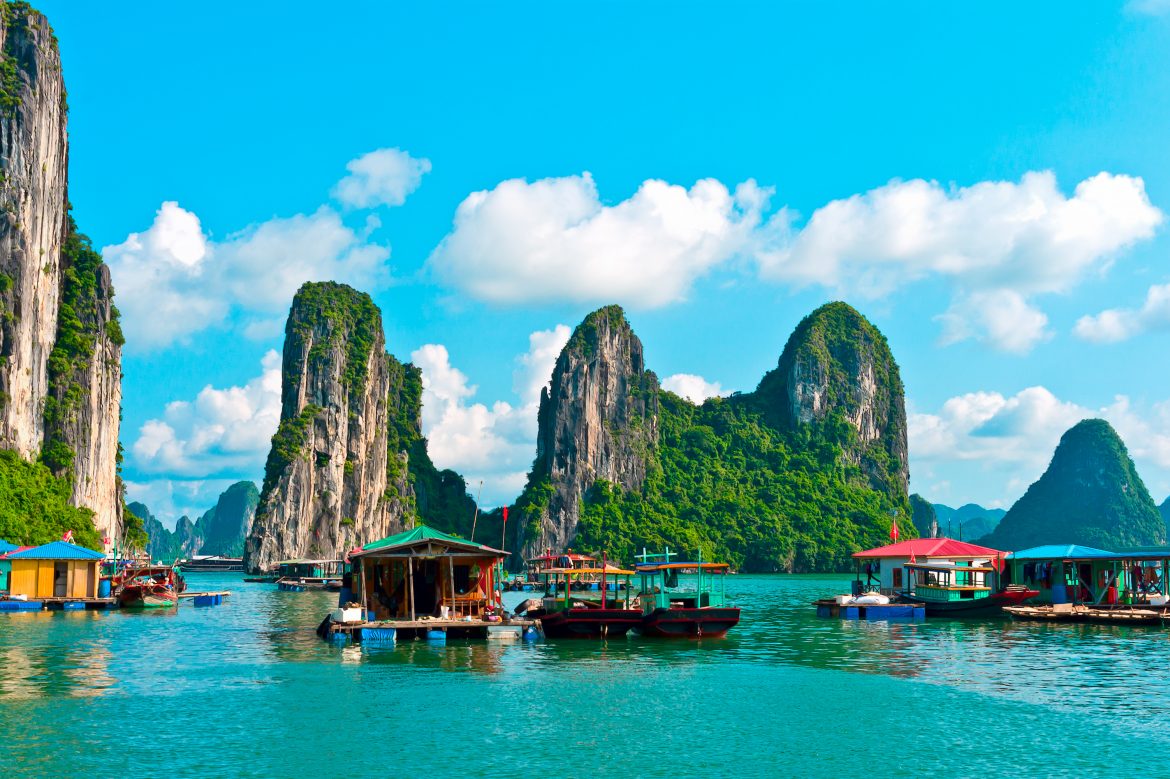 Places to visit:
Quang Ninh Museum and Library – likened to a precious, sparkling black pearl on the side of Ha Long Bay.

Ha Long Bay – is recognized by UNESCO as a natural wonder of the world. Some famous islands and caves in Halong Bay: Ga Choi island, Ngoc Vung island, Con Coc island, Ti Top island, Sung Sot cave…

Sun World Ha Long – A fantasy theme park with roller coasters & trains, shows, architecture & impressive scenery.

Bai Tho Mountain – is a tourist destination with a panoramic view of Halong Bay.



Food to try: 
Grilled squid 

Sea Sam

Tien Yen hill chicken

Oyster milk porridge

Mantis shrimp noodle
Recommended Cruise:
Heritage Cruise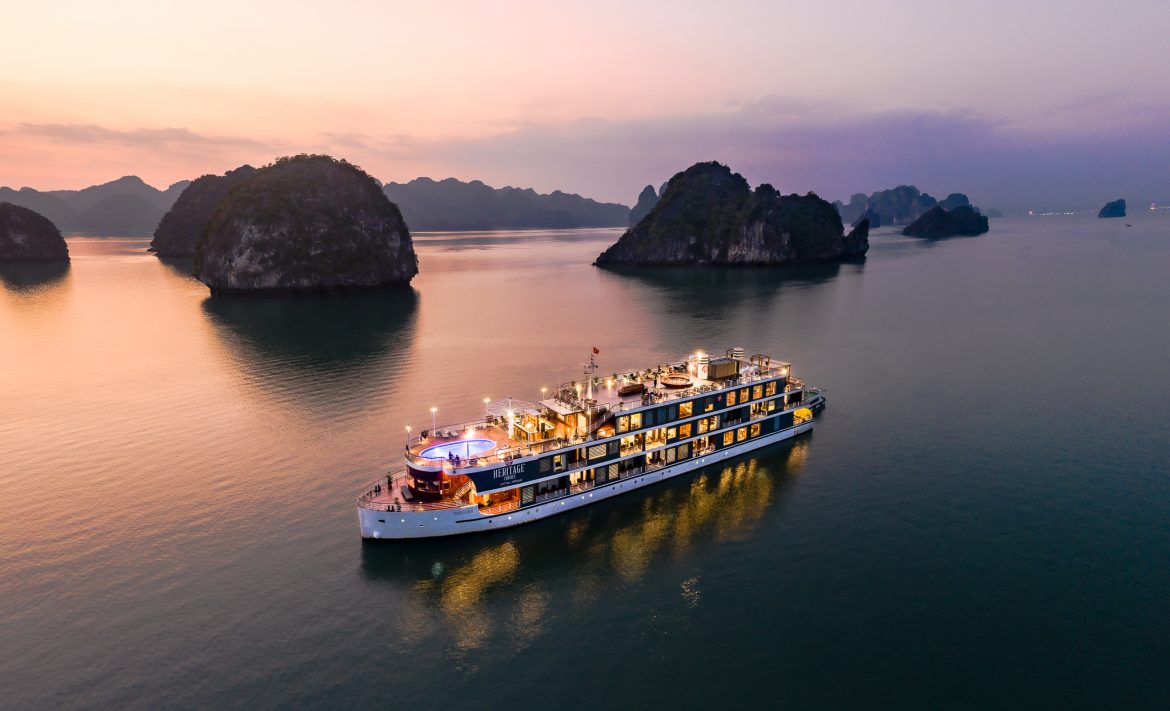 d. Day 8-9: Hue
Hue is a famous tourist destination, attracting the most visitors in Vietnam because of its long-standing culture, rich in historical value, and many beautiful cultural and artistic features. Hue city is located in the central region, surrounded by many prominent provinces and cities such as Quang Tri, Quang Nam, Da Nang. With the convenient transportation, visitors from North or South can easily transfer to Hue for tourism. 
Places to visit: 
Hue Citadel: Hue Citadel is a Hue tourist destination that converges the peak architectural beauties of the Nguyen feudal era, built hundreds of years ago in an extremely large area, with more than 100 splendid buildings.

Hue Mausoleum: Referring to Hue tourist destination with unique architectural works, it is impossible to ignore Hue mausoleum, with mausoleums of 7 Nguyen kings in Hue.

Truc Lam Bach Ma Zen Monastery: Visitors can be satisfied when they see the ancient beauty of the temple, with elegant patterns and textures, and enjoy the pure space for a feeling of relaxation and lightness. 

Perfume River: This is a famous tourist destination in Hue, the source of much literature, putting on a poetic, lyrical beauty that captivates people.
Food to try: 
Mussel rice

Spicy beef noodle soup

Flat steamed rice dumplings

Rice dumpling cake
Recommended Accommodation:
Banyan Tree Lang Co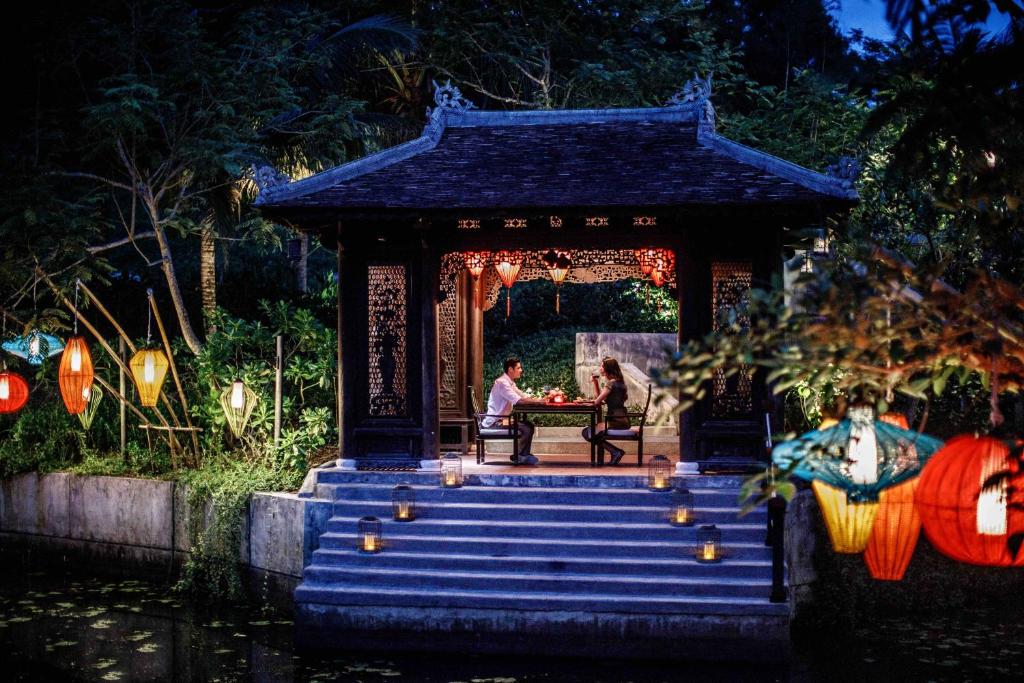 e. Day 9-10: Hoi An
Coming to Hoi An tourist destination, visitors will be immersed in novel moments hidden inside the ancient features of many rows of old tile houses. Everything here is beloved, poetic, and charming. The people are gentle, friendly, and hospitable.
Places to visit: 
Bridge Pagoda – the pagoda crossing the peaceful poetic Hoai River

My Son Sanctuary – the holy relic site used to be an important area for the ritual sacrifices of the Champa royal family during the reign.

Cu Lao Cham – an archipelago recognized by UNESCO, which possesses unspoiled beauty and diverse flora and fauna.

Bay Mau Coconut Forest – a magnificent natural forest that has helped our army win many battles


Food to try: 
Cao Lau – high floor dishes: The name "cao lau" means delicious food which is enjoyed on the upper floor. In other words, you can eat food while watching the whole beautiful scene of Hoi An street right from the top floor.

Stir-fried mussel crackers: is a strange combination of soft, wet cakes, the crispiness of grilled rice paper blends in with the attractive aroma of richly fried mussels, adding a little spicy chili.

Steam rice rolls with grilled pork: With the crust of hot steamed rice cake, wrapped of soft, sweetly grilled meat, all blended to create an amazing flavor for the familiar food.
Recommended Accommodation:
Royal Hoi An Mgallery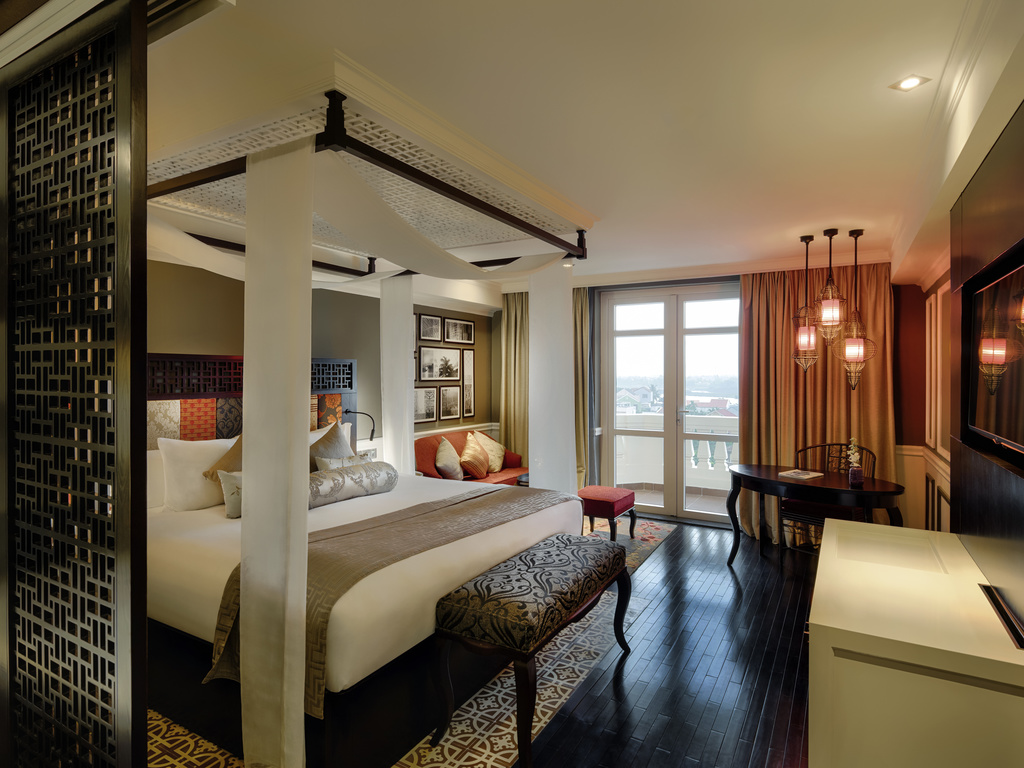 f. Day 11-12-13: Sai Gon 
When it comes to places to visit Saigon, everyone is excited about the bustling splendor on each street. Indeed, Saigon never ceases to be animated even at night. That's Saigon, always full of life and brilliant, and making people curious.
Places to visit: 
Independence Palace (Reunification Hall) – which used to be the working place of the government apparatus of the Republic of Vietnam, is also the place where countless heroes died.

Notre Dame Cathedral – one of the symbols of Saigon City

.

Cu Chi Tunnels – the transformational map of Cu Chi troops and people during the resistance 

Cao Dai Temple
Food to try: 
Sai Gon Sandwich

Banh duc: is usually made with rice flour or tapioca with some seasoning.

Steam broken rice

Crab noodle soup
Recommended Accommodation:
Mia Saigon hotel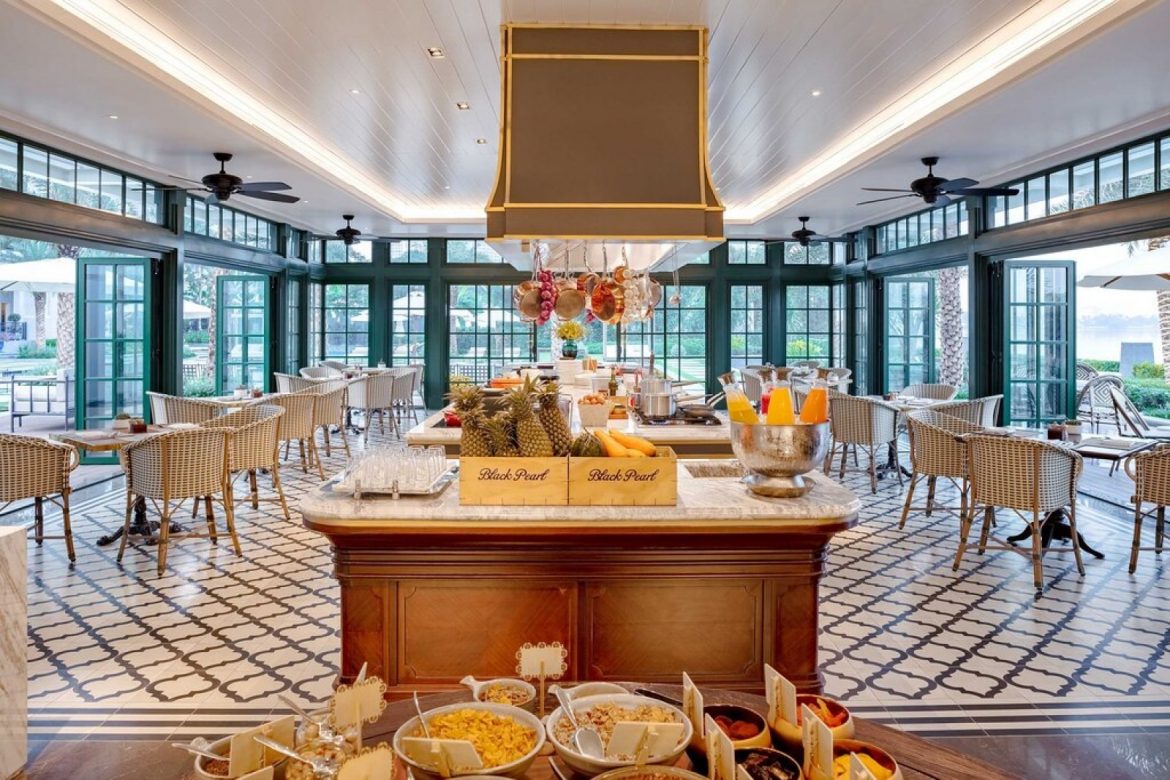 g. Day 14: Mekong Delta
On the last day of the journey, let's "escape" from the bustling, crowded city to discover the rustic river life of the Mekong Delta on a speedboat along the Saigon River for 2 hours. 
Places to visit:
Cai Rang Floating Market, Can Tho – unique and typical market type of the Mekong Delta that nowhere else in Vietnam has.

Phong Dien Garden, Can Tho – dubbed as the land of fruit orchards, after more than 100 years of discovery

Bang Lang Stork Garden – the largest bird playground the West of the river. 

Cu Lao May Island – is an interesting garden tourist destination with fruit gardens and many folk games. 
Food to try:
Cai Rang Grilled Pork Rolls 

Grilled shellfish with green pepper

Grilled goby reed tube

Sesarmid roasted tamarind
Recommended Accommodation:
Azerai Resort Can Tho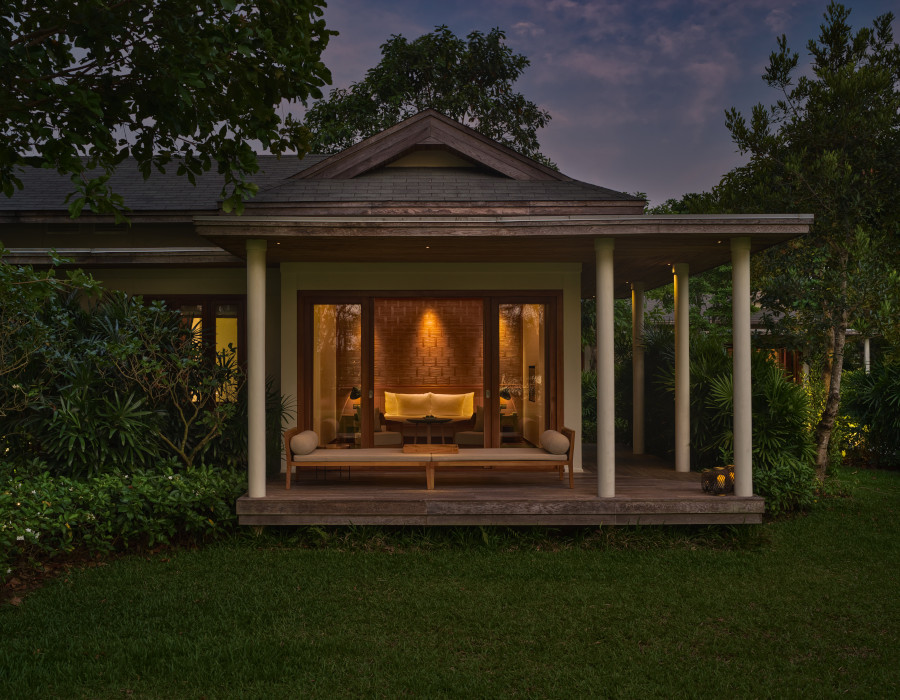 Ready to dive into the gorgeousness of Vietnam? Book a tour with Lux Travel DMC to get the best out of your trip. We offer custom-made tour itineraries tailored to your demands, along with premium services that cater to your every need and unique cultural insights and experiences from our seasoned guides. 
Recommendation of the list of 2-week itinerary Vietnam Tour in 2022 – 2023:

Vietnam Tour and Holiday in 14 Days
Vietnam Family All Inclusive Tour 14 Days
Vietnam Chic Adventure Tour in 14 days
Best of Vietnam Honeymoon Vacations 14 days
Contact us at: 
Address: No.456 Lac Long Quan Street, Tay Ho District, Hanoi, Vietnam
Phone: (+84) 4 3927 4120
Email: [email protected]
Hotline: +84-336-276-996
Website: https://luxtraveldmc.com