The first itinerary for 4 days in South Vietnam best suits those who want to escape from the bustle and hustle of crowded cities for relaxing and refreshing. It is recommended for families with kids. The latter is a great idea for the wild spirits that are eager to explore the unusual, mysterious corners of the far regions. The Southern region of Vietnam is awaiting! 
Itinerary 1: Ho Chi Minh City – Phan Thiet Beach Relax 4 days
Day 1: Ho Chi Minh City Arrival
The journey's first destination is one of the biggest and most popular places for traveling in Vietnam – Ho Chi Minh City. The city is a mixture of ancient and modern features. You will be taken from Tan Son Nhat Airpot to the center of the city. Next, you will wander around some famous tourist attractions by car. 
The Reunification Palace
Location: 135 Nam Ky Khoi Nghia Street, Ben Thanh, District 1.
Opening hours: 7:30 – 11:00/ 13:00 – 16:00
Ticket: Adult: 40,000 VND
Child: 20,000 VND
The Reunification Palace is the top choice historic site in the city which used to be the Vietnam General Ngo Dinh Diem's base until he passed away in 1963. This national relic witnessed many major historical events as it was an important headquarter of the Saigon government. The photograph of a Vietnamese army tank smashing the palace's gate to facilitate the Communist force getting in on April 30, 1945, later became iconic. The Reunification Palace architecture is typical of the 60s Western and Eastern styles. Nowadays, you can reach most areas of the place ranging from meeting rooms, the telecommunications center, the warren of tunnels to the President's chamber with the displays of artifacts and artworks. 
Notre Dame Cathedral
Location: 01 Cong Xa Paris, District 1.
Opening hours: 6:00 – 20:00
Just a few steps from the Reunification Palace, The Notre Dame Cathedral is one of the remaining sites of Catholicism constructed by the French colonists in Vietnam. It consists of 2 twin bell towers topped with crosses. Notre Dame Cathedral combines neo-Romanesque features with red bricks and colorful glass windows. In front of the Cathedral stands a Virgin Mary's statue. Notre Dame Cathedral is now the most prominent religious destination for both the local and the visitors.  
Saigon Central Post Office
Location: 2 Cong Xa Paris, Ben Nghe Ward, District 1.
Opening hours: 7:00 – 19:00
Right next to the Notre Dame Cathedral, Saigon Central Post Office is the grandest of its kind in Vietnam and perhaps in other Southeast Asian countries. It is outstanding with the unique Renaissance and French colonial architecture. The impressive complex consists of the bright yellow exterior, arched windows, green shutters, marble floors, and wooden countertops. There is a huge clock visible at the entrance of the Post Office while at the far end of the place is a portrait of President Ho Chi Minh. For those who are into taking pictures, it is a wonderful backdrop for your perfect photo shoots. 
You will have some free time to explore the iconic Ben Thanh market which is located on Le Loi Street, District 1.
The market will be closed at 19:00 so take your time wandering around the place. You can find many vendors that sell ready-to-eat foods and local specialties. Different types of coffee and the filters for a true Vietnamese spirit are available in the market. There are also dried fruits, seafood, snacks and sauces in the food area.
Ben Thanh market is a heaven of colorful fabrics and silks for your favorite "ao dai". At another corner of the place, there are outlets of eye-catching handicrafts, accessories and some cute magnets as souvenirs. 
In the evening, you will have your dinner and stay overnight in Ho Chi Minh City.
Day 2: Ho Chi Minh City – Phan Thiet beach escape 
After finishing a 6-hour trip traveling from Ho Chi Minh city to Phan Thiet beach, you will have your lunch which is, of course, the seafood specialty from the local restaurant then arrive at your hotel for check-in. 
Mui Ne Fishing Village
Location: Huynh Thuc Khang Street, Mui Ne, Phan Thiet City.
Settled on the northern side of Mui Ne Bay, the Fishing Village possesses a mesmerizing view of the long coastline with glittering golden sands and lines of green palm trees. 
It is highly recommended to get up early in the morning for sightseeing the fishing harbor. You will be amazed by the colorful sunrise blending with local fishermen whose boats are full of crabs, shrimps, and fish ready for purchasing. Walking towards the Southern end, there is an area stuffed with clams and seashells in different shapes. If you have your kids with you, this might be their cup of tea. 
White Sand dunes
Location: Hoa Thang, Bac Binh, Binh Thuan. 
26 kilometers away from the Mui Ne Beach, the giant White Sand dunes Mui Ne is famous for its photogenic scenery. It is one of the only deserts in Asia with an expanse of sands and barren lands, a "sandy paradise". The breath-taking view here is best to snap your pictures. You can either walk or rent a quad bike to explores all corners.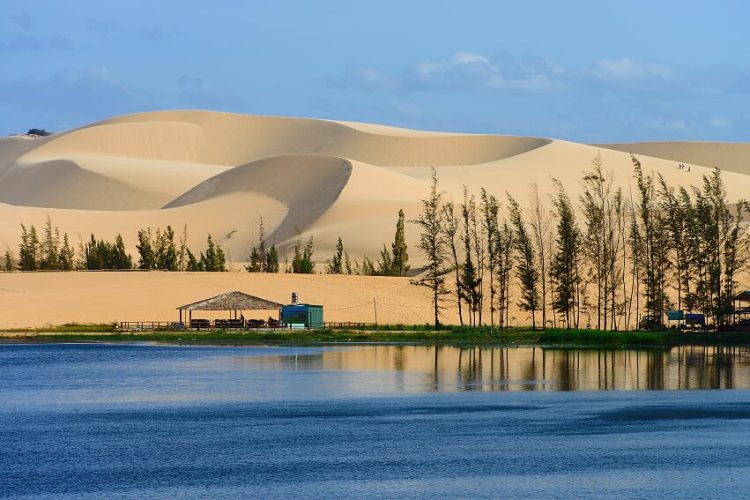 Another activity that you can join is sand sliding. Or else, a hot balloon tour to achieve the full view of the White Sand dunes is recommended but the price is a bit higher. The exciting part of the trip is that you can find a lotus lake at the center of the hot and dry desert.
Day 3: Phan Thiet beach relax
You will have your breakfast at the hotel before having a full day to enjoy and take a sunbath on the beach. The beach is liveliest in the afternoon when it is crowded with people at all ages. Kids fly kites or build sandcastles on the seashore, old men go jogging while adults immersing in the water. Furthermore, you can try some thrilling water sports. 
In the evening, you can rent a tandem bicycle to explore the city by yourself or book an electric car instead. Similarly, drinking fresh coconut juice while enjoying the breezy atmosphere of the beach cannot be missed out. 
There are continuing outlets of clothes and souvenirs along the street. Like any other beaches, Phan Thiet beach offers a range of stores that sell dried squids, shrimps, and different types of fish sauces. 
Day 4: Phan Thiet – Ho Chi Minh City – Departure
It is your last day in the city. You will have breakfast at the hotel then check out to prepare for your flight. Turning back to Tan Son Nhat airport in Ho Chi Minh City from Phan Thiet will take you about 6 hours. Have a safe flight!
Hotels 
City
Hotel list 
Room type
Superior

Phan Thiet

Dynasty Beach Resort – Hoang Trieu

ROH room

Ho Chi Minh City

Hoang Phu Gia Hotel Saigon

Superior

First-class

Phan Thiet

Lotus Muine Resort & Spa

Premium Panorama View

Ho Chi Minh City

Royal Hotel Saigon

Deluxe

Deluxe

Phan Thiet

The Cliff Resort and Residences

Azul Sea View

Ho Chi Minh City

Equatorial Hotel Saigon

Deluxe
What to eat during 4 days in South Vietnam?
Banh mi/ Bread
Needless to say, the well-known Vietnamese "Banh mi" has many different flavors. In Ho Chi Minh city, you can find bread anywhere ranging from bread with egg, bread with pork or even bread with crispy squid rings which are just under 1$. 
Com tam (broken rice)
This dish is the harmonization of rice, barbecued flavored pork ribs, fried egg, green onions, and many other ingredients. 
Bun thit nuong
Bun thit nuong is a type of vermicelli rice noodle served with bean sprouts, spring rolls, pickles, and grilled pork, etc. 
Căn cake
The traditional cake is made of rice powder for the crispy taste and topped with an egg. The flavor is strengthened with fish sauce.  
Best time to travel
You can come to Ho Chi Minh anytime you want. As the southern end of a tropical country, Ho Chi Minh is quite hot in the summer. 
It often rains heavily in Phan Thiet between July and August. Thus, it is not a good time to go swimming. The best time of the year is from January to May. 
Early in the morning and late in the afternoon are the most beautiful periods of the day to enjoy the fascinating view of sunrise and sunset in Phan Thiet beach and the White Sand dunes. Those periods of the day are perfect to escape the heat of the summer.
Notes for 4-day in south Vietnam 
Those historical and ritual sites such as the Reunification Palace and the Notre Dame Cathedral are very strict about clothes regulations, so remember to avoid short skirts, tank top, and skin-showing clothes when coming to those places. 
Itinerary 2: Best of Mekong Delta 4 days
Day 1: Saigon (Ho Chi Minh City) – Vinh Long – Can Tho
The first destination of the itinerary is Ho Chi Minh city. You will arrive at the hotel for check-in and meet the tour guide there. The tour proceeds to the Mekong Delta by boat then arrive at the town of Vinh Long. Along the canal, you can immerse yourself in nature. 
To continue, we will visit local people with their orchards, fruit plantation as well as brick and pottery factory. The local will warmly welcome you with the traditional Southern music performances. The lunch in Mekong Delta is highlighted by the "Elephant ear fish" dish. 
Later, you will rejoin the car drive to the hub of Mekong Delta – Can Tho city then spend your night here. 
Day 2: Can Tho
After having your breakfast at the hotel, start a leisurely cruise to Cai Rang Floating Market which is famous for its unusual operation.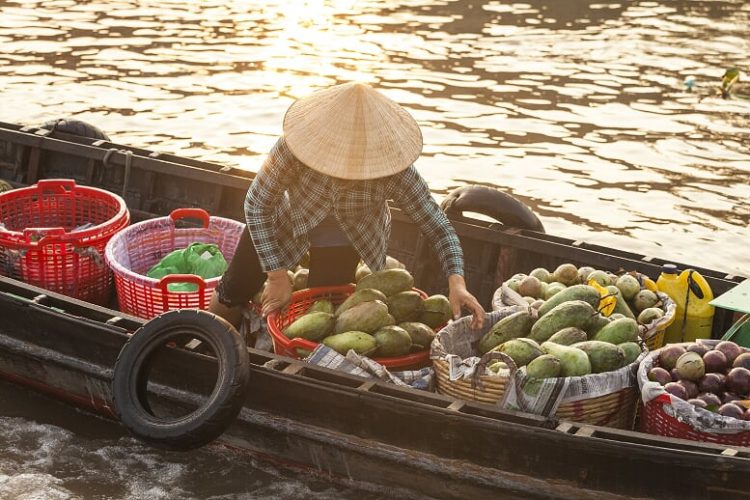 Cai Rang market's meeting is on the water with hundreds of boats full of fruits, agricultural products, and various food. The sample of the products is hung on a stick from the highest part of the boat so that customers know what they are looking for. 
You are free in the afternoon to take advantage of the Victoria Resort Can Tho for relaxing, refreshing and spending your night here.
Option for Early Bird: Sunrise Breakfast on the Mekong Princess Cruise
On the next day, do not miss out the stunning view of the sunset while having your breakfast on Mekong Princess Cruise. 
The breakfast is often served at 6:30 am. After having your light meals, get ready to come to the Cai Rang Floating market. When arriving there, visitors will get in another local traditional boat to wandering around the market. Next, the guide will take you to the noodle factory and a fruit orchard. You can try many types of fruit with a humble entrance fee. Finally, you will get back to the hotel by boat through some canals. 
Day 3: Can Tho – Chau Doc
It takes you 4 hours to leave Can Tho for Chau Doc whose location is right on the banks of Bassac river, near the border of Campuchia. The guide will introduce you to the Bang Lang bird sanctuary, the incense stick village as well as the crocodile farm. 
In the afternoon, you will be taken to the floating fish farm and the weaving Cham village by sampan boat. During the cruise, the harmonization of bird sounds, insect and animals combining with the breezy vibe of nature will ease your tired soul. 
From the boat, there is a small "monkey bridge" connecting to the mainland. The village preserves a 100-year-old loom. You can see a lot of colorful and bright woven scarves and head wraps which you can buy as gifts here. 
Before spending your night at Victoria Hotel Chau Doc, you will have a chance to visit Sam Mountain to watch the sunset. 
Day 4: Chau Doc – Ho Chi Minh city
You will be served with a buffet breakfast at Chau Doc before returning to Ho Chi Minh city. The last destination is the town of My Tho where you can take a boat to explore the 4 pretty islets which are named after 4 sacred animals Dragon, Unicorn, Phoenix, and Tortoise. Barely any people know the places so you can take time to enjoy the unique experience. 
Hotels
City
Hotel list
Room type
First-class

Can Tho

Victoria Can Tho Resort

Superior

Chau Doc

Victoria Chau Doc Hotel

Superior
What to eat?
Hu Tieu Nam Vang (Nam Vang noodle soup)
This noodle comes with shrimp, pork, quail egg, seafood and must-have ingredients – ground pork and pig's organ for the distinctive broth. 
Lau ca keo (Goby fish hot pot)
This dish is made of goby fish, tomatoes, pig's bones, and other vegetables for a fresh, spicy and unforgettable taste.
Pia cake
Pia cake is a round dessert whose crust is made from wheat flour and tapioca flour. Inside the cake is sticky rice flour combined with salted duck egg, pork fat and ground mungbean. Sometimes Pia cake comes up with durian flavor. However, not everyone can stand the smell.
There is also the coconut worms that are only recommended for the wild ones.
Best time to travel 
The rainy season in Mekong Delta starts from May to August. The best time to visit Mekong Delta is between September and November as it is the floating season here. The period from April to June after the rainy season is fine. 
Notes
It is quite hot all year round so you should bring clothes that can stand the heat and humidity. A small umbrella or hat and a reusable water bottle are recommended.

Do not swim in the river. You can pick up leeches and parasites instead.
You should bring insect repellent as most of the destinations are near or within the forest.
For most of them, there is no tour guide available except the Reunification Palace if you did not book in advance. Let Lux Travel DMC become your companion.
About Lux Travel DMC
We are the first luxury tour operator in the region. Our team always try our best to customize a tour plan that satisfies even the pickiest customer. We promise to give you high-end accommodation, deluxe vehicles, and knowledgeable tour guides. With 15 years of experience, we are honored with the satisfaction rate of 99% and positive feedback on TripAdvisor.
Feel free to contact us for more information on the Lux Travel DMC website.