Different from others, some countries in Southeast Asia such as Laos, Cambodia, Thailand, and Myanmar celebrate their New Year following the Buddhist calendar with the traditional water festivals. This event will be held in the middle of April every year with a lot of interesting activities which attract a large of the local and travellers.
As the local people's beliefs, water festival brings meaningful things such as washing off the ill health, bad luck, and evil spirits from the old year in order to start the new year fresh. This occasion is also the chance for people to be closer together. Each culture has its own traditions and customs, so each water festival is celebrated slightly differently. Whether you celebrate Songkran in Chiang Mai, Thailand, or Chaul Chnam Thmey in Phnom Penh, Cambodia, water festivals in SE Asia are great opportunities to splash strangers and get soaking wet.
1. Water Festivals in Southeast Asia | Songkran in Thailand
Songkran is perhaps the biggest, most well-known water festival in Southeast Asia – and in all the world. It attracts hundreds of thousands of tourists, who all want to participate in the biggest water fight on the planet! Even some elephants join in, spraying locals and travelers with water from their trunks. Songkran is a great excuse to splash friends, family, and strangers with water, but for a full cultural experience keep the purpose and traditions of Songkran in mind, too.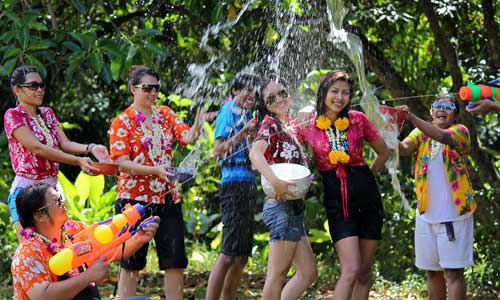 When is Songkran?
Songkran takes place from April 13 to 15 every year in Thailand. It marks the Thai New Year based on the solar calendar when the sun moves from the zodiac sign of Pisces into Aries. This also happens to coincide with the hottest time of the year in Thailand. April 13 is "Maha Songkran," the last day of the old year and the day the sun moves into Aries on the zodiac. April 14 is "Wan Nao," a day of transition between the old year and the new year. April 15 is "Wan Thaloeng Sok," New Year's Day.
What are the Songkran traditions?
The word "Songkran" originates from a Sanskrit word meaning "passage," or "passing," signifying transformation or a time of change. Buddhists observe Songkran by spending the morning visiting local temples in order to pray to their ancestors and offer food to the Buddhist monks there. Buddhists also build sand chedis, a type of sandcastle that resembles a Buddhist temple. They will pour water over statues of Buddha, symbolically purifying them, and washing away the sins and bad luck of the past year. Houses are cleaned with the same intentions. Songkran is also a time to show respect to elders. It's a tradition for young people to pour scented water on the hands of their elders, and the elders wish them good luck in return.
Buckets and water guns are acceptable ways to splash each other with water. The wetter you are, the luckier you will be in the new year!
At this time of year, people cook more traditional dishes, wear colorful clothes, and hold many parades and beauty contests. As this is a festival of unity and family appreciation, people who have moved away will return to their hometown to visit their families. Birds, fish, buffalo, and even cows are released.
In addition to splashing water during Songkran, Thais also may apply talcum powders to their faces – and swipe powder on the face of anyone passing by!
Where is the best place to celebrate Songkran in Thailand?
Chiang Mai has a large Songkran experience where you are guaranteed to get soaking wet. In Bangkok, Khao San Road and Silom Road are closed down during the water festival so people can be in the streets, and stations are set up with water buckets and water guns. Phuket, especially near Patong Beach, and Pattaya are other popular destinations to celebrate Songkran.
2. Water Festivals in Southeast Asia | Thingyan in Myanmar
Though Thingyan takes place from 13th April to 19th April. Not only are you meant to get wet at this festival, but you're also meant to take time to do good deeds for other people, and Buddhists undertake additional rules for festival days. Burmese belief says that water will wash away evils and bad luck from the past year, allowing you to start the new year fresh.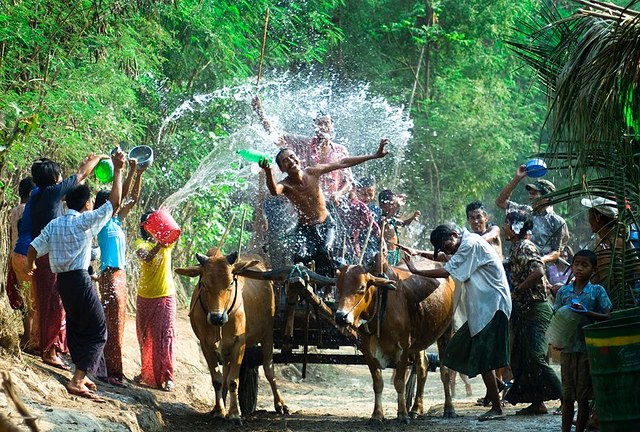 When is Thingyan?
Thingyan is celebrated for three to five days, typically from April 13 to 16 in Myanmar. It is a New Year's celebration that stems from the Buddhist tradition. New Year takes place mid-April according to the Burmese calendar. This is also the hottest time of year, with extreme heat and humidity.
What are the traditions of Thingyan?
The first day of the Thingyan festival is meant for observing Buddhist rites. This includes a period of fasting. Offerings to images of Buddha, shrines, and monks are made. Buddhists must adhere to the Eight Precepts.
When the fasting is over and a number of various religious duties are performed, a night of dancing and playing music gets underway. The next morning everyone gets their water guns, hoses, buckets, and anything else they can use to splash each other with water. A cannonball is fired, and the splashing begins.
Orchestras, singers, puppeteers, comedians, and dance groups perform often during the water festival Thingyan. Food is generously handed out, and you could be given a cup of hot coffee, some fried noodles, or traditional snacks such as rice dumplings that have been made with palm sugar. In Mon State, a special dish is prepared from snakehead fish, beeswax, green mangoes, and onions.
On New Year's Day, the final day of Thingyan, people are less likely to be splashed when they venture outside. Many people are settling down to spend time visiting with family, preparing for the new year, and performing good deeds to start the year well. Young people wash the hair of their elders. Captive animals such as birds and fish, and sometimes livestock, are released, and special feasts are held for the monks.
Where is the best place to celebrate Thingyan in Myanmar?
The biggest Thingyan celebration is held in Yangon, with Mandalay holding the next biggest festival. Burmese New Year is one of the biggest holidays in Myanmar, so it would be hard to miss the Thingyan water festival no matter where you are.
In the days leading up to Thingyan, giant platforms made of bamboo, called pandals, are built. They have rows of bright colors of hoses dangling from them.
3. Water Festivals in Southeast Asia | Chaul Chnam Thmey in Cambodia
Chaul Chnam Thmey, or Chol Chnam Thmay, is a water festival to celebrate Cambodian New Year (also known as Khmer New Year). The name Chaul Chnam Thmey means "Enter the new year." While it has some elements that are similar to the other water festivals of Southeast Asia, Chaul Chnam Thmey puts more of a focus on the spiritual cleansing aspect and on doing good deeds to start the new year. Siem Reap and Phnom Penh are popular places to join in the water festival for Cambodian New Year.

When is Chaul Chnam Thmey?
Cambodia's New Year typically falls around the 13th to the 15th of April. The festival lasts for three days. It signifies the end of the harvest season before the rain starts.
How do Cambodians celebrate Khmer New Year?
The first day of New Year's Eve is known as Maha Songkran. Starting early in the morning, people will begin to bring flowers to pagodas. Houses are cleaned, and at night, incense is burned and candles are lit to illuminate the houses.
The second day is called Vanabot, or Virak Wanabat. During the second day, people are encouraged to think of those who are less fortunate. The poor and the homeless receive help. People offer rice to the monks as a tribute and receive good wishes from them. At this time, some families may choose to exchange gifts.
Then, Buddhist rituals begin. The third day of Khmer New Year is called Leang Saka. On this day, people bathe in holy water, and they sprinkle statues of Buddha and monks with perfumed water. This is done to ensure that there will be enough water for Cambodia in the coming year. Another tradition is for children to bathe their parents and grandparents in exchange for their blessings and their good advice in the future.
There are many crafts, dance performances, and music to celebrate Chaul Chnam Thmey. The traditional dance of the Khmer, Apsara dance, is performed. This is Cambodia's national dance and requires a high level of skill and elegance from the dancers. After all of the religious ceremonies, people gather in the streets to splash each other with water and throw colored powder. Traditional Khmer foods are served during Chaul Chnam Thmay, such as fried crab, fried beef, Amok, and Khmer red curry.
4. Water Festivals in Southeast Asia | Boun Pi Mai in Laos
Boun Pi Mai, or Bunpimay, celebrates the Laos New Year. It is very similar to Songkran, though the Laos festivities are less-known than Thailand's celebrations. The largest celebrations for Boun Pi Mai are held in Luang Prabang, where parades and processions continue for up to a week. The capital of Laos, Vientiante, is also a popular destination, as is Vang Vieng, for those who want to celebrate Boun Pi Mai with the locals.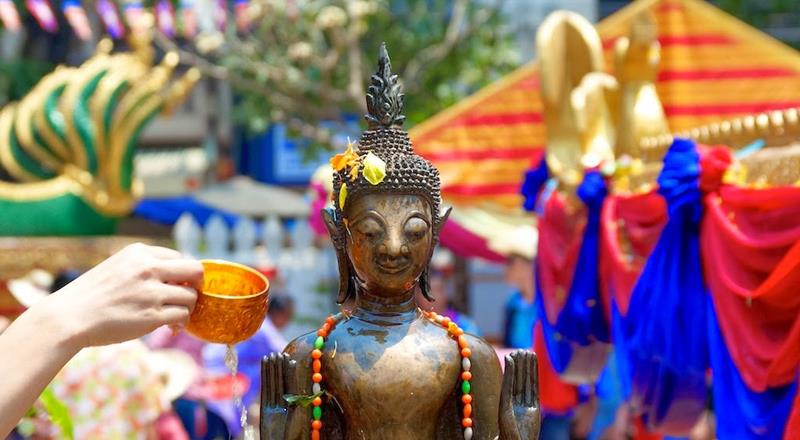 When is Boun Pi Mai?
As Boun Pi Mai celebrates the Buddhist and Hindu New Year, it takes place in mid-April, from the 13th to the 15th. Boun Pi Mai lasts for three days, with the water festival landing on the third day of the New Year.
How is Boun Pi Mai celebrated?
On the last day of the previous year, people clean their houses and their space outside. Water perfumed with flowers is prepared. People gather at the temples performing Buddhist rituals, praying, and wishing each other a healthy and happy new year. Statues of Buddha are washed with aromatic water.
People wish each other well, then splash each other with the perfumed water on the third day of Boun Pi Mai. In recent years, a new trend is emerging – people are throwing whipped cream, shaving cream, or white powder on each other as well. At this water festival, water is not only splashed on people, but also on animals, trees, temples, and in the house to help wash away disease, ill health, and bad luck.
Sand stupas are built along the riverbank and at temples, then decorated with brightly colored banners and various offerings. These are meant to keep evil spirits from continuing on into the new year.
The Lao people also tie colorful threads around their wrists. The person who receives the thread is being wished good luck and health from the person who ties it onto them.
5. Water Festivals in Southeast Asia | Intrudu – Melaka Water Festival
Intrudu means "introduction" or "coming before" in an old Portuguese dialect called Cristao. It is meant to signify new beginnings. The Portuguese Settlement of Ujong Pasir in Melaka (Malacca) is where Intrudu is celebrated. This community is primarily Catholic. Though Intrudu is a much smaller festival than, for example, Songkran, it attracts travelers from all over the world, with available accommodations filling up so much that some people end up camping on the roads. Unlike many of the other water festivals in Southeast Asia, Intrudu isn't about cleansing oneself. It is actually about renewing friendships and repairing relationships with those you have quarrelled with.
When is Intrudu celebrated?
Intrudu is how the Portuguese community prepares for Lent, celebrating at the end of February or in early March. The festival is held on the Sunday before Ash Wednesday, also known as Fat Sunday, which is meant to be the last day of enjoyment before Lent. This also marks the seven-week period before Easter. After Sunday morning mass, everyone pours water on each other. Young people are expected to offer a shot of wine or brandy to the elderly, though this aspect is becoming forgotten as more people attend the festival to splash each other.