From an endangered intangible heritage on the verge of oblivion, nhã nhạc – Vietnam's elegant court music – has undergone a metamorphosis.
In 2003, nhã nhạc (elegant music) – the imperial court music of Vietnam was honored by UNESCO as an Intangible and Oral Cultural Heritage of Humanity. This was Vietnam's first intangible heritage to receive this honor. However, this recognition came during a time when nhã nhạc was in grave danger of losing its original performing spheres and fading into oblivion due to low public awareness.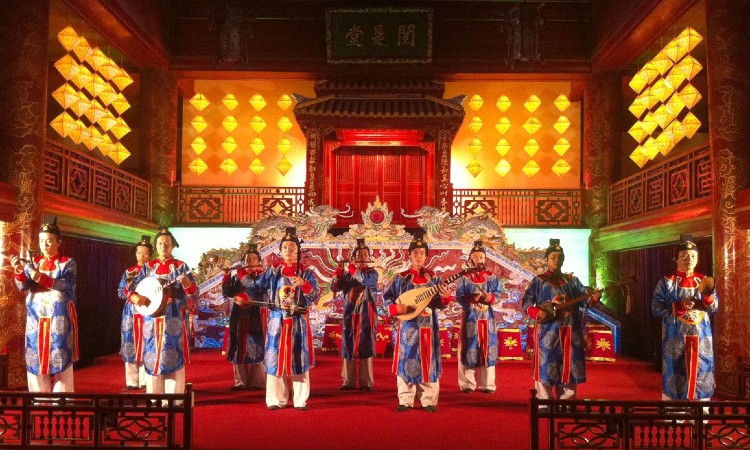 Pledges from the Vietnamese government to the UNESCO were promptly and effectively carried out via a National Action Plan on the Preservation and Promotion of Values of Elegant Music between 2005 and 2008. This was a comprehensive project that involved: researching and collecting nhã nhạc repertoires and specialist musical instruments; reviving several typical musical instruments; training and educating young artists in this genre; improving the genre's artistic and academic base; promoting the values of nhã nhạc; and raising public awareness and knowledge of this heritage.
At this project's inception, many leading researchers of this genre like Prof. Tran Van Khe, Prof. To Ngoc Thanh, Dr. Le Toan, and Dr. Van Minh Huong managed and oversaw the research and efforts of younger colleagues. 
Over the last 15 years, research teams have studied, collected documents, and released a dozen scholarly reports about nhã nhạc artists; repertoires, such as the Three Heavens, The Imperial Banquet, The Six Tunes of the Địch Instrument and the Lament Chant; Thai singing rituals in the Heavenly Sacrifice, musical instrument; etc.
In particular, the project "Building a database of the repertoire of Hue Imperial Elegant Music" is regarded as a superb scholarly work in line with emerging trends in this digitally driven world. It is easy for audiences, especially young people, to access and use.
Training young artists has received a lot of attention. Twenty students have attended an undergraduate-level training course in nhã nhạc. Most of them are the children of established nhã nhạc artists. Nhã nhạc artists. Nhã nhạc artists taught this course, via lectures and direct teaching of their skills. After graduation, the students join the Hue Traditional Imperial Art Theater. They play the key role in preserving and promoting the values of elegant music, breathing new life and inspiration into an old fashioned genre.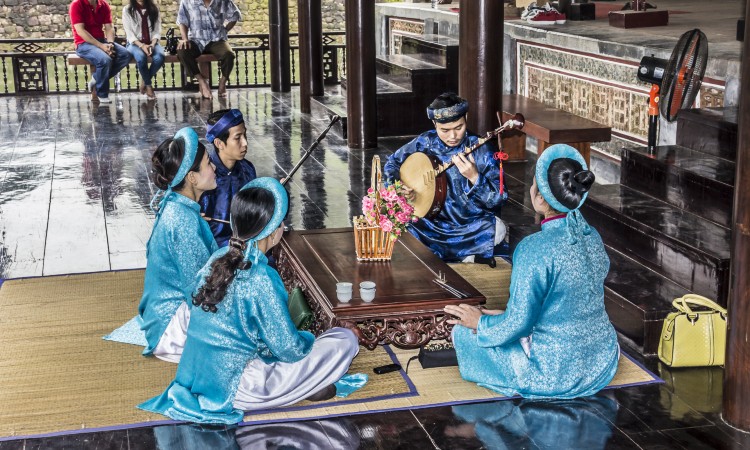 UNESCO's recognition of nhã nhạc helped to promote this heritage and bring it closer to national and international audiences. As well being performed in original performance spheres like imperial palaces, temples, and sacrificial sites in the Hue Former Citadel, elegant music has also been performed on various stages, particularly at domestic festivals.
"Nhã nhạc – the imperial court music of Vietnam – was honored by UNESCO as an Intangible and Oral Cultural Heritage of Humanity."
The genre has also transcended borders to reach Europe, the Americas, and many Asian neighbors, even being played in the imperial palaces of Japan and South Korea. Locally, nhã nhạc has been adopted in schools and warmly embraced by the young. It comes as no surprise that elegant music and imperial dances have won prizes in music and performance contests. At the Asia – Pacific Intangible Cultural Heritage Conference hosted in Hue last November, nhã nhạc won the hearts of hundreds of delegates when students from Nguyen Hu High School performed "The Lantern Dance". The standing ovation earned by this striking performance reflected the unrelenting efforts made to revive nhã nhạc over the last 15 years. Given that resources are being channeled to promote and preserve nhã nhạc in Hue, it is a safe bet that this genre will continue to be cherished and highlighted.