How long have you been on the last trip you visit Laos? In Southeast Asia, Laos still remains one of the most pristine natural and culturally rich countries we recommend you to explore post-Covid-19.  Laos's relaxing and laidback atmosphere provides the perfect setting if you want to escape away from it all. In this article, we want to add more new experiences to visit in Laos which helps you to add more the reason to visit Laos again and again.
1.Get a new – look Vang Vieng from above
Ever wondered how Vang Vieng would look from the air? By riding the hot air balloon, you can catch the true beauty of Vang Vieng with your eyes from above. We are sure, you will regret it if you miss it. Unlike other tourist destinations famous for their hot air balloon rides, Vang Vieng's airspace is not overcrowded with balloons. The best time to get the gorgeous views of the town is near dawn and dusk when the rising and setting sun paints the sky a soft golden hue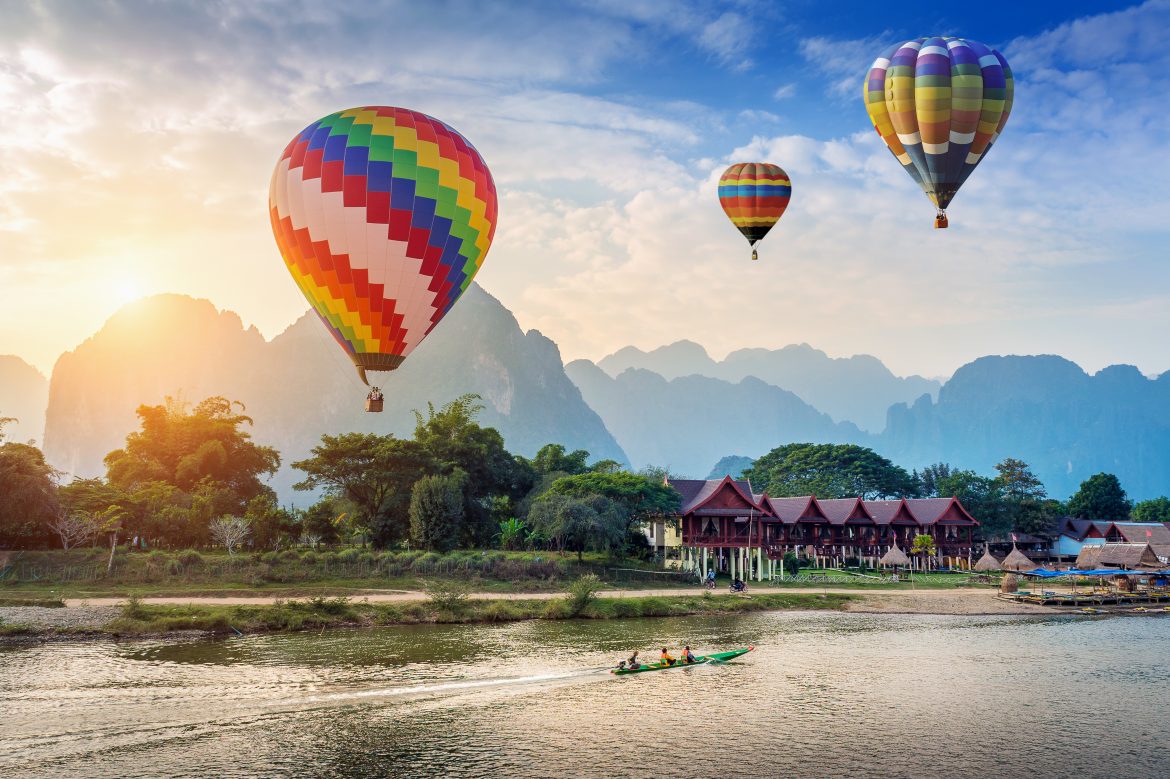 2. Bolaven Plateau by vintage Jeep
Over a kilometre above sea level, the Bolaven Plateau is your chance to experience a totally different Laotian landscape – where cool temperatures, volcanic soil, and plentiful rain conspire to create a wonderfully rich and fertile land perfect for growing coffee, cassava, bananas, tea, and cardamom.
Where most tourists follow a well-worn circuit around the plateau's edge, we like to plunge right through the middle – bouncing along rugged dirt roads in an open-top 4×4, stopping at Katu minority villages famed for their beaded, hand-woven textiles, exploring hidden caves used during the Secret War, and cooling off with frequent dips under crashing waterfalls.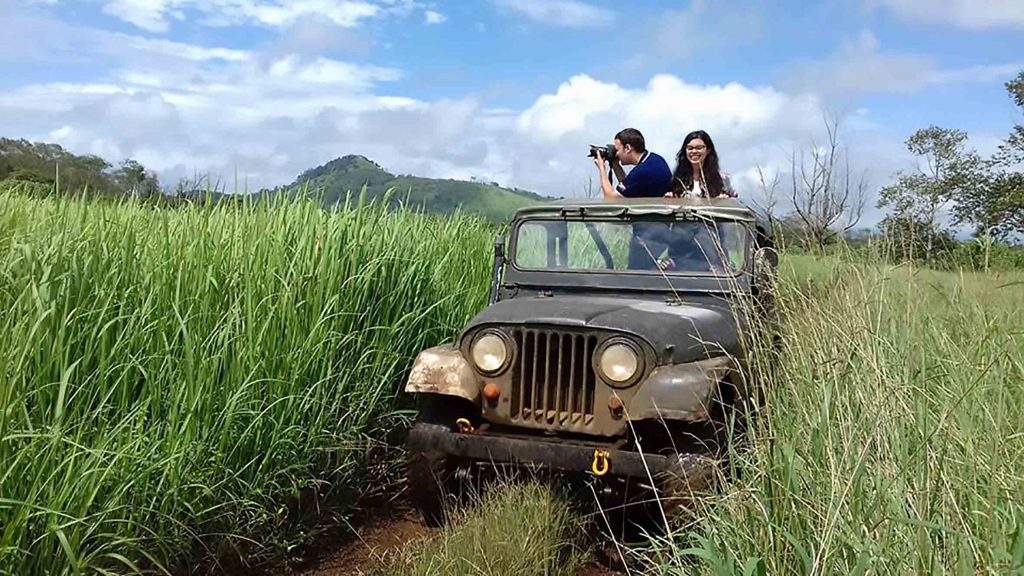 3. Visit Carol Cassidy's workshop in Vientiane
There are few people better placed to introduce you to traditional and contemporary Lao textile culture than Carol Cassidy.
Carol first came to Laos as a textile expert with the UN Development Programme in 1989, and she unwittingly stumbled upon what she describes as "a weaver's paradise". Years later, she's still here — and she now works with 40 Lao artisans to produce woven wall hangings, scarves, shawls and fabric, all using traditional methods. Touring Carol's workshop is a rare chance to meet a real insider, and you'll have plenty of time to ask her about her experiences over cocktails and canapés in the garden.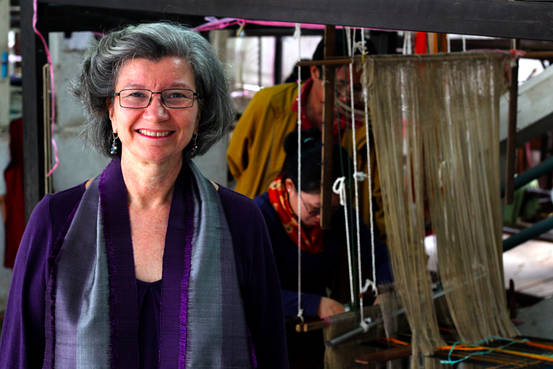 4. Dine at Nava Mekong Boat Cruise in Luang Prabang
How about a dining experience while floating past the mesmerising Luang Prabang landscape? Well, the Nava Mekong lunch and dinner boat cruises offer the same with Lao cuisines that are a blend of simple flavours added to the spicy meat, fish laap or sticky rice. This boat cruise transports the travellers to a local village for taking a further glimpse into Lao culture and interact with the folklore.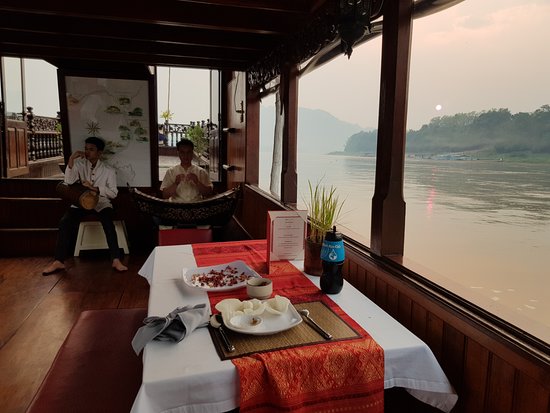 5. Authentic Lao massage in Luang Prabang
It's true that Laos' neighbours are the ones that are much more famous for their massages, but Lao massages are an entirely different experience. If you're looking for a typical relaxing massage in Luang Prabang, then don't look for an authentic Lao massage, but rather ask for an oil massage.
An authentic massage is not as relaxing as other types of massages, but rather it's meant to be a therapeutic experience that releases tension by focusing on key pressure points. These massages are done while wearing sarongs or loose clothes. It is important to note, however, that you might feel pain or discomfort at first. There are several spas in Luang Prabang, but be wary of some of the cheaper ones, because you usually get what you pay for. Some locals might not pay as much heed to hygiene as much as they should, so make sure to find a place that appears reputable and clean.
Laos entry rules after Covid-19
If you're fully vaccinated, you'll need to present proof. You don't need a booster but you must have completed the required recommended dose of a primary vaccine schedule which usually means two doses, or in the case of the Johnson & Johnson vaccine, one dose. The final required dose should have been administered at least 14 days before departure.
If you're unvaccinated or only partially vaccinated, you'll need to take a pre-departure PCR or antigen COVID-19 test within 48 hours of departure and present the negative result upon arrival.
All test and vaccine certificates must be uploaded to this mobile application before travel.
You'll also be required to take out medical insurance that covers COVID-19 treatment, just in case you contract the virus on your trip, in which case you'd be responsible for the costs of your own medical treatment.
Children under 12 are exempt from vaccination and testing requirements.
Electronic visa applications for Laos are now open and eligible travelers can apply online. The Laos tourism board said approval usually takes about one business day, but it's still a good idea to apply well in advance of your trip.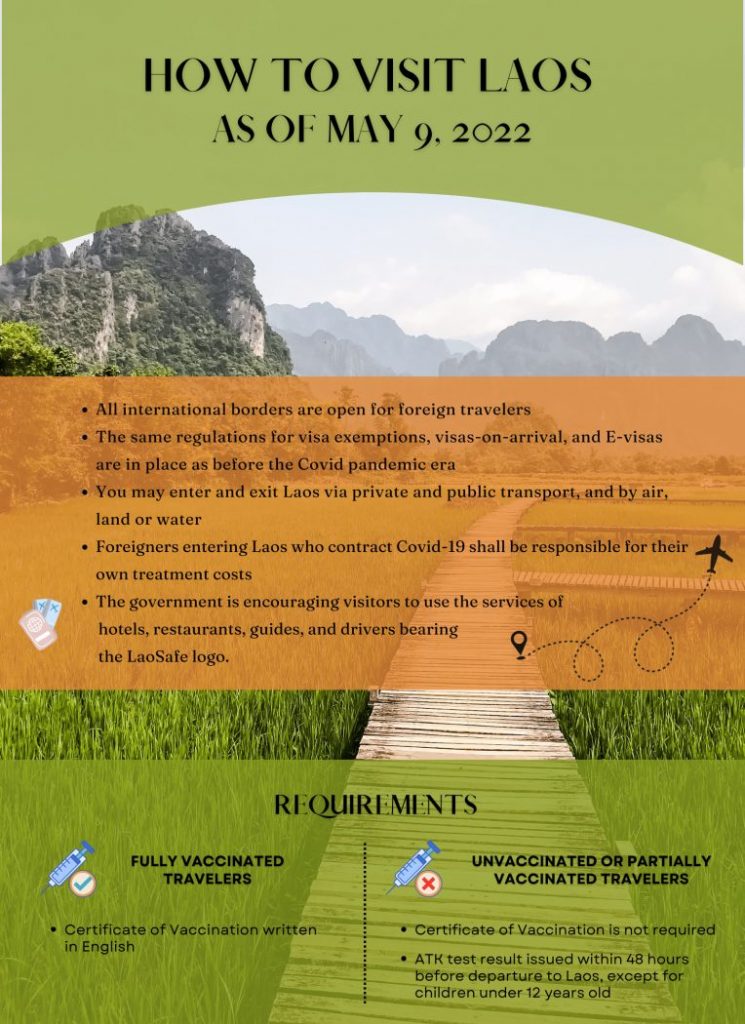 Plan to book the holiday to Laos?
Do you want to visit Laos? Let's plan your holiday to visit Laos by sending your enquiry to our local travel experts in Laos at [email protected]  If you have from 2 weeks to 3 weeks, we recommend you a trip to the combination Laos with other countries in Indochina such as Vietnam and Cambodia.  Need any free advice, you may speak to our travel experts at wwww.luxtraveldmc.com. They will organize a customized holiday to Indochina upon your request.