Are you dreaming of the holiday to Vietnam exploring exotic destinations with pristine beaches, tropical forests in Vietnam? Do not miss the top of the hand-picked secret hideaway resots Vietnam in 2022 which are recommended by the Lux Travel experts. Selected carefully from the top best of resorts from the North to the South of Vietnam, we hope to create for all travellers the unforgetable memories of Vietnam.
P'apiu, elegantly hidden among the lustrous scenery at the mountain's peak, is the final point of a long mountain range that begins at Vi Xuyen district and ends at the refreshing stream at the foot of Mount P'apiu, Yen Dinh village, Bac Me district, Ha Giang province.
It includes only 3 villas which are built entirely of wood on a large area of 30 hectares. P'apiu is exclusively designed for couples with unique rooms where the couples can preserve the state of their love. Each day, the resort serves only 6 guests. It's the place where they can experience totally private and romantic time with their loves staying in the ground or under the stars.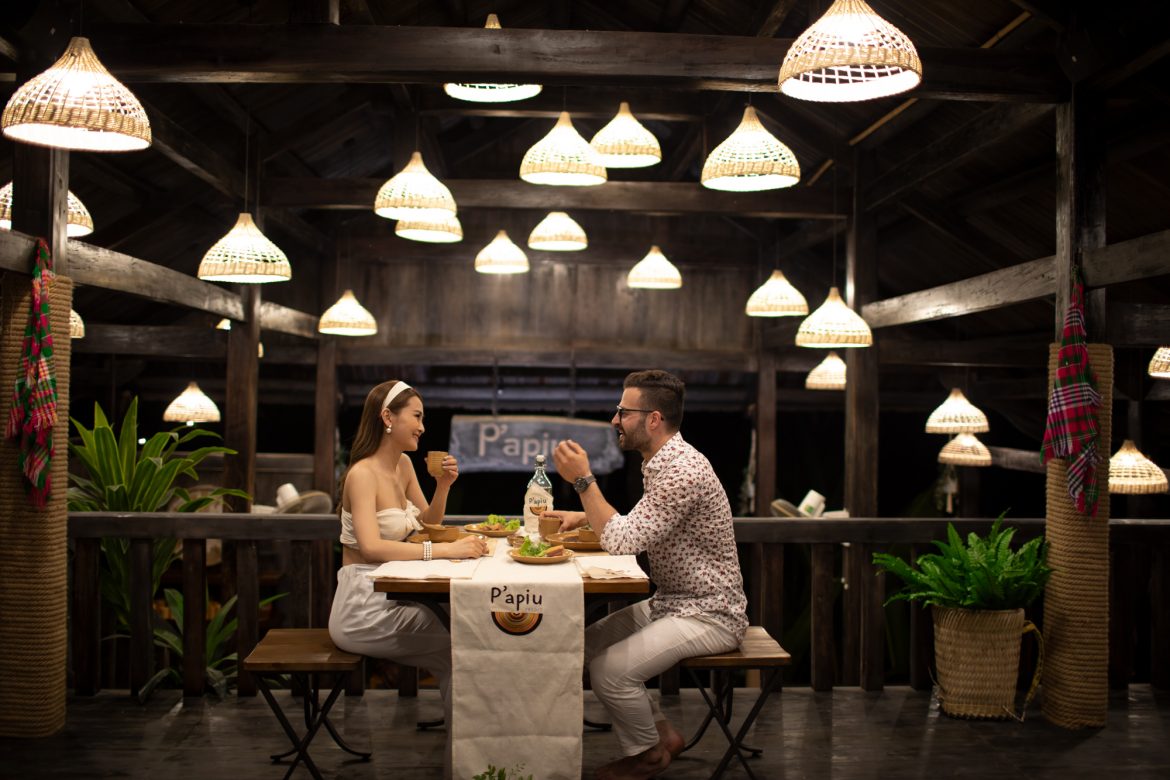 Nestled amid the natural beauty of Mai Chau's luxuriant jungles and leafy valleys, AVANA Retreat is a high-end mountain resort that has been designed to represent a genuine love for the natural environment. It has forty-one bungalows, suites, and private pool villas, perched on the mountainside overlooking the valley, instills a sense of peacefulness. Each living space opens to a timeless mountain landscape with inviting sights and sounds of nature. One of the unique features of the resort is the in-house natural stream and spa retreat It resembles a cool rainforest where calming sounds of the waterfall and the earthy scent of trees & flowers follow your every step.
Inspired by Yen Tu's ancient architecture and designed with meticulous attention to detail, Legacy Yen Tu is strong, yet a humble testament to Vietnam's past. The property features handcrafted materials and ancient construction methods by nearby villagers living in the surroundings for generations, creating a harmonious and pure atmosphere right from within the local community.
Legacy Yen Tu – Mgallery consists of 133 rooms, decorated in a royal motif, using surprisingly unique and natural materials such as sackcloth made of jute fiber, rice husk walls, and old-time bolted wooden doors.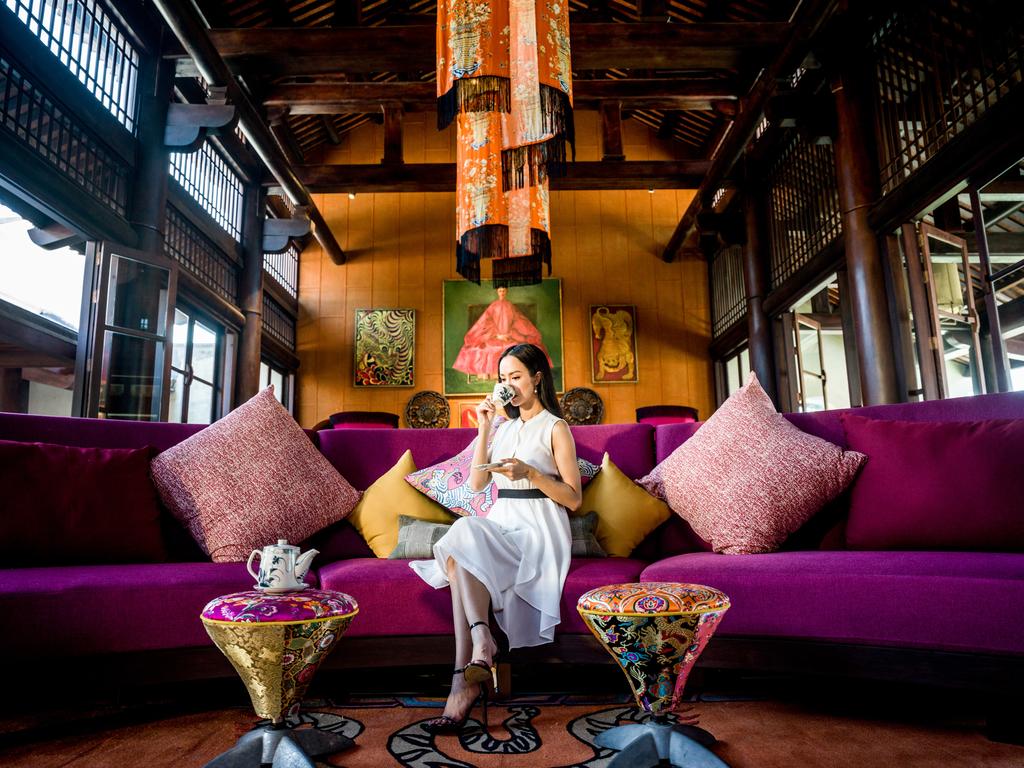 Located in Central Vietnam, Banyan Tree Lang Co is an ultra-luxury, beach-front resort that comes with dramatic vistas spread across a rugged landscape. Here, you can feel the warm waves of the East Sea tickle your toes, and raise your gaze to behold the magnificent stretch of the Truong Son Mountain Range. Guests can choose from palatial laguna, beachfront, or hillside one to three-bedroom villas, all coming with their own enormous swimming pool. Surrounded by eco-diverse mountains, spectacular national parks, and awe-inspiring UNESCO World Heritage Sites, guests can explore the cultural riches of Indochina, relax on the golden beach, or indulge in a time-honored Asian spa treatment.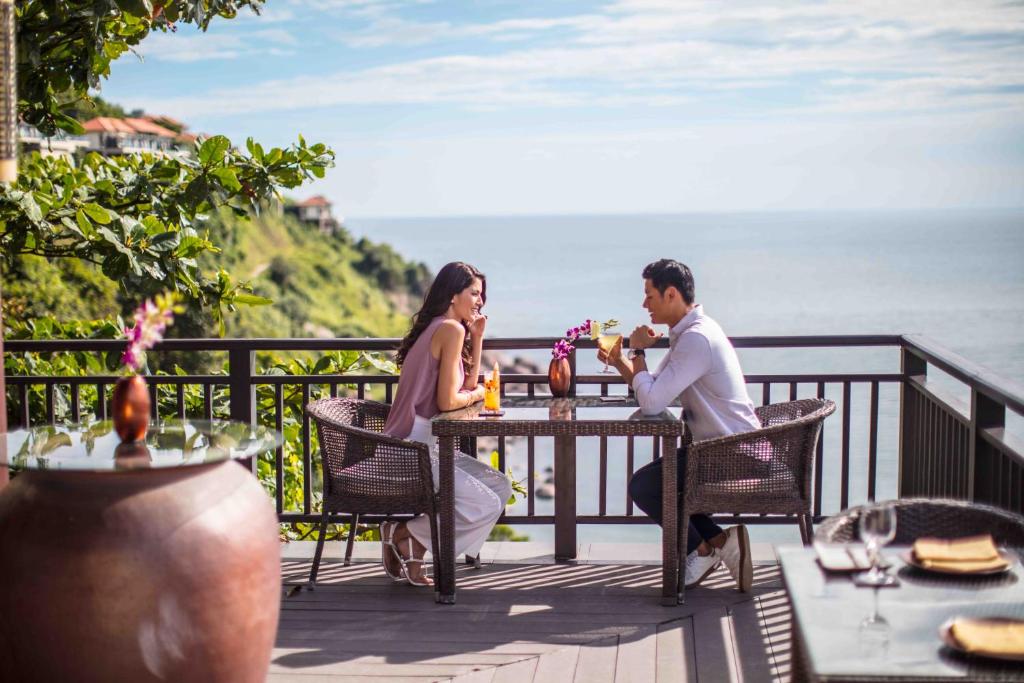 With an idyllic location on Vietnam's culturally rich central coast, The Nam Hai offers a portal to three extraordinary UNESCO World Heritage sites and a breezy respite on the country's most celebrated beach. Villas look out over the sea or across the landscaped Resort gardens and feature private terraces and outdoor rain showers.
Spa: Relax and recover with a wide range of healing massages: facial blossoming, earth-enhancing scrubs & wraps, core connection rituals, rejuvenating replenishes, bathing ceremonies
6. SIX SENSES RESORT NINH VAN BAY – Nha Trang
The illusion is that you're on a remote island. The reality is that Six Senses Ninh Van Bay sits on a dramatic bay looking out to the East Vietnam Sea so it can only be approached by water. Impressive rock formations, a white sand beach, and a backdrop of towering mountains add to the fantasy. You can't be more intimately at one with nature.
Standing on a secluded peninsula of the Phu Yen in the south-central of Vietnam, Zannier Hotels Bãi San Hô is a combination of enchanted nature and unique traditions, sky and earth unite under sweeping Eden-like vistas and sunlight haloed by gold. The resort is on a 240-acre estate of jungle-clad hills and rice paddies with a blissful private beach that sets the stage for fishing, diving, and superlative snorkeling amid the reef's technicolor corals.
Each architectural feature has been infused with vernacular tradition. Interiors are dotted with Vietnamese artifacts, paintings, and local silk prints.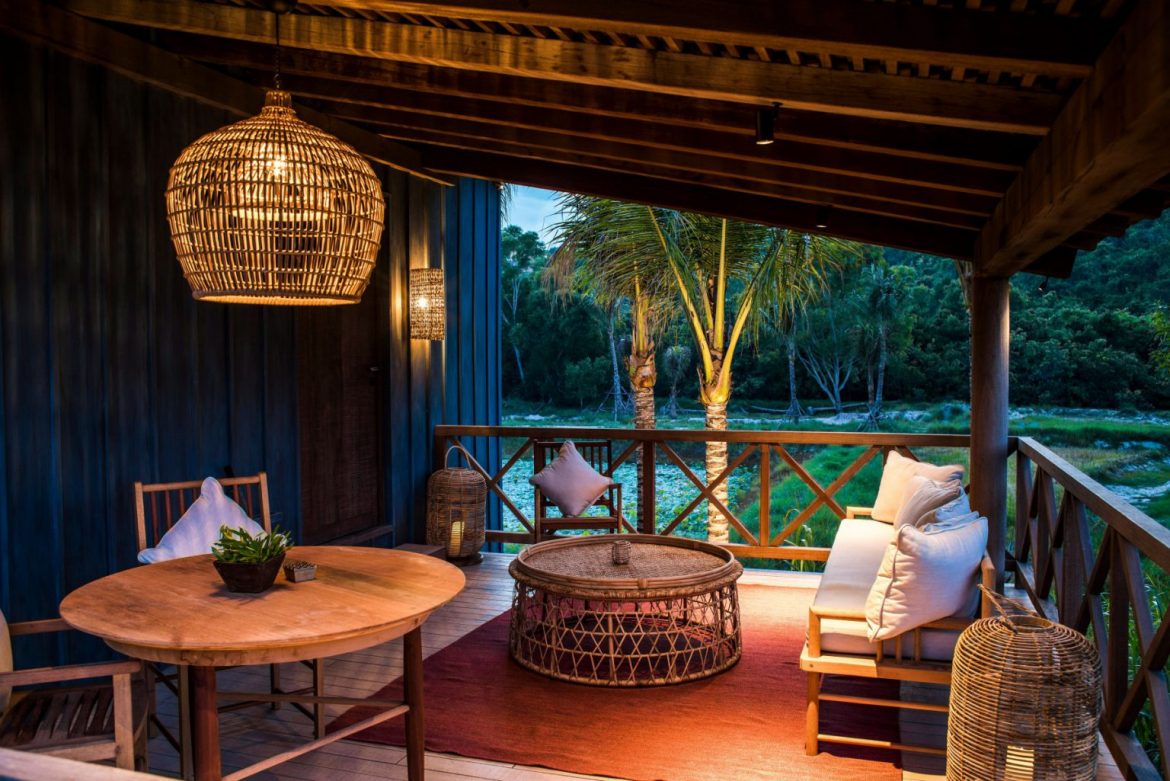 Claiming a spectacular stretch of Vietnam's coastline within the verdant embrace of Núi Chúa National Park, Amanoi is a remote natural paradise overlooking Vinh Hy Bay. From its clifftop restaurants and pool to its lakeside Aman Spa and private golden sand beach, the resort offers limitless opportunities for outdoor exploration, cultural immersion, and serene time out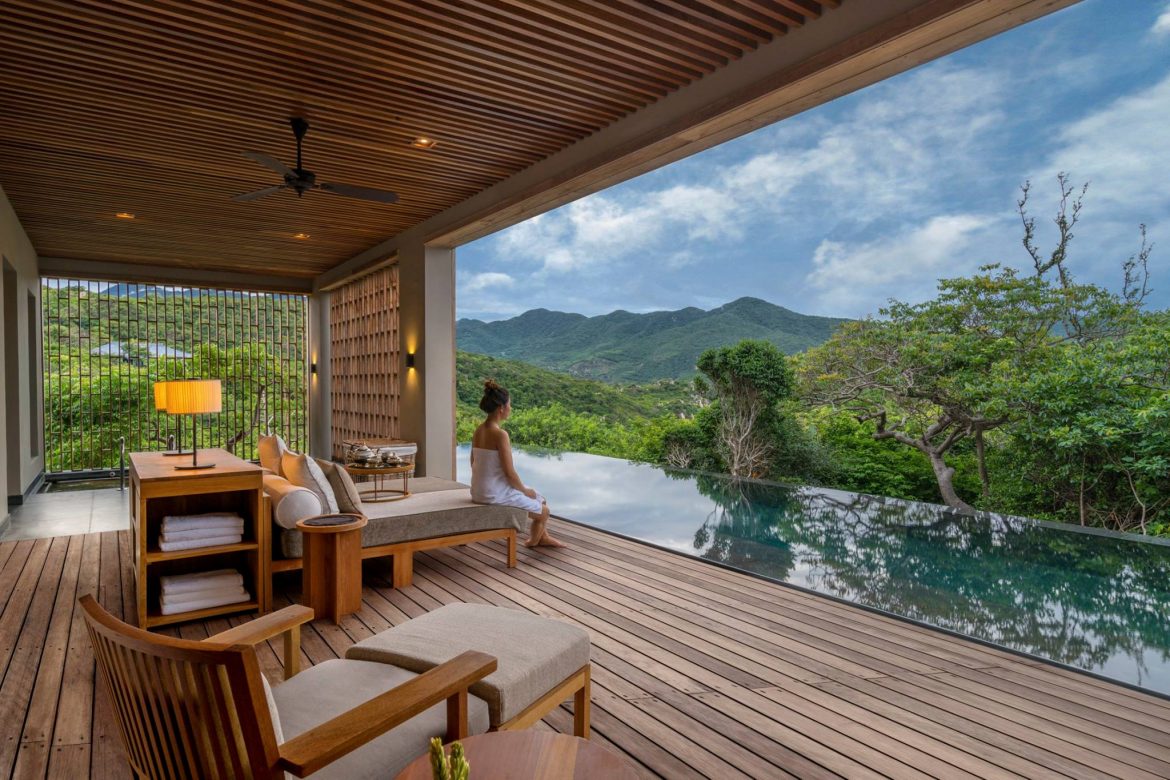 When you at Fusion think of "getting away from it all", Fusion Resort Phu Quoc is the kind of place you imagine. With private pools and secluded gardens outside each and every one of their spacious thatched villas, plus a stunning beach and river-front views, mouth-watering dining options, a "breakfast anywhere, anytime" concept, and a premium spa facility offering Fusion's unique "all-spa inclusive" service, it really is the kind of place to disconnect, switch off, and put the rest of the world on hold for a few days or weeks at a time.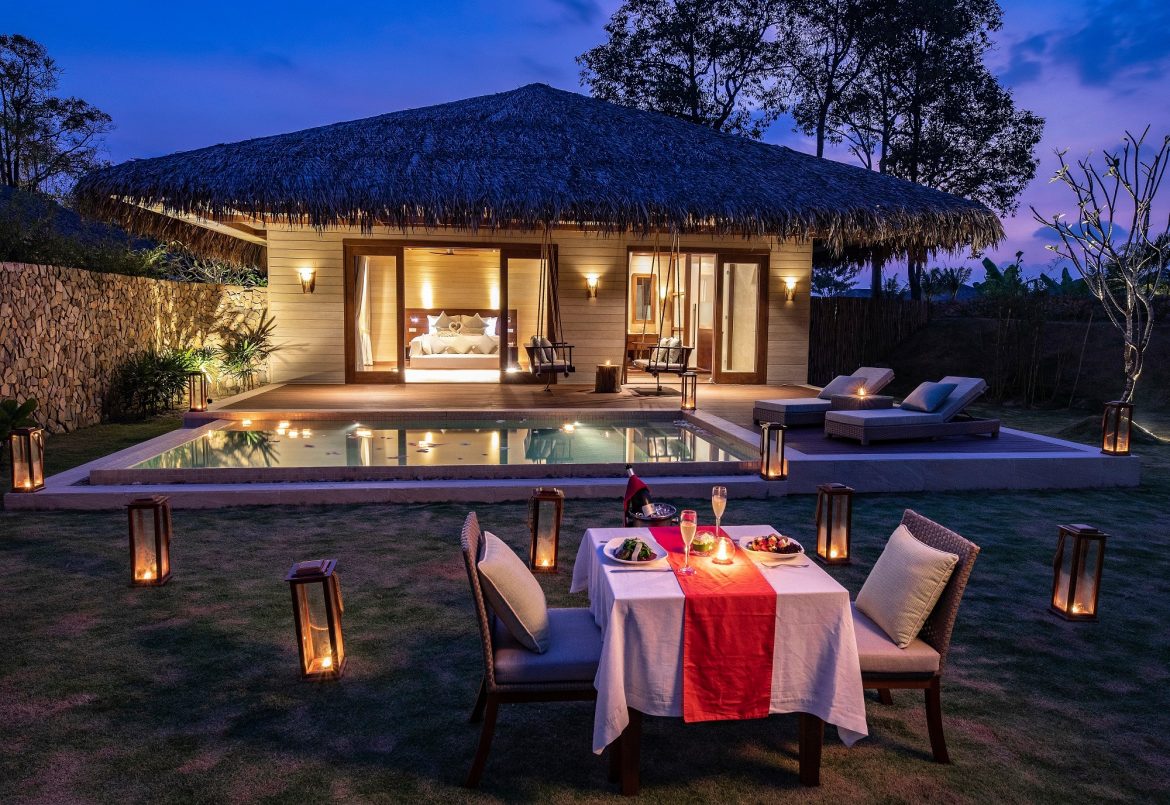 10. SIX SENSES RESORT CON DAO – Con Dao
Six Senses Con Dao is an exclusive island hideaway resort amidst a pristine marine and national park, and the only Six Senses beach resort in Vietnam's archipelago of Con Dao. Step into a peaceful community of sun-bleached bamboo villas, inspired by traditional fishing villages. Little more than 45 minutes from Ho Chi Minh city by air, you will find yourself at the secluded edge of one of Vietnam's most exclusive beaches and hidden havens.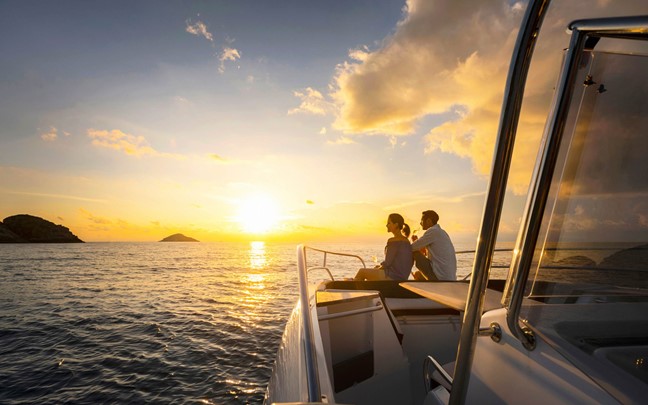 If you need to book the secret hideaway resorts in Vietnam,  you can feel free to contact us at [email protected]. It is our pleasure to consult you about beautiful travel destinations in the region.