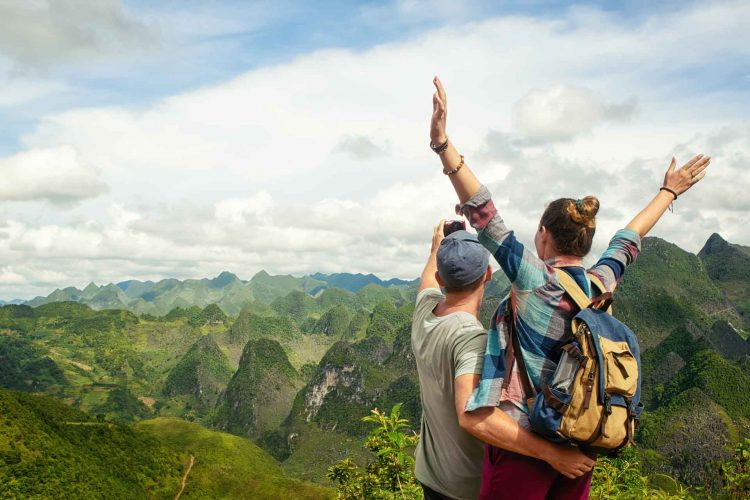 Source: Lux Travel DMC
Honeymoon is the time when couples can relax after working your fingers to the bones to prepare for the wedding. Traveling with your loved one is definitely a trip of a lifetime, so choosing the destinations for this journey is an important task.
Vietnam and Cambodia, with awe-inspiring landscapes and distinctive cultures, has now become haunted places for honeymoon tours in Asia. The following article will get you covered with the list of the top activities that couples should never miss experiencing when taking a Vietnam Cambodia Tour.
1. Idle the day away with Halong Bay Cruise.
A Vietnam Cambodia vacation will never be complete without a trip to Halong Bay – one of the new Seven Wonders of Nature. This northern Vietnam spot takes pride in always being among the top destinations to visit in Asia.
Exquisite natural settings of limestone karst, sugar-white beach, and emerald water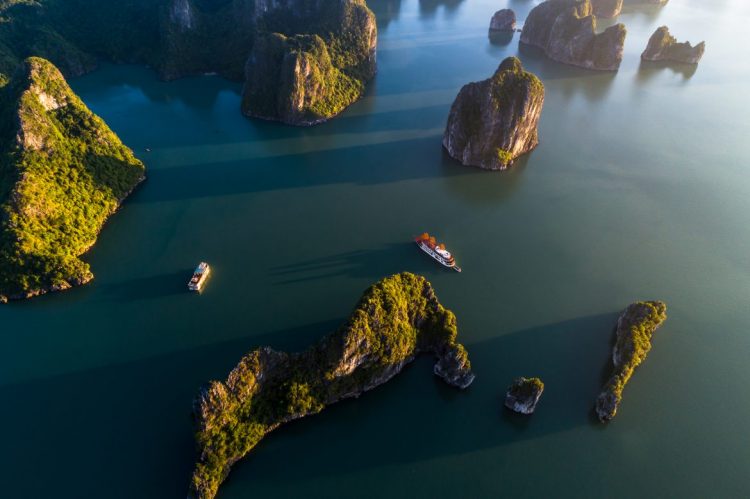 Source: Lux Travel DMC
Consisting of nearly 2,000 limestone islands and islets, Halong Bay possesses an irresistible beauty that could easily capture visitors' hearts at the very first meet. A honeymoon trip to Halong is the ideal choice for those wanting to get away from the hustle and bustle of the busy city life.
Being on a Halong Bay cruise, you will get the chance to glide along the emerald waters to approach every single corner of the Bay and admire the jaw-dropping natural settings of evergreen limestone pillars, empty Colgate-white beaches, and marvelous karst caves. The scenery is too good to be true that you might feel you are stepping into the wonderland.
Romantic moments on Halong Bay cruise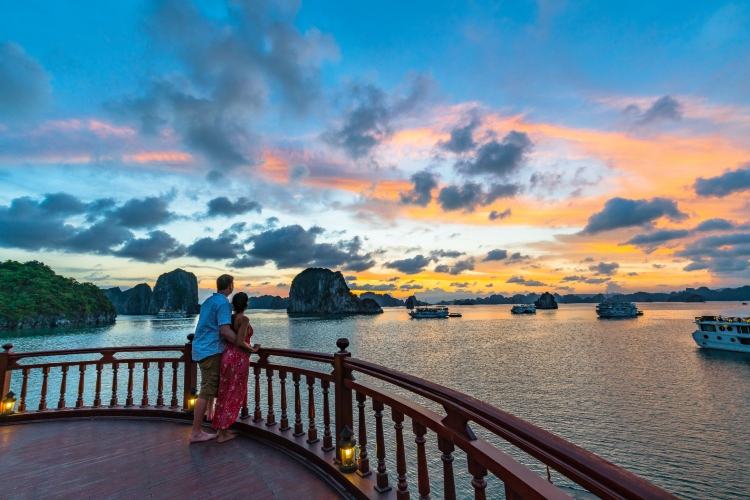 Source: Emperior Cruise
With newly-weds, every moment can create romance, as long as you are together. During Halong Bay cruise honeymoon, couples can swim into the cool sea water, walk hand-in-hand on the less-visited beach at an orange sunset and share warm kisses, climb up the mountain to watch the Bay from above, kayak through caves and lagoons, or enjoy a romantic dinner on the junk with roses and wine.
There is also a sunset party on the sundeck, offering couples the best space and time to sit shoulder-by-shoulder to watch the glorious sunset. You can also spend the night at your private terrace with cups of wine while enjoying the sparkling night sky. Trying Titanic's "I'm flying" scene is a must-do, too.
Some cruises to be considered are Emperor Cruise, President Cruise, Paradise Cruise, Era Cruise, Au Co Cruise, etc. With luxurious cruise design and top-notch services, these cruise lines would offer you an unforgettable stay during your honeymoon in Vietnam.
2. Float flower lanterns in Hoi An during Vietnam Cambodia Tour.
Another must-try activity in Vietnam Cambodia honeymoon trip is to float flower lanterns onto Thu Bon River inside Hoi An Ancient Town, Vietnam. This is a small town along the central coast of the S-shaped country which has existed for hundreds of years.
Hoi An – the melting pot of different cultures
Small in size as it might be, Hoi An holds significant cultural values. Once the major trading port of Asia, this town reflects the fusion of the indigenous Vietnamese cultures, Chinese, Japanese, and European ones. Here still exists the hundred-year-old houses and temples representing different cultural backgrounds and stages.
Flower lantern floating on Thu Bon River at night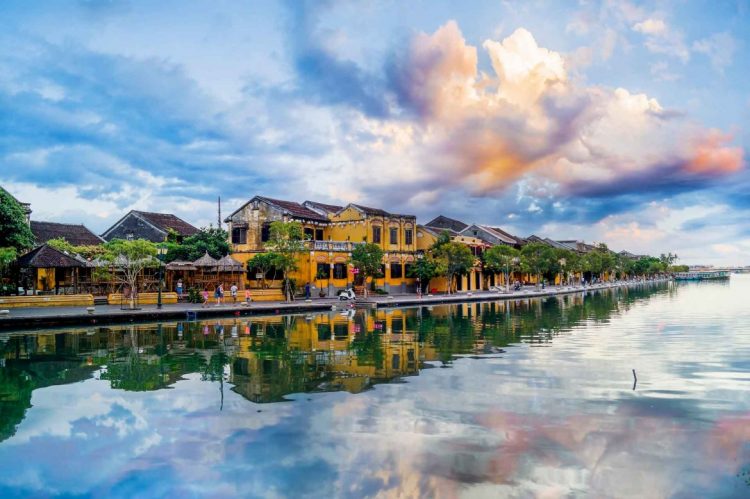 Source: Lux Travel DMC
The poetic town of Hoi An can't be a better place to spend your Vietnam holiday in. From street to street, alley to alley, you will face plenty of colorful lanterns and Bougainvillia pergolas hung all over. The streets are even more appealing under the gorgeous orange at twilight and the sparkling night sky. The town offers a great sense of coziness and tranquility that you can't help yourself from diving deep into.
Furthermore, do not forget to experience the lantern floating activity while spending your sweet honeymoon in Hoi An. When the moon is hanging high above the trees, all the fluorescent lights along Thu Bon River are turned off to give back the quiet vibe to the town. The flower lanterns of multi colors and sizes are then lit up and placed onto the river, creating an extraordinarily magical scenery.
Couples can also take a sampan ride on the river to place your own lanterns and wish for a happy life together.
Other fascinating must-try activities in Hoi An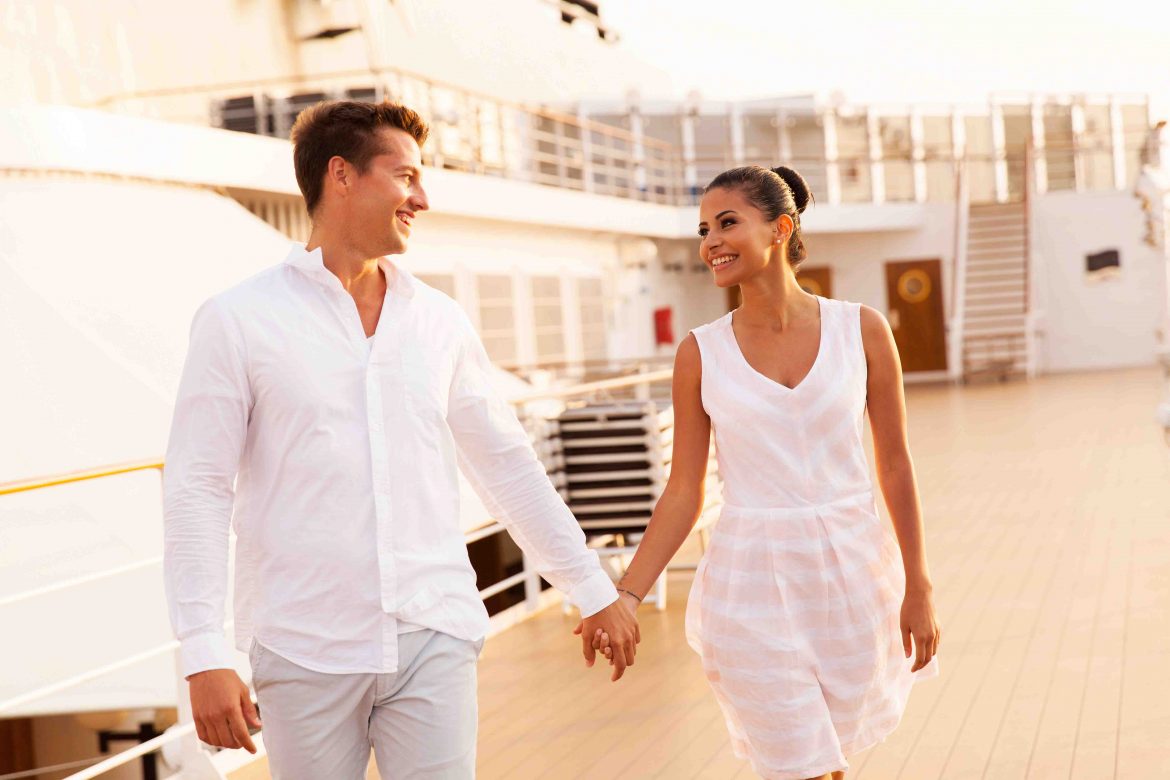 Source: Lux Travel DMC
Aside from the lantern festivals, Hoi An has more to offer. Newly-weds can spend your daytime doing fancy activities such as sunbathing on the empty An Bang Beach, cruising along Thu Bon River to visit the local hamlets, and getting involved in the one-of-a-kind basket boat dancing amidst the mangrove palm forest. Stopping by the vendors on the streets to sample Hoi An specialties are also a cannot-miss thing to experience because the simple yet heavenly tasty foods of this land will definitely whet your appetite.
3. Stroll under the morning mist of Dalat.
Located in the mountainous Central Highlands, Dalat is a must-see destination for couple tours in Vietnam. The city is home to enchanting scenery with soaring pine hills, poetic lakes, and ancient French villas. A Vietnam holiday in this poetic land is a great retreat after a hard time preparing for your wedding.
City of Fog – City of Love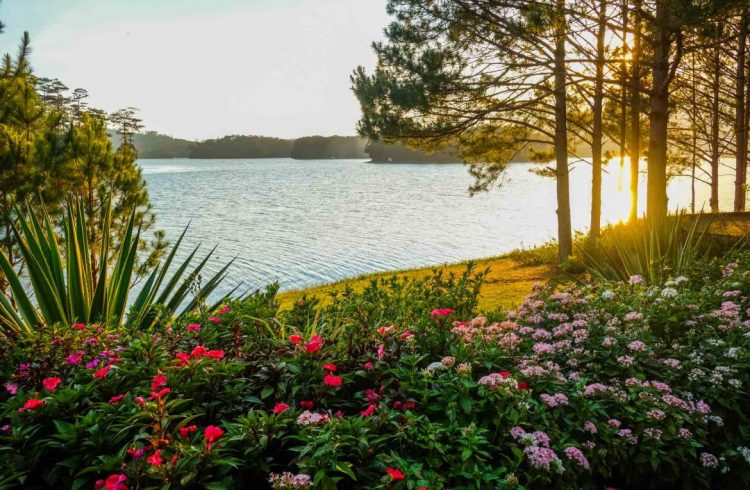 Source: Lux Travel DMC
With the cool weather condition all year round, Dalat has become the favorite place for newly-weds to spend the very first days of their marriage. It is better known under the name "the City of Fog" thanks to its mysterious look under the morning mist. Fog covers the whole city, from the secluded roads to the town, the green pine hills, to the roofs of ancient western villas and the romantic lakes. Morning mist and cloud altogether create a poetic scenery that is extraordinarily suitable for lovers to enjoy their moments.
Simple yet sweet moments together in Vietnam Cambodia Tour in Dalat
Source: Lux Travel DMC
Couples can walk hand-in-hand under the morning mist to visit the heavenly beautiful lakes, to watch the slow pace of life of the locals, or stop by a café to have a hot cup of coffee. Then you can pay a visit to some famous tourist attractions in the town such as Xuan Huong Lake, Langbiang Mountain, the Valley of Love, the pine forests, the western-style villas and immerse yourself in the mysterious vibe of the surrounding areas.
Additionally, couples can ride a motorbike to reach the top of the hills and mountains to hunt the sunrise and take a panoramic view of the whole town under the majestic fog.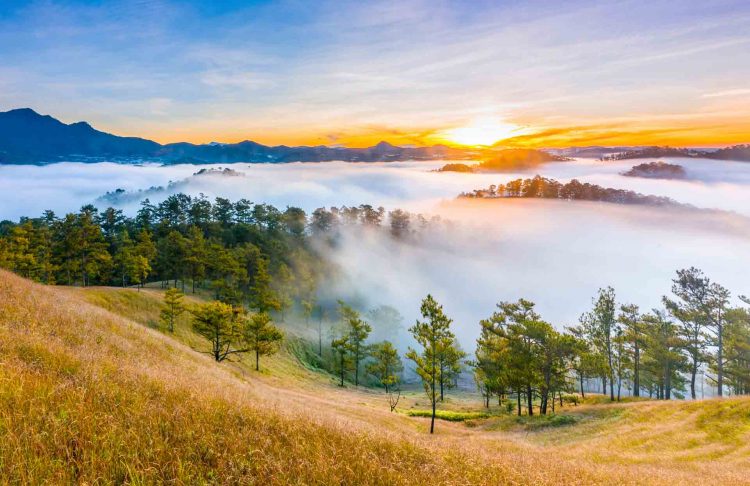 Source: Lux Travel DMC
Dalat is also famous for its purple sunset. The purple color of the sky when the sun sets behind the hills leaves couples in a moment when time seems to stop there for a while. The glorious purple twilight cannot be a better scene that lovers could enjoy in this beautiful city.
Furthermore, for those seeking a more luxuriant stay, spend your time at a high-end resort nearby Tuyen Lam Lake. The first-class bungalows and villas stand amidst the majestic pine forests and open excellent views towards Tuyen Lam Lake – a breath-taking lake that is located quite far from the city center. It hence offers a tranquil vibe that you can hardly see downtown.
4. Take Vietnam Cambodia Tour to hunt the sunset in Angkor Wat.
It would be a big regret if your trip to Cambodia does not include a visit to Angkor Wat – the reputable landmark of this Khmer Empire, regardless of the fact that it is a couple tour or just a trip with friends.
Angkor Wat – a must-see for any Vietnam Cambodia tour
Source: Lux Travel DMC
Spreading over 400 square kilometers, Angkor Wat is among the largest religious sanctuaries in the world. Dating back to the early 12th century, this complex is the famed ruins of the once glorious Khmer Kingdom. Angkor Wat was initially a Hindu temple, but later people transformed it into a place to practice Buddhism.
Together with its cultural and religious significances, this legendary complex possesses extraordinarily important architecture values. Every single detail inside this site is closely tied to the geographical context, symbolic significance, and the social ranking under the Khmer Empire. According to UNESCO, Angkor testifies to an exceptional civilization that happened in Asia centuries ago.
An amazing place to watch the sunset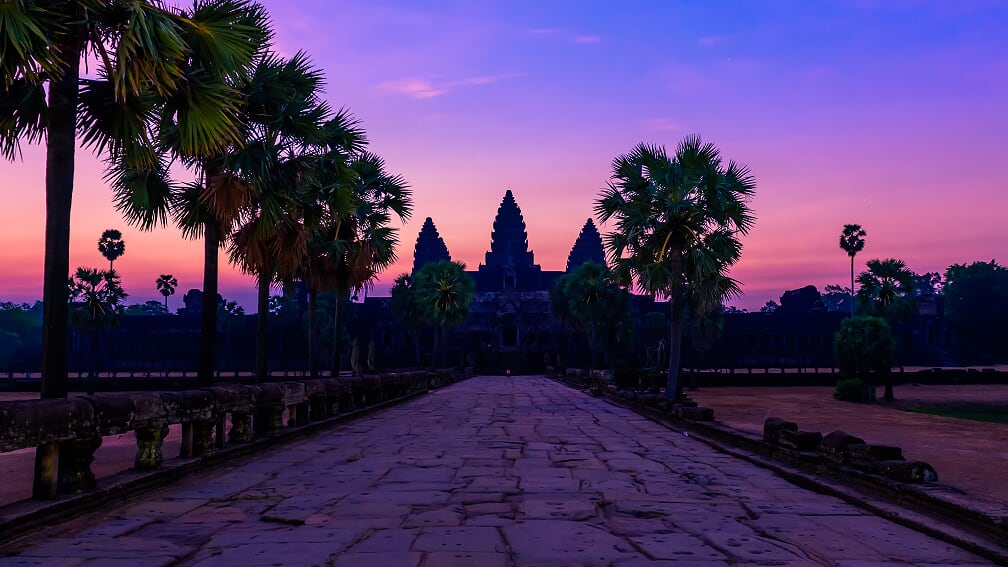 Source: Lux Travel DMC
Not only is Angkor Wat a must-visit destination for culture lovers in Cambodia, it also has its own poetic side that could easily leave you in awe. Especially, watching the sunset in Angkor is absolutely a bucket list experience that couples should never miss in your romantic honeymoon tour in Cambodia.
Your jaw will drop when seeing the sun paints the blue sky shades of orange and pink. It seems to try its best to prise the very last of its amber limbs over the tops of the Wats. The scenery is even more appealing when witnessing the reflection of the sky on the lake.
Sunset in Angkor has been an endless inspiration for nature lovers and photography enthusiasts. Don't forget to take some selfies with your darling here.
Apart from enjoying the orange sunset, it is a must to take some Buddhist rituals when coming to this legendary land. Follow the monk to do some quick rituals to pray for a happy life in the future.
5. Get off the beaten track in Koh Rong Samloem.
Most people might think Cambodia travel is all about Angkor Wat and temples, but in fact, its coastline is not less awe-inspiring. Koh Rong Samloem – a stunning island on Cambodian sea is a place where newly-weds can enjoy your utmost happiness during your Vietnam Cambodia tour.
The paragon of eternal beauty for Vietnam Cambodia tour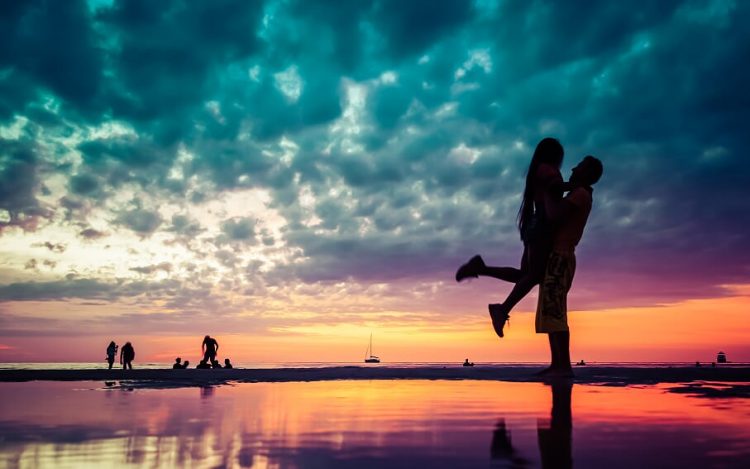 Source: Lux Travel DMC
If you are seeking a quiet place where you don't need to stand the crowd, Koh Rong Samloem is the perfect Cambodia honeymoon destination to head your way to. Mainly developed for high-end tourism, the island well remains its untouched beauty and tranquility. Here exist marvelous Colgate-white beaches and luxury resorts, where couples can have a luxuriant stay without worrying about the stress and fatigue of daily life.
Disconnect from the real life with a honeymoon tour in Koh Rong Samloem
This destination might not be as famous as Vietnamese and Thailand beaches but the quietness it offers can beat any rivals. A 40-minute sail will take you away from the bustling city center and penetrate an isolated world where you could have your private moments without worrying about being bothered.
Visit an empty beach to scrunch your toes to feel the softness of the sand, hand-in-hand stroll along the bar that is still warm after a retreating tide, and share warm kisses. It is so wonderful a moment to bob on the warm water and gaze your eyes to the horizon where blue meets blue.
When the sun is going down and the night is taking its place back, couples can enjoy a dinner on the beach with sparkling candle lights and soft music. You can also dance the night away with some romantic moves.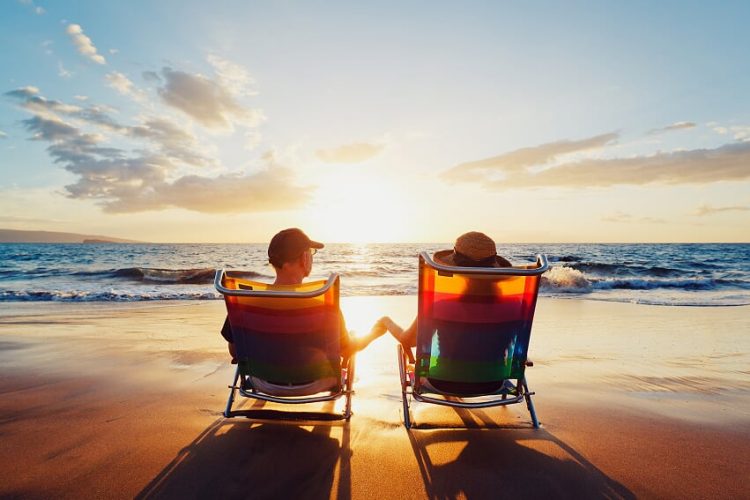 Source: Lux Travel DMC
Honeymoon on Koh Rong Samloem is even more mesmerizing with a stay on a high-end resort, where you will be treated with luxuriant room décor and top-notch services. Have a massage or soak into the big Jacuzzi to rejuvenate after a joyful day playing on the beach!
Possessing incredibly beautiful natural landscapes and distinctive cultures, Vietnam and Cambodia are absolutely the wise choices for a honeymoon in Asia. Let's leave all stress and fatigue of the life behind, spend your time with your half part, and make a nice start for your years of happiness and eternal love.
About Lux Travel DMC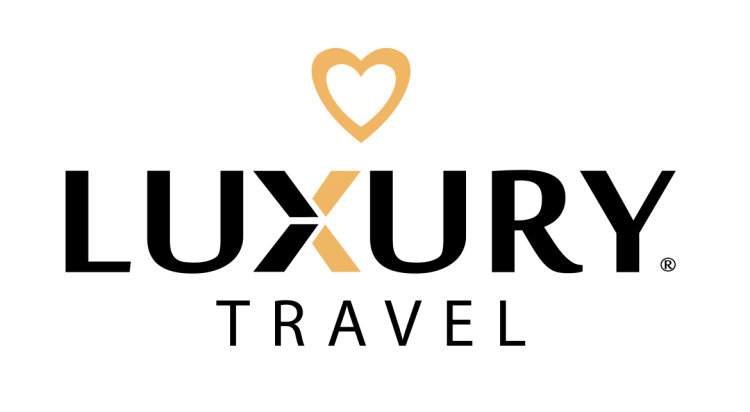 Working with the aim of providing clients unforgettable moments during their stay in Vietnam in particular and Southeast Asia in general, Lux Travel DMC deserves to be one of the top tour operators in Vietnam. With years of experiences in organizing luxury tours, we are confident that we could meet every single demand that you have.
If you are looking for an agency who could create a perfect tailor-made itinerary for your Vietnam Cambodia vacation, Lux Travel DMC is never a wrong choice.
So, why to hesitate? Drop us a line now!