Bali known as the island of Gods had been the most popular tourist destination in Indonesia. Bali is rich in culture and history with its prominent old temples that are still in use, festivals and practices. It is full of natural wonders like the white beaches, surfers waves, divers paradise spots, hiking mountains and rolling fields of rice paddles and rice terraces. 
1. When is the best time to travel to Bali?
Bali has a year-round warm, tropical climate with just two seasons: wet and dry. The dry season lasts from April to September, while the rainy season occurs from October to the end of March. The average daily temperature year-round is 80°F (28°C). The high season is from July and August as well as through the Easter holidays and Christmas holidays (about December 11th to January 1st). Bali is busiest during this time, and prices are the highest.
Overall, the best time of year to visit is between May and September when it's dry and sunny. It's still pleasant to visit during the rainy season – rainfall usually comes as fast and intense downpours that only last a few hours.
2.  Have you updated travel restrictions in Bali?
Immigration & Visas
Indonesian Borders are officially closed for visa-free tourism.
You can enter Indonesia if you apply for a Single-Entry Visit (211A). If you hold a Diplomatic Visa, Duty Visa for Ministerial Level, KITAS or KITAP you can also enter Indonesia.
Travelers must be fully vaccinated and must show a negative Covid-19 PCR/ SWAB TEST document upon arrival. The test must be taken a maximum of 72 hours before the flight to the origin country.
Register with the e-HAC Indonesia health app or get directly the PenduliLindungi App, that's used for registering in venues and general tracking, which also has the e-HAC feature)
Visitors must undergo quarantine for 7 nights in appointed hotels IN JAKARTA, at their own cost (USD 800-1200) – see list of quarantine hotels in Jakarta and quarantine regulation details
In Bali
Bali and Java are under Micro-Scale Social Restrictions (PPKM Regulations) to mitigate the spread of Covid-19, expect shorter operational hours on restaurants and attractions, also health protocols enforcement
Wearing masks in Public is mandatory
You need the PeduliLindungi App when visiting venues
3. How can I travel to Bali
Traveling to Bali – Indonesia
There is NO direct international flight to Bali. All foreign visitors must go through Jakarta International Airport – Soekarno Hatta then you take a flight to Bali.
Transportation around Bali is very cheap. You can get taxis for around 65,000 IDR ($5 USD) and private mini vans across the island for around 200,000 IDR ($14 USD). Scooter rentals are available around the island for as little as 135,000 IDR ($10 USD). Bicycles are also available for rent, usually costing around 60,000 IDR ($4.50 USD) per day for a basic bike.
Ferry – Getting to and from Bali is easy via ferry. Ferries cost around 7,000 IDR/$0.50 USD (and up) for a ticket from East Java to West Bali, and the rates go up from there for other routes. Bali (Padang Bai) to Lombok is about 65,000 IDR ($5 USD) (one way) while Bali to the Gili Islands is 419,000 IDR ($30 USD) (one way) on a speedboat.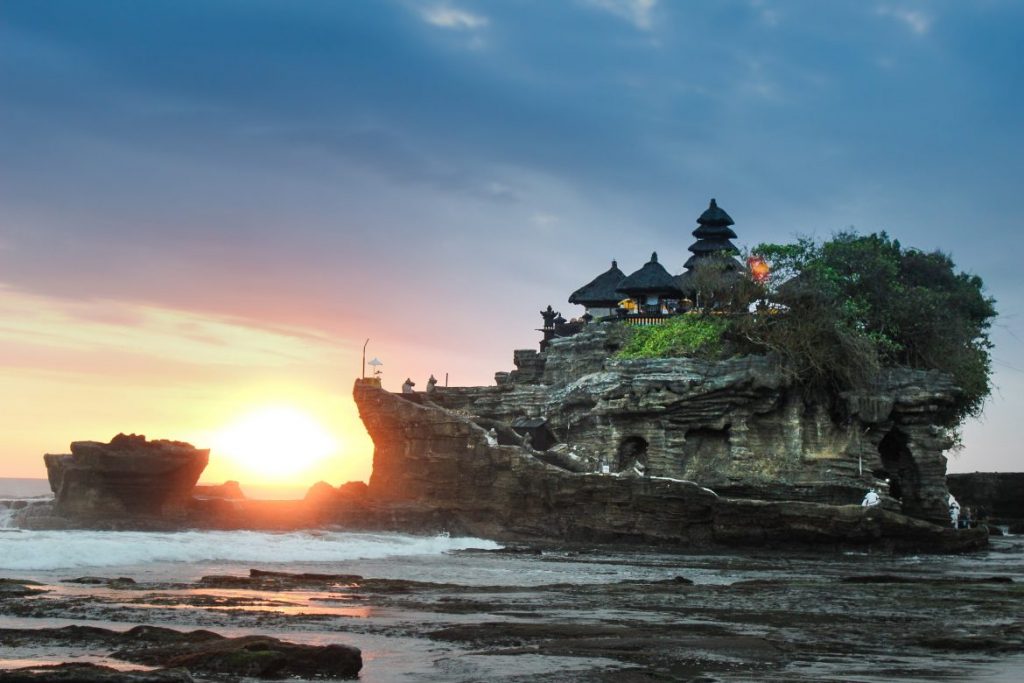 4. Why should I travel to Bali?
Go for Sun, Sand, and Sea
Visiting the Indonesian archipelago awards travelers with stunning beaches as far as the eye can see and Bali has some of the most gorgeous shorelines in the world. From the calm easy-surfing waters at Seminyak Beach to Padang Padang Beach, highlighted in Julia Roberts' movie, Eat, Pray, Love, to the black volcanic sands of Keramas Beach to the popular-with-tourists Legian and Kuta beaches, you'll have no problem finding a warm-water oasis to match your desires and interests.
Engage Your Senses: The Island of a Thousand Temples
You'll notice Balinese Hindu temples, or Pura, around the larger community areas as well as within family compounds, from the highlands to the coast. While on a bicycle tour around Ubud, in and out of family-filled villages, your guide will likely stop at many temples—big and miniature—to leave offerings of cigarettes, flowers, candy, and incense. Tanah Lot, Ulun Danu, Gunung Lebah, and Goa Lawah are worth visiting while in Bali. Adhere to the traditional dress and bring a sarong, tied at the waist.
Learn About the Dynamic Balinese Art and Culture
See a Balinese dance performance where stories are expressed through vibrant full-body movement that utilizes the hands, face, and feet. Listen to live Balinese music. Visit a local festival or celebration like the Balinese New Year, Bali Spirit Festival, Ubud Food Festival, Bali Art Festival, Bali Kite Festival, or the village temple festival called Odalan. Consider purchasing wood sculptures, hand stamped and dyed Batik prints, handmade silver jewelry, weaved goods, or an intricate painting. The Balinese are masters of many crafts.
Hike an Active Volcano with a Reputable Guide
Mount Batur, or Gunung Batur, located west of Mount Agung, is an active volcano on the island, which experiences eruptions every few years. Active hikers can summit the 5,633-foot peak in just two hours. Hiking early to reach the top at sunrise is a popular activity.
If you decide that hiking to the top is not for you, consider visiting a local village where you can still see Mount Batur. The village of Penelokan in Kintamani offers visitors wonderful sightseeing spots for photography.
 See Rice Terraces
Rice is a staple in Bali and a major part of Balinese culture. The terraced rice paddies, surrounded by lush vegetation, are a sight to see throughout the countryside, especially at first sight. The irrigation system, shared within the communities to support the health of the fields, has been happening for centuries and the ingenuity of it all is quite remarkable. Tegallalang, Jatiluwih, and Belimbing Rice Terraces are popular and worth a look-see.
5. Where can I go to Bali?
There are a few places that most people gravitate towards when they are planning a trip to Bali. And they are the most popular places for their own individual reasons. A holiday to Bali (particularly if it's your first trip) wouldn't be the same without seeing at least a couple of the Bali destinations mentioned below.
Ubud Monkey Forest
This place is a temple, a lush forest and the natural habitat of hundreds of monkeys. Tourists are drawn to this spot for the charm, fresh, cool air and the company of playful monkeys throughout the visit.
Tirta Empul Temple
Locals believe that the sacred water flowing at the Tirta Empul Temple has the power to heal and cleanse their bodies and souls. Soaking in the spring water in this serene and historic temple is an experience not to be missed.
Tegalalang Rice Terraces
These Balinese sculptured rice terraces offer tourists a chance to enjoy nature and a valuable glimpse of local culture and customs. Tourists can explore the village and meet residents.
Padang Padang Beach
Probably best known for its appearance in the movie Eat, Pray, Love (2010), this once-hidden gem lives up to the hype. A perfect nook where you can chill by the sand, swim past awesome rocky structures or surf the waves off the cliffs.
Mount Batur
A two-hour hike up the mountain will bring you to the best spot on the island for basking in the sunshine's first rays. Watch the sunrise with Mount Abang and Batur Lake in the background
Ubud Royal Palace
bud used to be a royal town, so it's not surprising that the area is packed with stunning palaces that still stand as cultural and historical landmarks. The Ubud Royal Palace, or Puri Saren Ubud, is among the biggest and can be found in the heart of the neighbourhood.
Munduk Village
This mountain village has a clean, green environment, fresh, cool air and charming natural attractions. The waterfalls and hills make Munduk a popular trekking destination, and during the colonial era, it was the favourite mountain retreat of the Dutch, hence the European architecture, historic buildings and flourishing commodities.
6. Who can travel to Bali?
In September officials representing Bali announced that the island will begin welcoming some international tourists from October 14 2021. The island's limited reopening will start with a travel corridor from a handful of countries, including South Korea, China, Japan, the UAE and New Zealand. Arrivals must be fully vaccinated and quarantine for 8 days at their own expense.