Travellers trend to think of holidays as the best way to recover themselves  after the long-term isolation through lockdowns at their homes. However, in stead of staying at the hotels/resorts in the centre, they prefer selecting the hideaway accommodations which are located near      beach, mountains in stead of staying at the hotels/resorts. Here is the best hideaway resort in Vietnam,  Lux  Travel DMC experts recommend for your next holidays in Vietnam.   

1. Six Senses Con Dao Resort
Six Senses Con Dao is an exclusive island hideaway resort amidst a pristine marine and national park, and the only Six Senses beach resort in Vietnam's archipelago of Con Dao. Step into a relaxed community of sun-beached bamboo villas, inspired by traditional fishing villages. Little more than 45 minutes from Ho Chi Minh city by air, you will find yourself at the secluded edge of one of Vietnam's most exclusive beaches and hidden havens.
Oh, and that golden sand and blue sapphire ocean.
2. Poulo Condor Boutique Resort & Spa | Con Dao 
Poulo Condor Boutique Resort & Spa is ideally located alongside the wide stretch sandy beach called Vông Beach and right at the footage of Chua Mountain which provides an amazing backdrop to the resort.
Inspired by a harmonious blend of Vietnamese traditional design and French colonial heritage dating from the early 20th century, the resort embodies the richness of Vietnamese culture with the vibrancy of the present.
All of the Suites & Pool Villas offer amazing views on the lush tropical garden or the river & lotus flower ponds in the heart of the resort. Focusing is on privacy, comfort and discreet luxury.
3. Nam Nghi Island Resort | Phu Quoc
On the northwestern shore of Phu Quoc lies Nam Nghi, a modern, luxury retreat surrounded by untouched nature. From sparkling, turquoise waters to pristine, light golden-sand beaches and lush forests, Nam Nghi Phu Quoc affords its guests magnificent views of the spectacular landscapes this tropical island has to offer.
The resort's stunning grounds boast a combination of natural elements and tasteful, environmentally sustainable architecture, emphasizing both natural materials and contemporary Vietnamese design.
Beyond Nam Nghi's own private sanctuary, Phu Quoc is a beautiful island oasis as well as an up-and-coming tourism destination in its own right. Known as the "Pearl of Vietnam," this rustic island is home to both picturesque beaches and dense, tropical jungle, providing travelers with ample opportunity for both relaxation and adventure.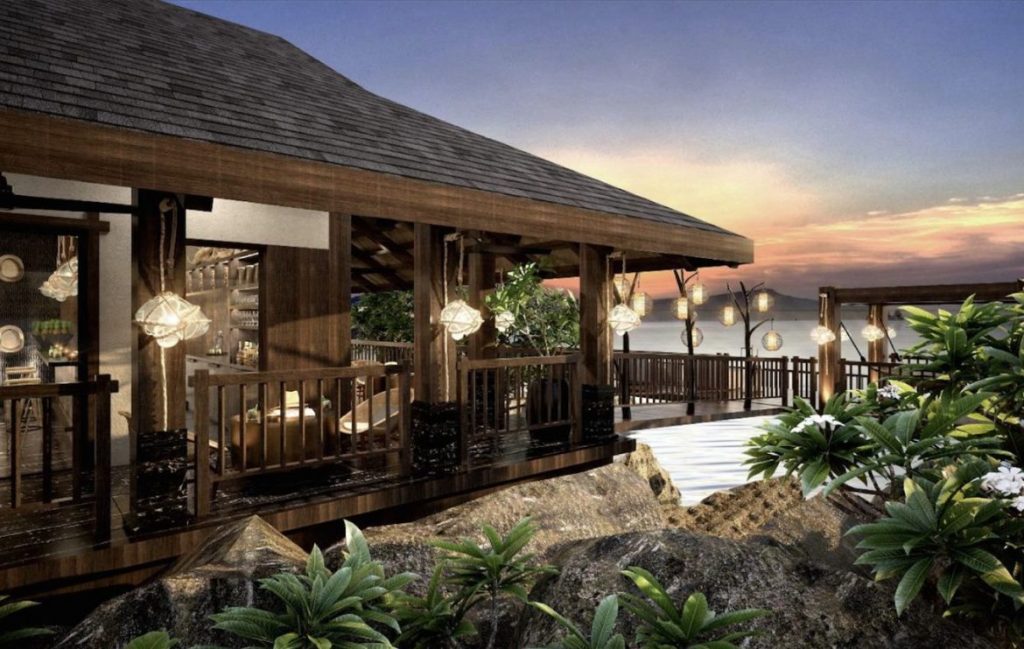 4. Fusion Resort Phu Quoc
When you at Fusion think of "getting away from it all", Fusion Resort Phu Quoc is the kind of place you imagine. With private pools and secluded gardens outside each and every one of their spacious thatched villas, plus the stunning beach and river-front views, mouth-watering dining options, a "breakfast anywhere, anytime" concept, and a premium spa facility offering Fusion's unique "all-spa inclusive" service, it really is the kind of place to disconnect, switch off, and put the rest of the world on hold for a few days or weeks at a time.
5. La Veranda Resort Phu Quoc-Mgallery
An enduring sense of romance pervades the Golden Age of Indochine. At La Veranda Resort Phú Quốc – MGallery.  It's a tropical paradise for lovers of island ambience and tranquillity – perfect for romance, adventure, spa vacations and intimate weddings. Or just a place to escape it all.
6. The Shells Resort & Spa Phu Quoc
Nestled on the pristine tear-shaped Island, The Shells Resort & Spa beachfront resort in Phu Quoc brings guests into a truly relaxing & party atmosphere.
Contemporary and minimal in design-driven by the shell-shaped concept, open and harmonious with nature. The pictures a serene and peaceful landscape where nature and humans are one and 'hustles and bustles' is not in the dictionary of their guests.
Life at The Shells resort is fulfilled with various activities from diving the reefs, kayaking in the bays or just living the life of the lotus centre by lounging on the beach.
7. Mango Bay Phu Quoc
Mango bay is a low-density Resort of 40 bungalows set on 20 Hectares, along 1 km of beach. Its secluded location and relaxed atmosphere make it the ideal place to unwind!
Playful waves breaking on the shoreline, the aroma of world-class shrimp on the barbeque, the sight of an early moon in the sky. Mango Bay is a paradise for the senses, a holiday playground to let Mother nature bring tranquillity into the busy lives. The perfect place for sensual, wonderful you.
About Lux Travel DMC
What a wonderful escaping plan for you to do during your holiday! Just pick up your luggage and we will take care of the rest of the journey!
Lux Travel DMC has been turning over 15 years old in the travel industry sector within Vietnam and other Southeast Asian countries. With the prior experiences from the young and potential staff, we believe that when choosing the best resorts and tour packages, you will feel nothing except pleasure, satisfaction, happiness and enjoyment. 
Let us be a part of your memorable vacation in Vietnam and Southeast Asia!