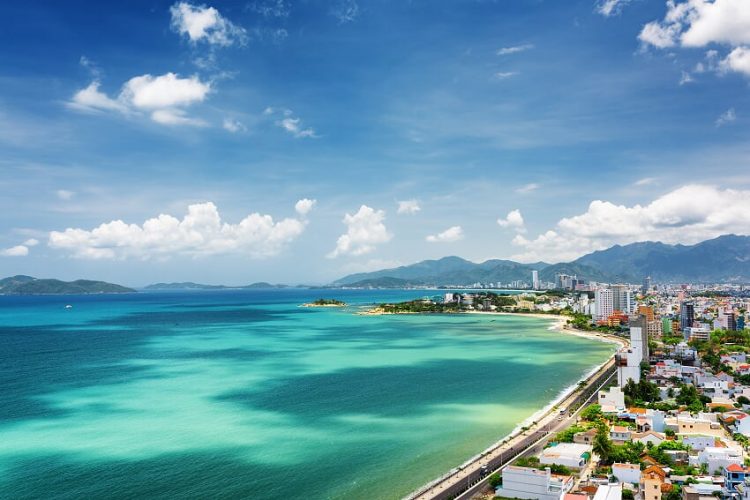 Source: Luxury Travel
There are many reasons to make a holiday in Vietnam but for those who would like to try something a bit different, what can this country offer the more adventurous and curious travellers? Do you you want to experience your next holiday in Vietnam? Read on to see 7 unusual things to do in Vietnam if you don't want to be over-excited about this lovely country. Be careful or you will love Vietnam more than you can imagine. Now let's have a look – what are they?
1. Take Hue Royal Show by night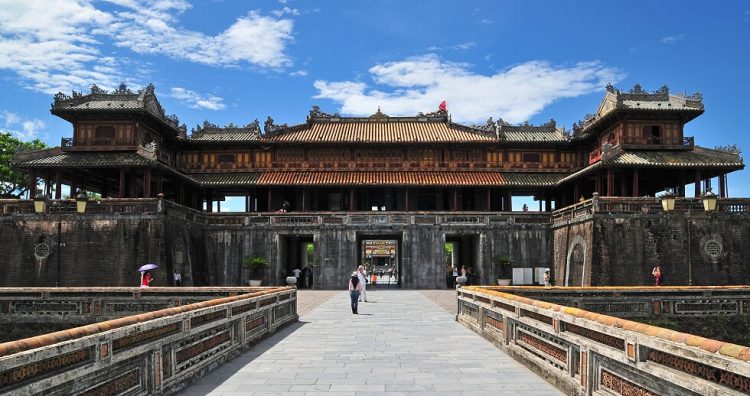 Source: Luxury Travel
Located along the banks of the Huong River, Hue, the regional economic, cultural, touristic, scientific, specialized health, education and training hub of central Viet Nam is an attractive destination. It is famous for its temples, bastions, mausoleums, architecture, and natural landscapes mostly covered by a layer of green moss, which creates a relaxing sensation.
Instead of visiting Hue at day time, take a night tour of the citadel means tourists can avoid the scorching summer sun and also admire the place from a different perspective. Hue is the only one city Vietnam still has the royal architecture. Coming to the Hue Royal Show in the evening, we would make you have the best time to understand the king's history as well as the customs of the royal city. There are many things to do at night in Hue city and we think the royal show by night is the highlight that you must do here. Additionally, you can also show the royal music by visiting around Perfume river listen to the royal folk music. After that, we all will put lantern candle in the river with our wishes.
2. See Halong bay on the bird view:
With an area of 2,000 square kilometres, scattered all around with more than 1,900 magnificent islands and limestone pillars, Halong Bay is known for its splendid beauty and one of the world's best natural marvel of all time as well as a long-standing spot in the "bucket" travel list of many travellers. Take a sea plane as one of the unique way for travellers to perfectly feast their eyes on Halong bay's scenery, especially with its astonishing 150-300m high flyovers above this stunning wonder of Vietnam.
Amazingly, there is no better way to witness Halong bay wonderful limestone karsts and caves from the Seaplane. I am sure that it will certainly be much more spectacular and appealing as there are many karsts as well as islands rising in the bay than sitting on cruises. And all famous islands and landscapes of Halong bay such as Dau Go Cave (Hang Đầu Gỗ), Tuan Chau Island (Đảo Tuần Châu), and almost amazing Halong bay beaches will be on the eye.
3. Experience Mekong Delta with fish catching by bare hands and floating markets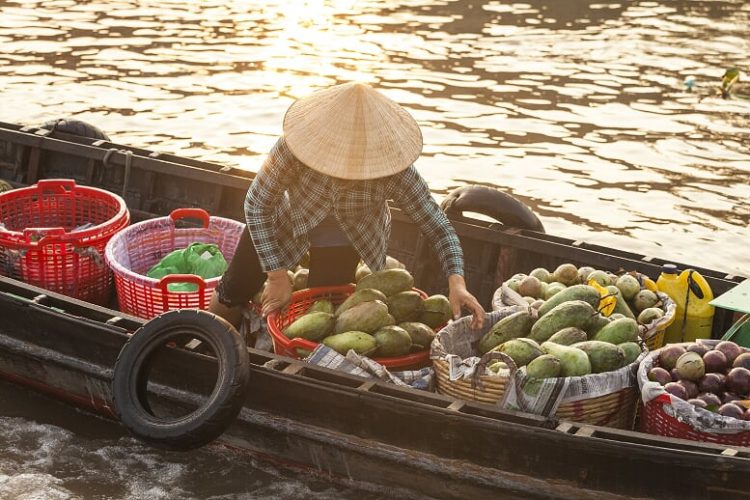 Source: Luxury Travel
Characterizing the Mekong Delta river culture, the floating market has become one of the most interesting things of Southern Vietnam. Mekong Delta with a complex network of rivers and canals rather than road. It will take a lot of fun to catch fish by bare hands with local people here and enjoy grilled lunch as your reward on your lunch time. Besides you can also join in other unique activities here such as: boat trip through canals and see floating markets in Can Tho, taste green fruits by yourself at the gardens in Ben Tre…
If you have a chance to travel to Southern Vietnam, do not forget the floating market – the highlight of the South Vietnam. Besides fruits orchards, yellow rice paddies, Southern folk songs and special regional cuisine, the vibrant floating market is what comes on tourists' mind when talking about Mekong Delta. It attracts visitors by dense rivers, canals system, house stilts and lifestyle of the locals. The floating market is gathering place where the locals can buy their own products and fresh fruits or vegetables hanging on the poles while visitors can travel around to enjoy their life and buy something. Even you can find some floating bars, floating restaurants and the same kinds of shops as on the land.
4. Taste your first egg coffee
Vietnam is pretty famous for its coffee and you will find coffee shops on every corner of every street. What you might not have known is that there are also a lot of specialty coffees, such as this deliciously frothy egg white coffee which you can purchase in certain cafe sin Hanoi. A real treat after a long day sightseeing! Head to the Giang cafe (39 Nguyen Huu Huan) and Dinh Café (13 Đinh Tiên Hoàng) if you want to try in while in Hanoi.
Egg coffee by Mr. Nguyen Giang was from the late 1940s when condensed milk was not as abundant as today. An egg coffee is a mix of  egg yolks, sugar, condensed milk and Robusta coffee. The drink is made by beating egg yolks with sugar and coffee, then extracting the coffee into the half of the cup, followed by a similar amount of egg cream, which is prepared by heating and beating the yolks. The cup is served inside a bowl of hot water to retain its temperature. The marriage of the egg's rich taste and aromatic coffee wafting through the air makes up specific flavor. Let's wander and enjoy Hanoi in another taste.
To drink egg coffee, people should slowly stir bobbed froth of whipped egg with the coffee below. Sweet and tasty of egg and milk are in harmony with bitterness of coffee and leaves behind the mesmerizing scent.
5. Trekking to En Cave & National Park
Hang En cave, the third world largest cave following to Son Doong and Deer cave, is a very special cave. This is the most exotic, breathtaking and unique cave with three entrances. With 1.645m long thrusting through a huge mountain, the cave opens to three entrances, one at the halfway to the mountain top and two at the foothill toward south-east and north-west of Rao Thuong stream. This feature is hardly found at other famous caves of Vietnam, one of alternative option for Son Doong.
6. Go Quad Biking in Mui Ne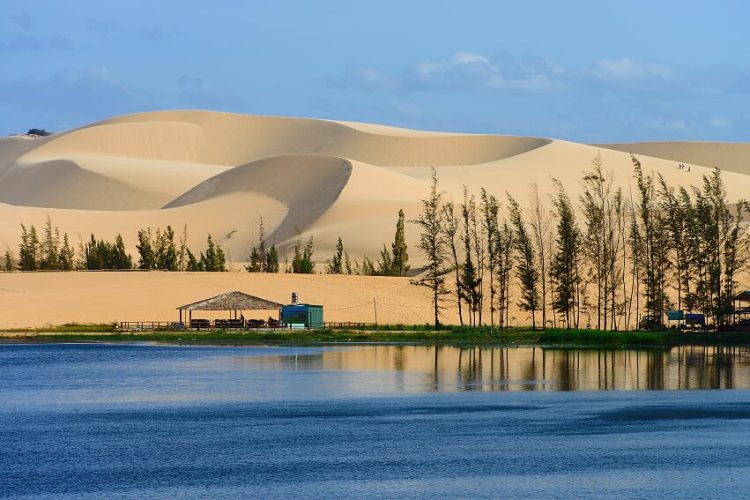 Source: Luxury Travel
Beautiful natural landscapes with pristine crystal blue beaches, graphical wonders, traditional fishing villages and affordable prices are what make Phan Thiet – Mui Ne such an amazing destination with both local and foreign tourists in recent years. Located in the tropics and less being affected by the monsoon as well as hot and dry climate, visitors can arrive here all year-round. Phan Thiet is also an attractive cultural tourism destination with a diverse population of Chinese and Cham people along with the unique cuisine from fresh seafood.
The White Dunes and The Red Dunes which change the shape continuously are two most amazing geographical wonders of Phan Thiet that no one should ever miss when coming to this pristine land. Sand dunes formed from hundreds of thousands of years of geological tectonics stretch with many different colors. There are many ways to experience this exotic beauty, from poetic to exciting and funny way.  You can begin the journey from the White Sand Hills to admire how the sand dunes change the shape according to the sea breeze. Then you can hire a terrain vehicle to run up the hill to enjoy the wind, or see the romantic sunrise and sunset with your lovers.
But the most exciting part is in the Red Sand Dunes – Sand Sliding. Red sand dunes are firmer in structure, which forms an original playground for local children and now for tourists. Let's rent a plastic sheet from the children, climb up high and slide down from the top of the hill.
The sand dunes of Mui Ne are hauntingly beautiful, a real contrast to the rolling green hills and rice paddies to be found in the rest of the country. A few days in one of Vietnam's least visited destinations is always a good idea, and if you're looking for some adventure sign up for a quad biking tour with Mui Ne Explorer. In less than 30 minutes you will transported to a totally foreign landscape, and will create memories you will never forget.
7. Learn how to ride a buffalo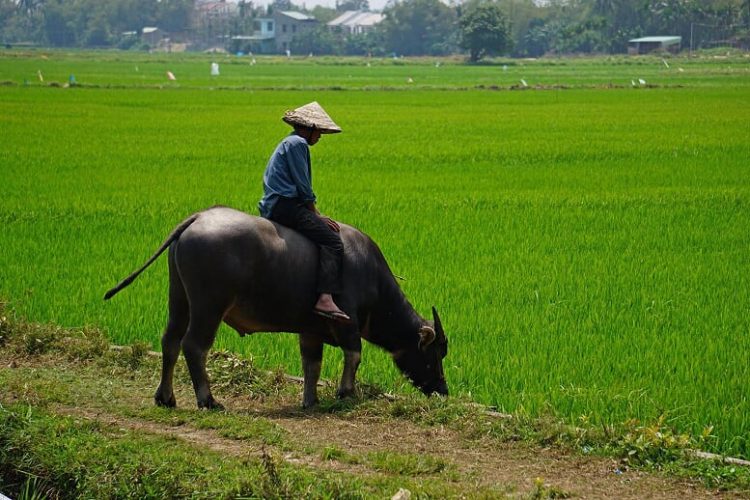 Source: Luxury Travel
Learning to ride a buffalo is surely a great life skill, perfect for when you become a farmer and need to plough your fields! Places that offer this kind of activity include: Ninh Binh, Mai Chau, Sapa and Hoi An. Even Facebook founder Mark Zuckerberg sees the value in riding a Buffalo!
When you try this buffalo riding, it will not only bring you exciting moments, but get closer to the agricultural culture of Vietnamese people. So meaningful and amazing, right?
Don't be afraid of mud, it is funny.
Want to customized holiday in Vietnam, find Luxury Travel team at [email protected]
8. Biking to Ba Vi national park from Hanoi
A better choice should be Ba Vi National Park where you can ride from Hanoi.
As the vast forest embracing three highest peaks in Ba Vi range: King summit, Tan Vien summit and Ngoc Hoa peak, Ba Vi National Park not only preserves many myths from the foundation of the country, but is a beautiful land with thousands of flora and fauna as well.
The romantic scenery will make every visitor love it at first sight. On one side, there are many tall trees covered with soothing moss, and the other side impresses everyone with a clear blue sky with white wisps of white clouds lurking around the mountain peaks. On the top of the mountain, the vibrant violet color of lust brushes looks like purple clouds being prominent in the mist. From the gateway, there are two directions, if visitors want to enjoy exotic flowers and birds, let's choose the bamboo forest. If you want to reach the top of the mountain, let's go deeper and follow a steep slope. This road goes up high, bringing visitors into a virtual space of clouds, wind and birds singing in the forest.
Ba Vi is also regarded as "Dalat of Northern Vietnam". Just 50 kilometers far from Hanoi, in the summer morning, biking in Ba Vi is such a great experience as its cool and fresh air creating a sense of well-being for everyone who comes here. That is the reason why Ba Vi seems to be the most popular choice for those wishing to relax after the hustle and bustle of modern life in Hanoi.
There are also a lot of ideal ecotourism resorts in Ba Vi for your consideration like Ao Vua Xanh, Khoang Xanh – Suoi Tien, Vietnam National Villages for Ethnic Culture and Tourism, Thien Son – Suoi Nga, Family Resort, Zen Resort and Camping, Tan Da Spa Resort, Son Tinh Camp or Datrang Farm. For more adventurous trip, have a look here.
9. About Luxury Travel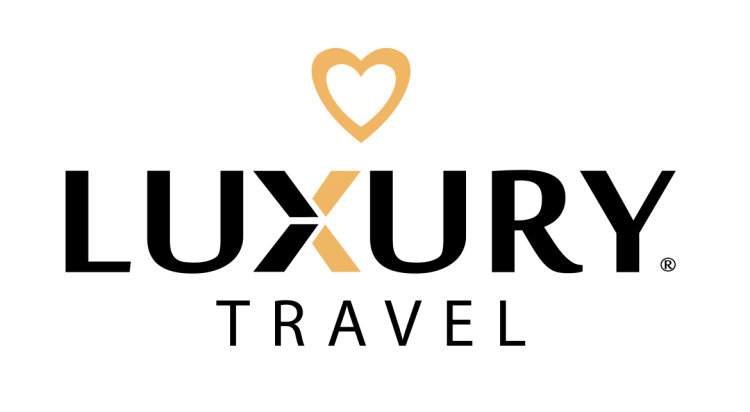 Luxury Travel is an award – winning local tour operator in Vietnam,  specializes in high quality Vietnam Vacation Packages with an emphasis on the authentic luxury travel experiences. Luxury Travel is committed to operating with the highest standards of service and professionalism, while continuing to improve on the qualities that make us not just good, but perfect, with great attention to detail, ensuring perfect.
With over 15 years of experience in the tourism, the company has won many national and international awards. If you are planning a trip to Vietnam, contact us and we will suggest where to go and what to do to make your trip full of memorable moments with locals.