As of February 24, 2021, Vietnam's Ministry of Health confirmed a total of 2,403 cases of COVID-19. However, 1,760 of the affected patients have recovered and been discharged from hospitals. Vietnam has also recorded 35 deaths due to the pandemic. The latest community transmission cases have been reported from Hai Duong.

February 24
The first batch of 117,600 doses of the Oxford-AstraZeneca's COVID-19 vaccine arrived in Ho Chi Minh City on the morning of February 24.
February 23
The National Steering Committee announced that all Vietnamese people would get the vaccine for free; however due to limited supply initially, priority would be given to the 11 priority groups.
Ho Chi Minh City authorities have begun random testing at restaurants in several areas including Binh Thanh district.
February 22
Ho Chi Minh City health authorities will re-test all foreign experts who arrived since January 1, 2021.
The Ministry of Health stated that 10 groups of people including health workers, police, military officers, and those over 65 years of age will be the first to receive COVID-19 vaccines in the country.
February 19
Vietnam is expected to import the first batch of the Oxford-AstraZeneca COVID-19 vaccine on February 28. Health authorities approved the import of 204,000 doses out of the 30 million approved shots.
February 17
Ho Chi Minh City authorities have mandated a 14-day quarantine for those returning from some northern COVID-19 affected areas such as Hai Duong. Authorities will also test arrivals from northern localities such as Hanoi, Quang Ninh, and Hai Phong. Similar measures have also been imposed in Hanoi.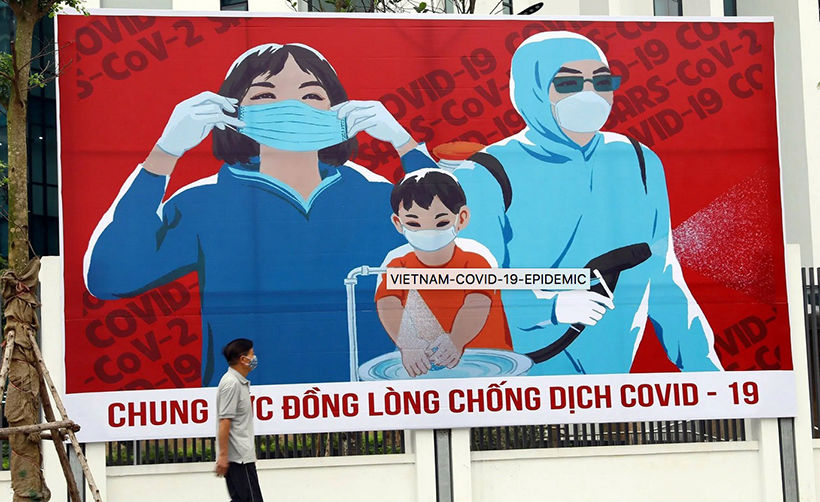 February 16
Foreign experts who entered Vietnam and completed their quarantine will be re-tested after a Japanese expert who died at a hotel in Hanoi was confirmed positive for the virus.
Hanoi authorities ordered the closure of sidewalk cafes and eateries in a bid to prevent the spread of the pandemic.
February 15
Authorities in Hai Duong province will implement social isolation measures under Decree 16 from February 16 until March 3 for the whole province. These measures include people only going out for necessary activities such as buying food, groceries, medicines etc. Essential services will continue to operate.
February 14
Schools in Ho Chi Minh City will remain closed until February 28 with online classes scheduled after the Tet holiday from February 17 to prevent any further outbreaks.
February 9
Ho Chi Minh City authorities announced the closure of all non-essential businesses and entertainment activities such as bars, beauty salons, gyms, karaoke parlors, night clubs, massage parlors, and movie theaters from February 9 until further notice in response to the city recording more than 25 cases in a single day.
In addition, religious gatherings will be limited to 20 people. However, gas stations, retail stores, pharmacies and medical facilities will remain open but with strict preventive measures.
The government has changed the quarantine period back to 14 days after briefly increasing it to 21 days. The Ministry of Health clarified that while the UK strain of the virus had a faster onset time, its incubation period remains two weeks.
February 3
Hanoi authorities have proposed to buy COVID-19 vaccines for its citizens with its own budget and plan to seek approval from the central government.
Authorities in Vinh Phuc province have ordered the closure of karaoke parlors, bars, nightclubs, and online gaming centers from February 2 until further notice in a bid to prevent the further spread of the pandemic.
February 1
Hanoi authorities have ordered the closure of bars, karaoke parlors, and nightclubs from February 1, until further notice, while several northern provinces such as Bac Ninh, Son La, and Cao Bang have canceled entertainment activities such as spring festivities.
January 29
The Ministry of Health also approved the Oxford-AstraZeneca vaccine. While Vietnam was set to buy the vaccine as reported previously, the new outbreak has urged authorities to quicken the procurement of the vaccine to February.
Schools in 16 provinces and cities nationwide will close early from February 1 to prevent the spread of the pandemic.
January 28
The local case in Hai Duong was linked to a factory worker who tested positive for the UK variant of the virus after arriving for work in Japan. The second community case is an airport worker, employed at Van Don International Airport in Quang Ninh. The airport has handled several repatriation flights and is likely to be the case for the worker testing positive.
The authorities have reported a further 100 cases on January 28 linked to the two community cases in Hai Duong and Quang Ninh, though these are yet to be updated on the Ministry of Health site. Contact tracing is underway while Van Don Airport, where a case was reported, has been locked down. This is the largest reported caseload in a single day.
As a response, Quang Ninh and Hai Duong have suspended all public and passenger transport schools have also been suspended. Chi Linh City has also been placed under social distance orders for 21 days.
January 8
Vietnam's national trade union the Vietnam General Confederation of Labor (VGCL) will support workers who have been affected by the pandemic and natural disasters in 2020 with up to VND 1-2 million (US$43-86) each for Tet – the Vietnamese New Year Holiday which begins on February 12.
Vietnam will limit inbound repatriation flights from January 10 until the end of the Lunar New Year Holiday in mid-February to limit the risks of the spread of the pandemic.
Vietnam's General Statistics Office (GSO) reported that 1.3 million people nationwide lost their jobs in 2020 due to the pandemic with most of them in the working age.
Vietnam has banned inbound flights from countries that have recorded the new COVID-19 variant such as the UK and South Africa. The list of countries that the ban applies to will likely be expanded in the coming days.
January 5
Vietnam's Immigration Department has announced another automatic stay extension for foreigners stranded in Vietnam due to the pandemic until January 31, 2021. The measure applies to those who entered since March 1 allowing them to leave the country without any penalty or official procedures. Those that have entered prior to March 1 are also eligible provided they show documents by their embassies or by Vietnamese authorities to confirm they were quarantined or treated for COVID-19.
Vietnam is set to receive 30 million doses of the Oxford-AstraZeneca vaccine as per Deputy Health Minister Truong Quoc Cuong. The doses will be delivered throughout the year after Vietnam reached an agreement with the vaccine maker.
January 2-3, 2021
Vietnam reported its first case of the coronavirus variant from the UK on January 2. The patient was repatriated from the UK and quarantined on arrival.
Three of the confirmed cases are attributed to those illegally entering Vietnam with health authorities contract tracing and quarantining all F1 and F2 contacts.
Health authorities locked down four apartment blocks on Su Van Hanh Street in Ho Chi Minh City's District 5 after a man tested positive linked to the illegal entry case.
Authorities in Ho Chi Minh City have allowed six additional hotels for quarantine for international arrivals in the districts of Tan Binh, Phu Nhuan, and District 7.Source: Vietnam-briefing