Knowledge

overview
The passport is a type of document which is used to verify the identification and nationality of a person when coming to another country.
The visa is a legal proof that is placed in the passport aiming to affirm that the official visa owner is allowed to enter, leave or stay in a country in a specific period of time.
I.2. What is the different between visa and passport?
Passport is the document that is issued by a country's competent authority to its citizens. Whereas, the visa is a document granted by another country where the visa applicant wants to come.
Crucial notes: You need to make a passport first, apply for a visa afterward. If you do not have a passport, you cannot apply for a visa successfully.
In May 2014, the foreigners want to re-enter Thailand after visa-free or visa on arrival[3] period has expired, they must apply for a visa in advance, or stay outside Thailand for at least one night.
In August 2014, the Immigration Police got command from the Thai Prime Minister in enforcing flexibly visa-related laws due to the application of strict regulations affected schools and the tourism industry
On October 31, 2018, Thailand announced that, since the end of November 2018, overstay visas will no longer be allowed to appear in the country.
On 20 November 2018, Thailand's Cabinet officially approved numerous new visa-free and visa on arrival countries. In which, new visa-free countries (30 days) include Latvia, Lithuania, Andorra, San Marino, Ukraine, Maldives, Mauritius. Visa on arrival countries (15 days) are Mexico, Vanuatu, Nauru, Georgia.
In general, a foreigner who wants to enter Thailand is required to apply a Visa from Royal Thailand Embassy/Royal Thailand Consulate. Nevertheless, Thailand also put out each certain visa policy for each country, whereby passport holder could be not required a visa if they meet visa exemption requirements. Regardless of your purpose of coming to Thailand, you need to be aware of the following cases in applying for a visa.
Let's read the information carefully and find out where your case is in order to apply successfully for a visa[5]!
II.1.2.1 Visa exemption
Visa exemption for normal passport
90 days: Citizens from 5 countries including Argentina, South Korea, Peru, Brazil and Chile where the government signed the bilateral visa waiver agreements with Thailand will be allowed to travel to Thailand for 90 days without a visa.
30 days (1): Citizens who hold a normal passport and come from 6 countries consist of Hong Kong, Laos, Macao, Mongolia, Vietnam and Russia where the government contracted the bilateral agreement on visa waiver will be allowed to stay at Thailand during 30 days.
30 days (2): People who hold a normal passport from 51 following countries will be issued visa-free travel to Thailand for up to 30 days.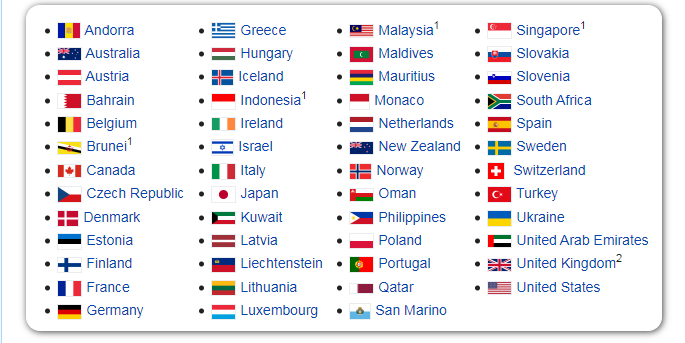 Table 1: 51 countries will be issued visa-free travel to Thailand for up to 30 days – Source: Wikipedia
14 days: According to bilateral agreements, citizens who hold normal passports from two countries Myanmar and Cambodia can stay in Thailand without a visa for a maximum of 14 days.
Visa exemption for diplomatic or service category passports
People who hold diplomatic or service passports granted by the 46 following government will be allowed to visit Thailand for trips last for up to 90 days.
Except for the three following special cases:
The duration is 30 days for 17 countries, including Brunei, Cambodia, Canada, China, Ecuador, Hong Kong, Indonesia, Kazakhstan, Laos, Macau, Mongolia, Myanmar, Oman, Singapore, United Kingdom, United States, and Vietnam.
The duration is 90 days only apply for the diplomatic passport with four countries embrace Bangladesh, Estonia, France, and Spain.
Pakistan: The duration is 30 days and only apply for the diplomatic passport
II.1.2.2. Visa on arrival
Citizens who own a normal passport from 18 following countries can apply for a visa on arrival which allows them to stay up to 15 days at the main entry point whether by air or by land.

Table 2: 18 countries will be allowed to stay in Thailand for up to 15 days - Source: Wikipedia
Today, there are key visas in Thailand. Specifically:
This kind of visa is issued by the Royal Thai Embassy under the official request to diplomats/UN officials/leaders who visit Thailand officially for a national duty or special mission.
Tourist visa in Thailand is a verify evidence which used for tourism purpose, it is usually stamped on the passport when you arrive at the airport or applied for in your country, at the Thai Embassy or Consulate.
Notes: The citizens of some countries can extend the visa duration owing to their government signed bilateral visa agreements with the Thai government.
(The detail information will be analyzed in section III)
In this case, in order to qualify for this kind of visa, you must have stayed in Thailand for 3 continuously years with a one-year visa extension.
If you married with a Thai partner, you need to prove that your monthly income is the minimum of 30 000 Thai Baht.
If you are single, your monthly income is at least 80 000 Thai Baht.
Business visa (or known as type B)
This visa divides into three small types:
When you work for a company/corporation in Thailand

When you become a teacher/trainer at a private school in Thailand

When you come to Thailand to attend business meetings/conferences/summits or looking for business chances.
If you want to apply for a visa for one of the three above cases, you need to contact the Thai Embassy at your local and the business that you want to be recruited at.
Official visa
This visa includes two main types:
Type D : Diplomatic visa
Type M: Applying for staffs who come to Thailand to work as a film producer, journalist or reporter with permission from Ministry of Foreign Affair (usually in a short term)
Education/work visa
This type of visa applied for these following subjects:
No

Subjects

Required documents that need to submit at the embassy in your country

Notes

1

People who seek an internship job or attend a training course in a specific sector of an organization (held not by an official school) or apply for a work permit.

Passport valid at least 6 months.

Filled out an application form.

2 portrait pictures not older than 6 months.

Confirmation letter from your school/organization.

Copy of business license of the employer.

FormWP3, which has to be provided by the employer.

Confirmation of the working contract.

Copy of company profile.

Copy of location description of the company.

List of shareholders of the company in Thailand.

Por Ngor Dor 50 und Por Ngor Dor 30 of the last year, the employer has to provide.

Por Por 20, the employer has to provide.

Plane ticket.

The Embassy has the right to require any other necessary documents and reserves the right to refuse application forms that do not qualify.

2

People who take part in an educational course or an intern program which is organized by the Thailand government or international organizations that headquarter in Thailand.

Passport valid at least 6 months.

Filled out an application form.

2 portrait pictures not older than 6 months.

Confirmed flight ticket.

Confirmation letter from the school.

Confirmation letter from the organization

3

.

People who participate in volunteer programs or NGOs organization

Passport valid at least 6 months.

Filled out an application form.

2 portrait pictures not older than 6 months.

Confirmed flight ticket.

Confirmation of the NGO or charity mentioning the duration of the stay and the nature of the activity.

Copy of the passport of the organization's director.

For a Thai organization, a copy of the organization registration form.

For a foreign organization, a copy of the approval letter to operate in Thailand.
Retirement visa
Retirement visa is known as O-A visa type which is applied for foreigners over 50 years old who want to coming to Thailand to live or enjoy life
Marriage visa
With this type of visa, you must meet the three following conditions:
Firstly, you need to demonstrate that you are married to a Thai person.

Secondly, at least 3 months before applying for a visa, you must verify that you own 400,000 Thai Baht on your bank account.

Thirdly, every after 90 days, you must identify that you live along with your husband/wife at the place that you applied for the visa.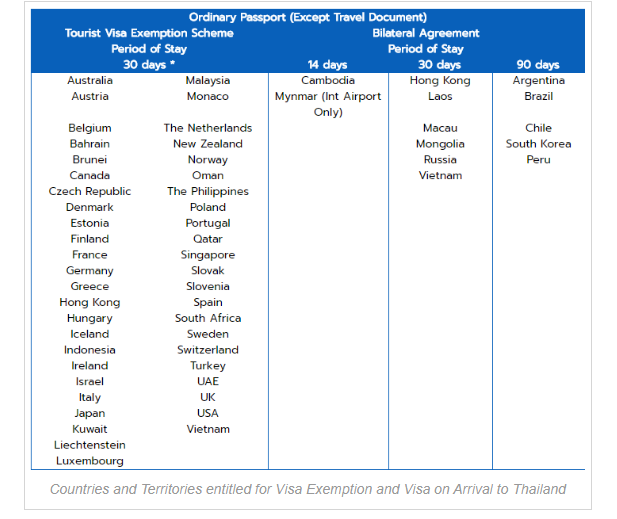 Table 3, Source: exploringrealthailand.com
The citizen from the countries in this above list can enter Thailand for tourism purposes and stay in Thailand for up to 30 days.
When foreigners come to Thailand from another neighbor country (overland crossings), they just can stay in Thailand for a maximum of 15 days, except countries include UK, USA, Canada, Japan, Italia, France, Germany, and Malaysia, the people can stay in Thailand up to 30 days.
Foreigners enter Thailand without a visa need to prove that they have enough funding for the time of stay in cash or checks, specifically: 20.000 Baht per person or 40.000 Baht per family.
Within 6 months from the first time entry to Thailand, foreigners exempted from visa are entitled to leave or return to Thailand for up to 90 days (note that the passport need be valid six months from the day of the last departure)
The tourists can apply for a visa application under the requirement of two main type visa which consists of Single-entry visa and Multiple-entry visa.
To apply for a single-entry visa or multiple-entry visa, the tourist needs to prepare these following documents:
Passport valid for at least six months from the date of leaving Thailand

Complaint application form. (This form is the Swiss version but your local Thai embassy will have the same).

Two passport photos (not older than six months)

The flight ticket which confirms leaving your country

Hotel booking confirmation, the invitation letter, copy of the passport and residence permit of the person inviting you to Thailand.

Copies of the last three months' bank statement with 1000 Dollars at the end of each month (with multiple entry visa, this money is more than)
Validity:
Single entry: Valid is 3 months; Period of stay is 60 days

Multiple entry: Valid is 6 months; Period of stay is 60 days

The fee depends on the regulation of Embassy in each country
Step 1: Determine what type of tourist visa that you need to apply for
Single entry visa or multiple entry visa
Step 2: Preparing the required documents before applying for a tourist visa
In order to apply for a tourist visa, there is a compulsory document list and certain fees that the tourist needs to prepare to obtain the visa. The below list provides information about documents and fees that required:
Travel document or passport valid up to 6 months

Duly filled Thailand visa application form

Recent 4×6 cm. 1 passport size photograph

Return e-ticket or air ticket (confirmed)

Proof of financial sources (40000 baht/family, 20000 baht per person)Step 3: Apply for a visa
Step 3: Applying for a visa
Before applying, you need to prepare carefully documents and legal formalities. You should have an original copy of the passport which has valid for at least 6 months from the date arriving.
There are two ways to apply for a tourist visa in Thailand.
Online: You can apply for a visa online VFS Thailand site (Visa Application Centre)

Offline: You can submit the visa application and pay visa fees at the nearest Thailand Visa Application Centre.
Step 4: Waiting for a visa
Under the current policy of Thailand, the visa applicant can receive the pre-approved visa with some significant documents after a period of 2 to 4 working days.
The fee for a tourist visa is 2000 Baht Thai on entry.
The paying form: Paying fee in cash and it should be paid in Thai currency.
Notes: Need to usually update the new information about tourist visa at the Thai Embassy/Consulate when having the need so that avoiding the sudden changes.
The interview questions include two main parts:
Firstly, the guider will require you to cross-check the information which relates to yourself and your journey, so please preparing carefully all aspects and remember firmly your tour plan
Secondly, you will be asked the questions relating directly to your trip, therefore, you need to speak honestly and focus on some key following points:
The time of stay in Thailand and the purpose of your Thai trip

Considering all aspects of your travel plans

Your bank account

Your occupation and organization.
The applicant can go to the local bureau of immigration in Thailand to ask the questions relating to exemption, extension and re-entry permission into Thailand.
For questions and information within Thailand, visiting the website "www.immigration.go.th" or call +66 (0) 2 209 1100 to know more detail information.
REFERENCES:
Pretywildworld.com, (2019). Thailand Visa on Arrival: How to apply for Thailand Visa
ExploringrealThailand.com, (2019). Do you need a new visa?
Retrieved from https://exploringrealthailand.com/do-you-need-a-visa-for-thailand
Jamie Gilpin, (2014). What is the difference between a visa and a passport?
Retrieved from https://resources.envoyglobal.com/blog/what-is-the-difference-between-a-passport-and-a-visa
Thaivisaexpert.com, (2019). Thailand general visa information.
Retrieved from http://www.thaivisaexpert.com/?gclid=Cj0KCQjwivbsBRDsARIsADyISJ9sELTytACikXRkUZpLXEy9bNDg7qsul0di8yVzqZHi-6ZkFJgcIrYaAndCEALw_wcB
Wikipedia, (2019). Visa policy of Thailand.
Retrieved from https://en.wikipedia.org/wiki/Visa_policy_of_Thailand
---