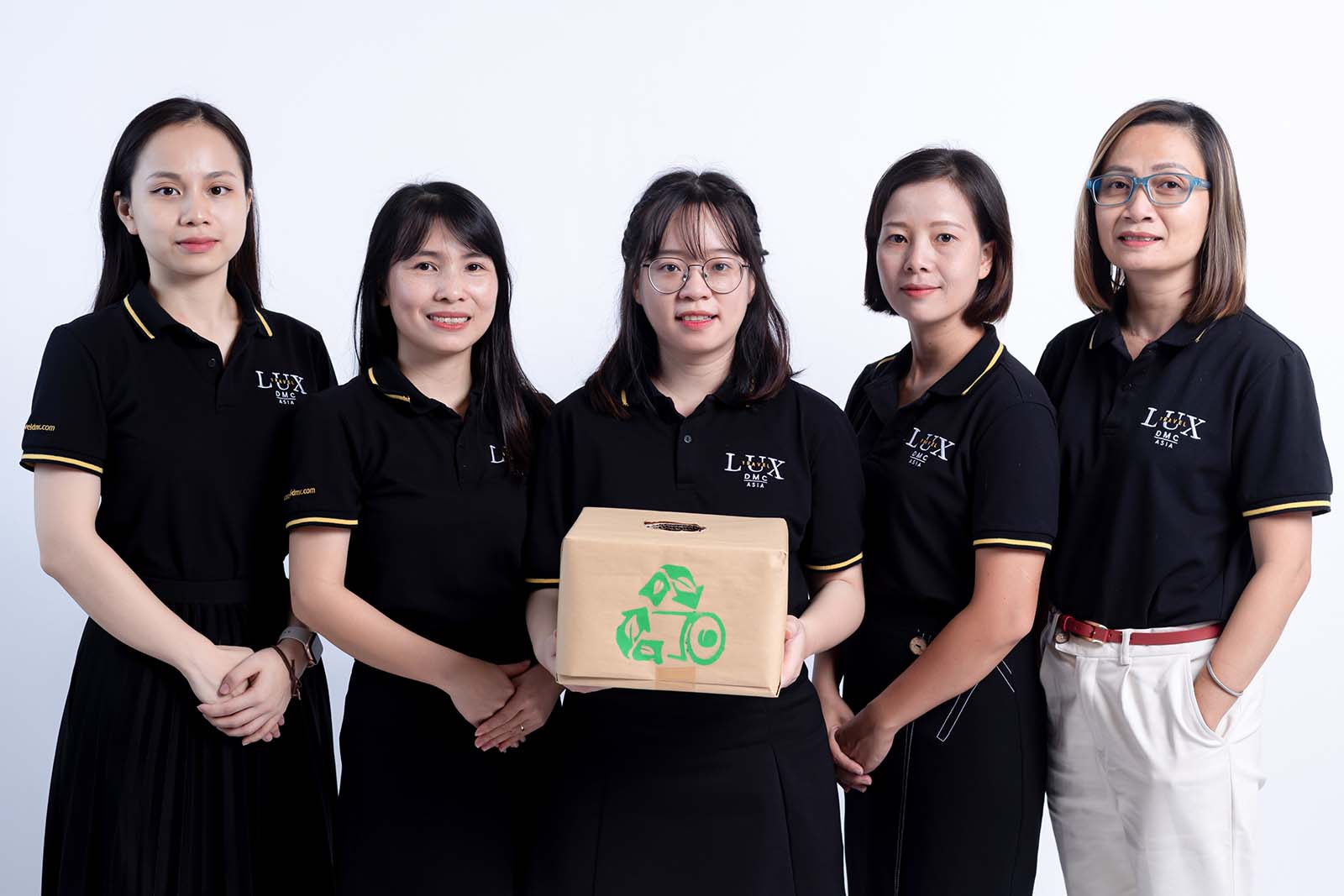 Our sustainability mission Statement

Our mission is to lead the way in promoting sustainable tourism practices that respect and preserve the environment, uplift local communities, and provide enriching experiences for travelers. Through our initiatives, we cultivate sustainability awareness and actively involve our customers, travel partners, and local communities in building a sustainable society. We achieve this by minimizing environmental impacts, promoting local culture, and sharing the essence of heritage, history, fine arts, and cuisine with both local and global audiences. We are committed to conducting our business with professional ethics and being a positive contributor to the well-being of local communities and society at large.
1. Sustainability Management
We commit to sustainability management, practiced by the following actions:
Have an appointed employee who is dedicated to overseeing sustainability initiatives within the company.
Have a clear and concise sustainability mission statement.
Protect human rights through labor laws and regulations. These laws establish minimum standards for working conditions, wages, working hours...
Show responsibilities to employees by clearly informing them of the guidance and training, the terms and conditions of employment, including job responsibilities, compensation, benefits, and termination procedures.
Possess a sustainable action plan with well-defined goals, procedures, accountability, and scheduling.
We have a specific sustainability policy that aims for a reduction of the negative factors.
Ensure the company's transparency in sustainability through public communication.
All our employees are aware of the Sustainable Policy and commit to improving it.
2. Human Rights and Social Security Systems
We create a friendly and competitive working environment to ensure the human rights policy which is issued by the Ministry of Labour in Vietnam:
Provide financial support to employees who have difficult economic conditions, and health issues such as unemployment, illness, disability, or old age by the social security systems.
For employees, the company fulfills their obligations to pay in full and on time for all employment contracts and collective labor agreements. This ensures that workers receive their rightful entitlements and benefits.
We place great importance on creating a work environment that upholds dignity, respect, and the well-being of our employees.
We suspend, terminate labor contracts, and discipline employees according to the provisions of law, collective labor agreements (if any), and internal labor regulations of the enterprise.
Provide legal protection for employees in case of discrimination, exploitation, and unbalanced treatment.
Create a supportive working environment and encourage the competitive spirits of employees
Create more opportunities for freshers or interns.
Employees have an equal chance and access to resources and opportunities for personal development
3. Environmental Responsibility
We develop our environmental performance by minimizing resource consumption, waste generation, and pollution associated with our operations. Reuse materials and recycle whenever possible.
Instead of printing materials, we prefer e-materials such as e-cards, e-brochures, wooden welcome signs, fabric banners, reused banners…
We encourage the use of eco-friendly transportation options, such as public transportation, hybrid vehicles, or carpooling, for our staff and clients whenever possible to reduce emissions and improve air quality.
We work with our suppliers to choose environmentally friendly products and services, giving preference to those with sustainable certifications or eco-labels.
We raise awareness among our staff, clients, and partners about environmental issues and the importance of responsible travel practices.
We convey the message about the preservation of local historical, archaeological, culturally, and spiritually important properties and sites.
4. Accommodations
We select accommodations that are under the management of locals.
We collaborate with sustainable partners for the best experience for sustainable travelers.
Our itinerary has sustainability goals and strategies for customers.
Our selected accommodations have specific standards for sustainability contracts, energy-saving programs, human protection policies, human rights,...
We work with accommodations and restaurants that incorporate traditional culture.
We continually encourage our partners to become sustainably certified.

5. Guides, Local Representatives and Tour Leaders
We stand for a friendly and safe working environment that supports local communities.
We collaborate with local tour leaders, and local representatives and have the priority of using local staff. Provide guidance and training for them.
Our partners always comply with all the local laws and regulations.
We ensure that our tour guides are qualified enough.
The program of training and guiding for locals has a positive impact on sustainable tourism.
We ensure that our customers are always accompanied by our professional tour guides. Providing information for customers and having knowledge of healthcare.
Tourguides/Tour leaders provide our customers with comprehensive information on the protection of flora and fauna, local heritage, resources, social etiquette, local culture, and values through a roadbook given at the onset of their tour.
Tour guides/ Tour leaders instruct our customers to obey the regulations and manage waste at the destinations/accommodations; suggest all activities to protect the environment at destinations; encourage our customers to use reusable water bottles during their trips.
6. Purchasing Management
We manage our consumption of disposable materials by encouraging the practice of double-sided printing for all paper used in the office. This simple step can significantly reduce paper consumption by utilizing both sides of each sheet.
Transitioning from physical copies to digital documents to reduce waste.
Choose an appropriate sustainable material from suppliers for the workplace.
Prioritize suppliers who have a project about sustainable tourism or participate in a group including sustainable members.
Purchase fair-trade and organic beverages.
7. Transportation
Our company commits to spare no effort to minimize the pollution caused by transportation. All vehicles used on tours will be ensured to cause no more than the average rate of pollution. As we believe that transportation plays a crucial role in sustainable tourism, we will attempt to reduce the pollution level with our best.
Our actions are committed as follows:
Selecting means of transportation to the destination by taking price and comfort into consideration in alignment with sustainability.
Incorporating the point of departure with sustainable (public) transport for long-distance and international journeys.
Choosing sustainable alternatives for transfers and excursion purposes in the destination with consideration of price, comfort, and practicality.
Promoting/Integrating sustainable transport, accommodations, and activities in sustainable holiday packages or products based on recognized methodology.

8. Destination
To create and maximize positive impacts at the destination while minimizing adverse influences, we ensure the sustainable development of all the locations our company operates in. Our actions are committed as follows:
Consider the selection of destinations, which are reachable through more sustainable means of transport;
Prefer not touristic destinations where our customers can explore the local culture and nature.
Create sustainable activities at destinations for our customers such as trekking, cycling, and kayaking… which do not affect natural resources and socio-cultural issues.
Support biodiversity conservation, including protected areas and areas of high biodiversity, through financial contribution, political support, and integration in product offers.
Not promote souvenirs that contain threatened flora and fauna species as indicated in the CITES treaty and the IUCN 'Red List'; or historic and archaeological artifacts (except as permitted by law).
We do not provide excursions or attractions that involve the captivity of wildlife, except in cases where such activities are properly regulated and comply with local, national, and international laws. For excursions involving wildlife interactions, we ensure adherence to relevant codes of conduct, and we strive to minimize any disturbance to natural ecosystems.
We do not engage in the harvesting, consumption, display, sale, or trade of wildlife species unless it is part of a regulated activity that ensures sustainable use and compliance with local, national, and international laws. Our suppliers do not endorse souvenirs or food containing threatened flora and fauna species, as specified in the CITES treaty and the IUCN 'Red List.' In the event of any discovery of such illegal activities, Lux Travel DMC retains the right to terminate the contract without prior notice.
We prefer activities to help our customers discover and enrich their knowledge about wildlife and protect the wildlife. We say "No" to activities at destinations that lead to any adverse effects on the viability and behavior of populations in the wild such as animal performances, riding, and hunting animals... following the guidelines from some organizations that protect wildlife including the World Wildlife Fund (WWF).

9. Customer communication and protection.
At Lux Travel, we ensure transparent and responsive communication with optimized protection for our customers. All of our guests' rights are claimed with 100% customer satisfaction, enjoy a wonderful, unique, and authentic experience with impeccable and memorable service under our superior and competent tourism employees.

In pre-booking phase, we commit to:
Provide clear guidelines for customer consultations and advisors.
Ensure customer privacy is our priority.
Comply with codes of conduct and business ethics in marketing and advertising messages without promising beyond our actual services.
Provide clear and accurate information on price, product, and destination with accountability and sustainability claims.
Inform customers of the environmental and climate impacts of each transportation to destinations in advance and suggest sustainable alternatives.
Provide clear messages about sustainability commitments and actions for customers.

We commit to this during holidays by:
Customers should be informed about the natural surroundings, local culture, and cultural heritage of their vacation destination.
Customers should be informed about commercial, sexual, or other forms of exploitation and harassment, particularly involving children and adolescents.
Encourage customers to donate to local charities and environmental initiatives.
Keep a contact person and a phone number on hand at all times in case of an emergency.

We commit to this after the holidays by:
Measuring client satisfaction systematically and using the results to improve service and products.
Incorporating sustainability into client satisfaction research.
Having clear procedures in place in the event of a client complaint.

10. Continuous Improvement:
We have the responsibility of staying updated on emerging sustainability trends, best practices, and technologies to continually improve our operations.
We always review and update our sustainability policy periodically to align with evolving environmental, social, and economic priorities.
By adhering to this sustainability policy, Lux Travel DMC aims to minimize its environmental footprint, preserve cultural heritage, support local communities, and contribute to the overall well-being of the destinations we operate in. Together with our stakeholders, we strive to create a sustainable and responsible travel experience for all.